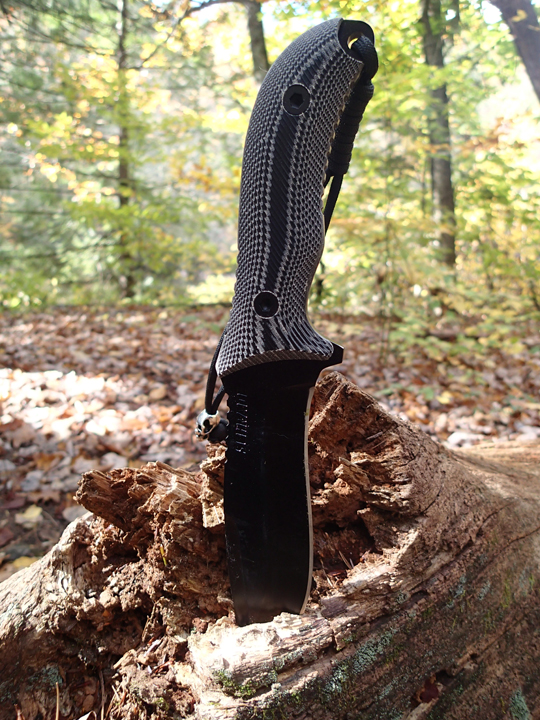 Schrade SCHF10 Full Tang 1/4″ Inch Knife
High Performance Micarta Handle Slabs for Rugged Grip
5.2-inch Blade
10.5″ over-all length
Nylon Sheath with extra pouch for sharpener or other accessories
Lanyard Hole in Handle
The SCHF10's blade is made out of 8Cr13MoV High Carbon Stainless Steel. What does all this mean? It means you have the best of both worlds. You have stainless steel, which is corrosion resistant but tends to be softer combined with high carbon, which is harder and holds an edge better.
On the Rockwell "C" Scale or HRC, the blade material on the SCHF10 comes in at Rc56 to Rc58 this is midrange and considered quality material for a knife blade. The C scale is based on material hardness and its resistance to indentations versus scratch resistance. Many experts consider the material "high-end" but budget friendly steel.
Anyone considering a survival knife needs to pass on any that are not full tang or at least three quarters tang. The SCHF10 is full tang with a lanyard hole, which in an emergency can be used as a non-lethal defense striker or glass breaker for creating an egress, (entry/exit).
Having a ¼" blade thickness, this thing is a beast and you know when you pick it up it can get the job done. Heft is important; the so-called Rambo knives can break if you try to split wood chunks by hammering on the backside with a sizable piece of wood to drive the blade down. This will not happen with the SCHF10.
The Micarta handles can be removed with a tool, and this is important if you happen to break one (you would have to try hard to break one though). Remove the handles and wrap it in Paracord, also another good reason why you want a full tang knife.
Micarta is an excellent handle material because of its hardness and texture. Micarta is made by layering linen and sometimes other material such as canvas with a special epoxy resin. To cure the material the layers are heated while under pressure. The handles are virtually indestructible.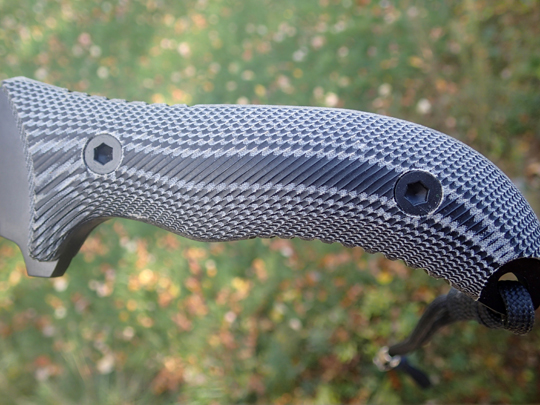 A fine edged blade, which of course means no serrations and personally, I do not care for any type of serrated knife blades. They get dull and are difficult to sharpen and it seems to me it makes the blade look more like a prop on some knives. For those that like serrations for cutting webbing or clothing keep in mind why you are buying the SCHF10. It is a survival knife that can be expected to chop small trees for shelter building, trim ends for spear points, split chunks of wood for the fire, skin and dress wild game, clean fish and carve small items while still being able to cut thread for gear repair and wound stitching.
Have you ever wondered what the notches or clefts are on the backside (Choil) of the knife? No not for sawing wood, it is called by many "jimping". This is where you "choke up" on the knife. You would place your thumb or index finger on the notches to keep from slipping. This can prevent accidental cuts and In addition, you can use the jimping to pick a hot pot up by the handle and not have it slip off the blade.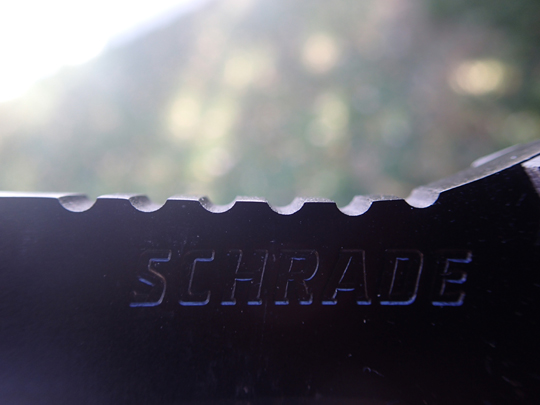 Overly aggressive jimping can weaken the blade, and some manufactures will add deep notches to give the knife a "fierce" or tactical look. The SCHF10 has it right; there are just enough serrations to be functional without compromising blade integrity.
A drop point blade means you are less likely to snap the point off the blade. This makes it so you can do plunge cuts. If you are, dressing/butchering game and hit a bone or use the blade as an ice pick the blade is strong enough to handle the stress.
The sheath is good quality and feels more like a heavy canvas than ballistic nylon, which means it is less likely to begin fraying. The sheath is designed for a right-handed belt carry. It is possible however to reverse it but will not seat fully because of the blade curvature. It comes with a small-attached carry pouch for a sharpening stone or survival gear such as fish line, hooks, matches and so on.
Overall, an excellent knife suitable for a wide range of tasks and priced under $50 dollars so you can use it for an everyday carry and have an extra one in your go bag/survival kit. You can see the full line of Schrade knives at TaylorBrandsllc.com.