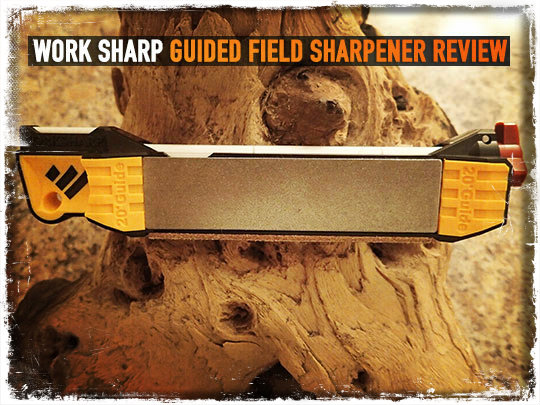 This angle guided, 5 stage sharpening solution is perfect for all of your sharpening needs, whether in the field or around the home.
It Sharpens and hones:
Your Flat Bladed Knives

Serrated Blades

Fish Hooks

Camping Tools

Kitchen/Camp Knives

Broad heads
The Work Sharp Guided Field Sharpener comes with 2 Diamond Plates one is coarse grit for shaping and repairing, and one is fine grit for sharpening
It also includes two Ceramic Rods one is a 3-position ceramic rod with coarse grit, fine grit and fish hook honing sides, plus a smaller diameter, fine grit serration sharpener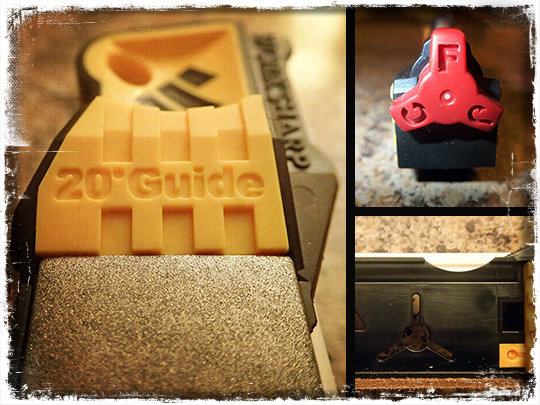 There is even more, it also includes a Leather Strop conditioned with a micro-abrasive to finish your blades to a razor-sharp edge
The sharpening guides are a perfect match up and they are specifically designed for your hunting knives, pocket knives and even your filet knives. The guides make quick work out of sharpening flat, curved and even serrated blades . Sharpen camp tools as well such as axes, hatchets, and machetes.
The diamond grit plates are held in place by rare earth magnets, and they provide cover for the broad head wrench and small storage compartment as well. Compact yet rugged and ready for practically any job. It includes a lanyard hole for easier carry or lashing to a pack or even to your belt.
Now that we have all of the technical aspects out of the way let's talk about how it really does the job under any conditions. The Guided Field Sharpener should be an everyday carry because if you carry a clip-on knife or even a belt knife as part of your everyday carry then you need a sharpener that is up to the task.
It will touch up needles for sewing and leather awls for when you are working with leather or simply want to add another hole to your belt. The sharpener also has a small storage compartment where you can carry small odds and ends such as needles or fishhooks or even fish line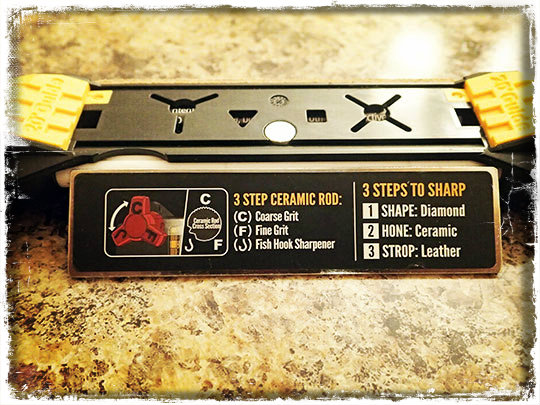 The Work Sharp Guided Field Sharpener will put an edge on any knife and on practically any tool you have and the strop will hone it to the point you can literally shave with the blade, it is not recommended that you do of course, but a sharp knife is invaluable.
It is a solid piece of work and it will hold up out in the field, whether it is wet cold or in between it is there when you need it and it will do the job.
I especially like the guides because each blade has a different angle and if you are not paying attention you can spend a lot of time sharpening and not have accomplished anything. With the guides you know the angle is right and after a few swipes on either side you are ready to go. Of course it will take more work if the blade is damaged, nicked or is extremely dull but this sharpener will bring the edge back.
You might even be in a situation where you have to make your own fishhooks or cutting tools and this sharpener can help you do that. You can make needles, sharpen pop can tops into fishhooks and take the lid off of a can of food and turn it into a cutting tool using this sharpener.
The Work Sharp Guided Field Sharpener is not just a knife sharpener it is a survival tool for your bug-out-bag, survival kit, emergency kit for the home, in the car, even in the kitchen and on your person.
The sharpener is ideal for anglers, hunters, scouts, campers, law enforcement, active duty military, and hikers and for anyone with sharpening needs around the home and can be purchased for around $22 dollars on Amazon.