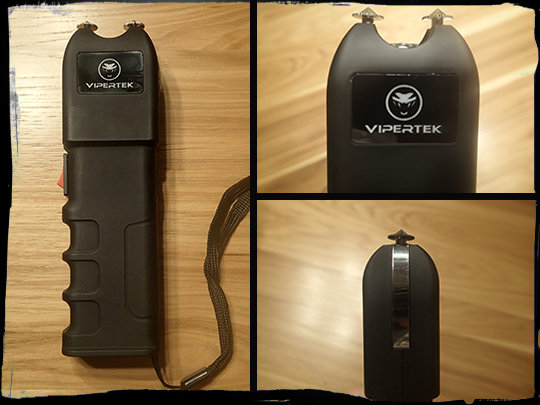 Posted in
Misc
, December 20, 2015
First, the specifications:
Powerful Stun Gun, powerful is an understatement, coming in at 53 million volts

A Built In Rechargeable LED Flashlight (Excellent Feature)

Convenient Size (6.5″ x 2″ x 1″)

Snatch Prevention 
Should an assailant try to snatch the device from you, the shock plates on the side of the unit will also deliver a high voltage shock, keep in mind the shock plates can zap you as well, so you do have to pay attention
Read Full Article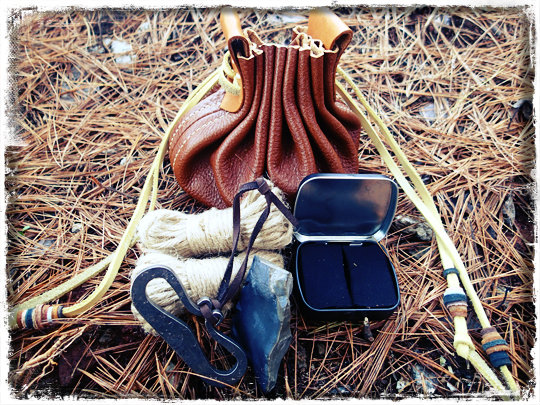 A friend of mine recently sent me a traditional medieval flint and steel fire making kit in a leather pouch.
This kit originates from a Russian gentleman who is both a craftsman and a blacksmith with a heritage of several generations. He produces handmade steel strikers and ready-to-use fire making kits for hunters, fishermen, travelers, historical re-enactors and other active people all over the world.
In his work he accurately renders such things as pouches and differently shaped steel strikers and knives, much like those found during archeological excavations. His works have become exhibits in a number of museums throughout Russia, Finland, Sweden, Germany and Australia.
They are frequently used to perform demonstrations and run workshops for kids and adult visitors alike. The craftsman runs his own site dedicated to flint and steel primitive fire making and offers delivery of his beautifully made kits worldwide. His works are also available on Etsy and eBay.
His works are very beautiful and from what I can tell after using the kit I received, they are very functional and reliable. They are useful tools as much as they are works of art and historical reconstruction. This means they can be used as real and reliable tools for fire making in the harsh conditions one can have to endure while hunting, traveling or living in the wilderness.
No matter what you use for fire making, a traditional kit like this is something everyone should have in their collection of fire making tools because this kit is a classic; it is the "grandfather" of all firemaking methods that we use nowadays, no matter whether we are talking about matches, gas lighters or modern firesteels.
A kit like this would also be a great gift for all active people and for those who like to gather with family and friends by the fireplace or to cook food over a fire.
Primitive Flint and Steel Kit 8.2
Let's start with the contents of this beautifully crafted flint and steel kit.
Steel Striker 3 Inches in Length

Flint-3 Pieces

Char Cloth In A Metal Tinder Box

Two Bundles Of Jute Twine

A High Quality Hand Crafted Leather Pouch To Carry It All, The Pouch Has leather Draw Strings To Keep All Contents Secured
First, this is not your typical flint and steel kit. Frankly, anyone can cobble together a piece of flint and steel, and some tinder, but this particular kit is by no means cobbled together.
Except for the jute twine and the tinder box, everything is hand crafted in a workshop. Not in some factory somewhere cranking out the kits by the hundreds or thousands. Each kit is made by hand, one at a time.
The material is made without the use of electricity, and without any mass production techniques. The craftsman believes in using techniques handed down through the generations, so the skills and techniques are preserved and passed down once again.
The kit is crafted with care. The steel is hand forged using age old techniques that had been handed down. The attention to detail is remarkable, right down to the type of wood used to heat the metal, and then tempering the metal in rainwater.
About The Char Cloth
The char cloth was carefully made and of excellent quality. I could see that right away. It was flawlessly made using unbleached linen, and the texture was perfect for handling without fear it would crumble in my hands. To make it, the craftsman placed the linen in a hermetically sealed earthenware jar and then placed it in a wood burning oven to scorch.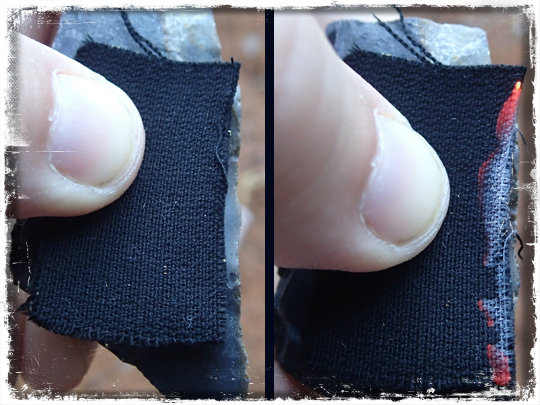 Char cloth, as many of you know is organic material that is reduced by heat to its carbon form. Char cloth is essential for fire starting when using flint and steel. The cloth must be able take a spark and create an ember. Poorly made char cloth may mean some cold nights in the wilds.
The flint, steel and the char cloth with this kit does not disappoint, because after a few strikes I had an ember glowing brightly. From that point it was simply a matter of feeding it some oxygen and some dry tinder, jute twine for example.
Flint and Steel
In years past people did not have extra linen or cotton material laying around the house. Linen and cotton were goods to be sold, bartered with, or worn, so given this, other things were used to make char. Usually charred plant material was carried in a tinder box along with flint and steel. Flint and steel were usually the only way to create a fire, because matches were either nonexistent, or were a luxury no one could afford.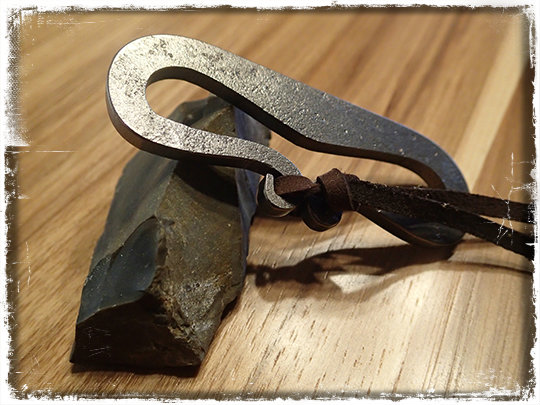 Char cloth can be made from essentially any organic material. It is typically made from vegetable fibers such as cotton, jute, or linen. However, you can make char from punk wood, using husks from nuts, bark from trees, pine cones, certain moss and even birch fungi picked from dead birch trees is becoming another popular choice as well. The technique used would the same as if you were using cotton cloth or cotton balls.
Organics, once broken down by a process called pyrolysis will ignite at a lower temperature. Thermo chemical decomposition of organic material at elevated temperatures in the absence of oxygen is what reduces organic material down to its carbon form, in other words down to char.
You can make it at home, but we do not suggest you try sealing the cloth in an earthenware jar. You may want to leave that to the craftsman. The process will produce gases that have to escape, so for those making it at home use a sealed metal tin with a small vent hole in it.
Gases' exiting the vent is what keeps oxygen from entering the tin through the vent hole. Once the gases stop venting, oxygen can then enter the tin causing the material to break completely down to ash. You have to monitor the process carefully.
The gases will have to be vented to keep the lid from popping off, and once this happens the material will burn completely away and could cause your fire to get out of control, safety first.
Layer the material in the tin and place on a fire. Make char cloth in a well ventilated area that allows for a safe fire. You will see smoke (gases) coming out of the hole as the material reduces, and once the smoke diminishes or stops altogether you then have char cloth. Sounds easy enough, but you will have to practice this technique a few times to get it just right, because it is quite easy to reduce the material to ash.
Before the introduction of steel, a variety of iron pyrite or marcasite was used with flint and/or other stones to produce a spark that could be used to create fire.
When flint and steel were used, the fire steel was often kept in a metal tinderbox together with flint and tinder. In Tibet and Mongolia however, they were carried in a leather pouch called a chuckmuck.
Read Full Article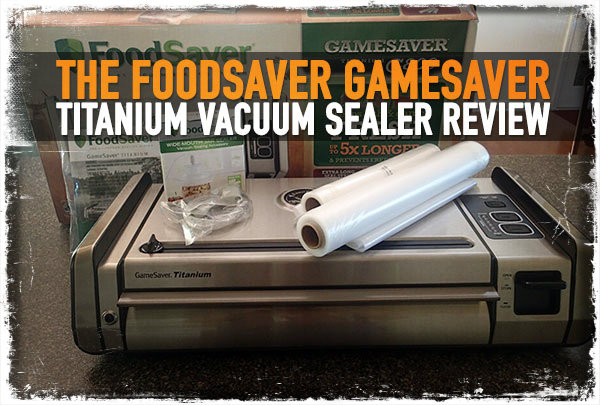 Hunting season is upon us, and this means game meat processing will soon be in full swing. Freezers stuffed with meat, fish, and poultry, food that required skill and considerable effort to bring home to help feed you and your family over the long winter months. Will it carry you over the months however, will it be ready to eat whenever you grab a package out of the deep freeze.
How do you ensure it stays edible for months or even years in some cases? It has to be packaged correctly to make sure it is ready when you are hungry, and one of the best ways to ensure this is by vacuum sealing your game meats and fish.
FoodSaver has an incredible deal right now, well they have incredible deals all year long, but right now the deal is especially appealing for hunters and anglers. The FoodSaver GameSaver Titanium Vacuum Sealer is designed with hunters and anglers in mind.
Already you are thinking the bags are too expensive to make it worthwhile. Similar to a printer, which is relatively inexpensive, but they get you on the ink right. Maybe that's true but we are talking about vacuum sealer bags not ink cartridges. 
The bags, when sealed properly keeps meats, poultry, and fish up to 5 times longer than traditional storage methods. The savings from not wasting foods would far outweigh the cost of the bags.
The bags in many cases can be reused, in particular the Ziploc bags that can be vacuum sealed and then opened and resealed a number of times. Mason jars can be sealed, opened, and resealed indefinably using this sealer as well with the optional jar sealing accessory. Simply wash the bags or jars and let air dry between sealing. Buy once and use repeatedly.
With this model you can seal mason jars as well, but this is not a replacement method for proper canning procedures it's more for sealing dry goods like salt, sugar, and rice to name a few. When you can stop the waste, you save money, and eat better in the process.
Manufactures' Description and Items Included In Offer:
1 – 11″ X 10′ Heat Seal Roll

3 – 15″X10′ Heat Seal Roll

3 – Gallon DAM® Bags

2 – Heavy Duty Rolls

2 – Expandable Rolls
Bonus Offer Includes:
1 – Heavy Duty Rolls, 2 Pack

1 – 15 Inch Rolls, 2 Pack

1 – Square Container to Marinate In (The vacuuming process opens the pores of the meat or food allowing the marinade to penetrate the food for better flavor and for tenderizing)

1 – Outdoor Cookbook
Vacuum seals up to 15″ wide bags for large cuts of game and fish, which allows for larger packages, and this of course cuts down on meat processing time and uses less bags.
Up to 100 repetitive seals

Dual pump for more power

2 seal settings – single and double

XL rubberized buttons

Patented, removable, dishwasher-safe, drip tray

Convenient bag cutter and roll storage

Accessory port and vacuum hose seals canisters and marinates food in minutes

Limited Lifetime Warranty

Product Dimensions: 26″ L x 12″ W x 6″ H
Meats and fish wrapped in butcher paper or sealed in Ziploc bags do not fare well in the freezer, and typically after a few months they have lost the battle with the cold. The food gets freezer burned, it discolors and ultimately loses its flavor.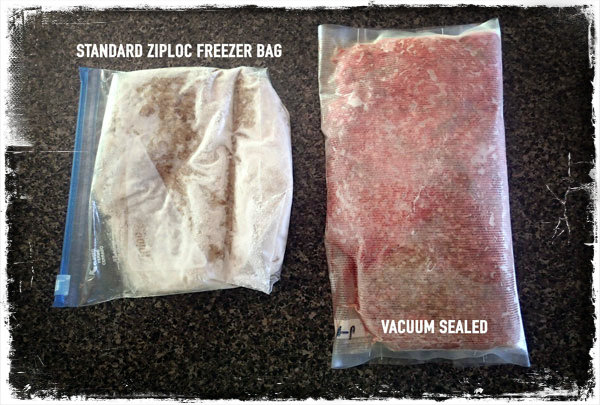 Hard cheeses left in the refrigerator that have not been sealed properly will grow mold and absorb odors from whatever else is in the refrigerator. You can prolong the life of cheese and other products that are traditionally stored in your refrigerator as well.
Once you have the FoodSaver GameSaver Titanium Vacuum Sealer home, you will realize other uses for the GameSaver Vacuum Sealer. Snacks for the kids can be sealed up and kept fresh in the reusable Ziploc bags and all they have to do is break the seal and eat, and then start all over again with the same bag.
Seal up items you want to protect from moisture such as matches for your emergency kit. Seal up socks and smaller clothing items to save space in your closet, vehicle or survival bags. The uses go on and on only limited by your imagination.
The savings you will see when you stop wasting foods will add up, and soon the cost of the vacuum sealer and bags is well behind you as the real savings add up day after day.
Final Thoughts
After months of reading reviews of all the different vacuum sealers out there I decided to go with the FoodSaver GameSaver Titanium. This machine is built like a tank so if you're planning on keeping it on your counter top you're going to need a lot of room. I was tired of throwing away hundreds of dollars worth of food and I couldn't really justify buying meat in bulk to save money because it would just end up going bad, so I decided to make a vacuum sealer purchase and I'm glad I did.
The GameSave Titanium is a bit pricey but I wanted something that had the double seal feature and could handle repetitive seals to make processing my fish and game go by a lot quicker. Keep in mind FoodSaver has plenty of models to choose from so you can find one that fits your budget and needs. Plus if you purchase from the FoodSaver site they allow easy payments so it's not so hard on the wallet. They also have plenty of deals on the bags all the time and a rewards system to get free products. You can purchase the GameSave Titanium for $449.95 at FoodSaver.com.
Read Full Article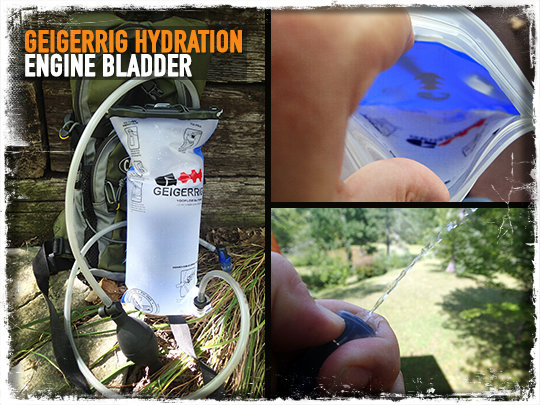 This Hydration Engine Bladder is much more than just a plastic bag with a drink tube that can only be used for hydration for one person. 
The GEIGERRIG system dramatically expands the uses for you and even others' access to drinking water. The bladder is BPA FREE and PTHALATE Free.
It has a unique spray system, with an on board pump bulb used to pressurize the system. Use the spray system for an emergency shower, to cool down pets, cool down you, or fill a pet's water bowl without contaminating the mouth piece.
Use the spray to irrigate wounds on yourself and others and to fill drinking cups or spray directly in the mouth of others from the bladder without anyone or anything touching the mouth piece. The water is under pressure, so no one has to touch the drinking tube to get access to drinking water if you do not want him or her to.
Read Full Article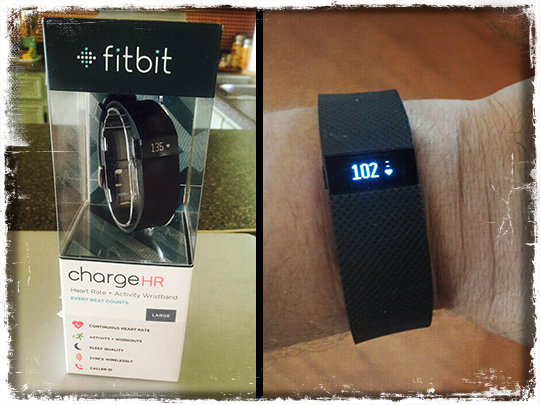 If a disaster struck today, would you be ready. Do you have an emergency stockpile of food, medicines, water, and other essentials? If you are a Prepper of course you do, a rather silly question really. The next question is, are you ready physically to meet the demands of a crisis, and this one is not a silly question, and how many people can or will answer it honestly.
You may have to travel on foot carrying supplies, travel by shank's mare as the saying goes. Tasks will have to be performed, and you may not have the benefit of electricity, which means no power tools, no pumping fuel for chainsaws and other equipment that makes chores easier. You will need to meet the physical demands, and no one needs to tell you what happens if you cannot meet those demands.
It is never too late, and there is no better time than right now to begin thinking about your fitness level and doing something about it, so when the SHTF you are ready physically.
The Fitbit Charge HR may be just what you are looking for if you can honestly say you need to get into better shape. Let's take a look at it to see if it is something that can help you. It requires a commitment by you and nothing good ever comes easy, but it can be done.
What Is It
It is a heart rate and activity wristband with Pure Pulse™ Heart Rate, which allows for continuous and automatic heart rate updates right from your wrist.
Sync to your computer, Smartphone or tablet. To sync however, you will need to install an app. Track your daily steps, number of miles walked, calories consumed and then track calories burned. The device can even count the number of stairs you have climbed.
To count calories consumed and burned you would enter what foods you have eaten at each meal and then the device tells you how many of the consumed calories you have burned during a particular activity. Find out just how many calories 30 minutes of bicycling burns, or how many you burn walking two miles or taking the stairs at work instead of the elevator, for example.
Track your exercise routines and review jogging routes using the app. The app tracks your activities for the entire day and you can view/monitor all activities from any compatible device that has been synced at any time day or night.
For those that want to lose weight and get into better shape, this may be the perfect matchup, because frankly, people can deceive themselves on the number of calories they consume, and then convince themselves that a few minutes of exercise here and there offsets the amount consumed.
It takes a considerable workout just to burn 1000 calories, and so compare this to consuming 2500 to 4000 calories a day for example. Where does this leave you? If you can track your intake and burn rate then you are in control, no more guessing and wondering, and no more deceiving yourself.
Set calorie goals, numbers of steps or miles to walk, and so on for the day, and then enter the information. From this point you have up to the minute heart rate, calories consumed, calories burned, and miles or steps walked so you can track your progress throughout the day. Collect the data over a certain period, so you can then tailor a plan that works best for you based on your lifestyle.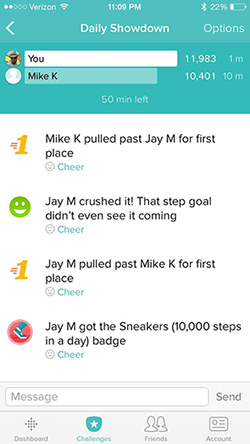 The Fitbit also tracks your sleep patterns, so you will know how many hours you slept, and how many times you awoke during the night. You have to identify a problem before you can solve it and the personal motivator called the Fitbit can help you.
You have family and friends, and they too must be ready to meet the challenges, so why not get your family or Prepper group on board, so you can work together to meet yours and everyone else's goals.
The app allows you to add friends that also have a Fitbit so you can challenge any of your friends in a face-off to see who takes the most steps in a day. Reaching certain goals also unlocks rewards (badges) to help motivate you throughout the day. Turn getting into shape a competitive sport with the Fitbit Charge HR.
One of the reasons people fail at exercise or weight loss programs is because they try to do it alone, and without the proper information. You have to know how many calories you are consuming and how many you are burning, and once you see progress, you will become motivated to do more, to push yourself. Having others involved is also a motivator especially if you are competitive.
However, not having the right information and a way to track your progress, such as with the Fitbit may mean a higher failure rate. Fitbit has several models to chose from so you can chose a model that meets your specific needs. You can purchase the Fitbit Charge HR for around $130 bucks on Amazon.
Read Full Article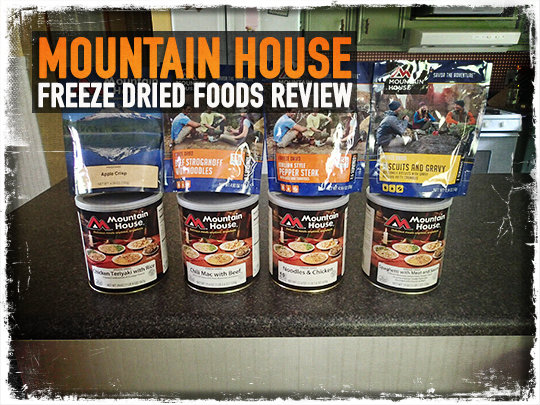 Freeze-dried foods retain virtually all of their fresh-food taste and nutritional content just like frozen foods will. The Freeze-drying process removes 98 percent of the water content but not the flavor or the nutrients. Removing 98 percent of the water and oxygen means the foods will not deteriorate. The last thing you need is to find out during a crisis is that your foods have turned rancid or are well past their expiration dates.
If you have to worry about finding food immediately after a disaster strikes then you were not prepared. Make sure food and water is not a concern for the short or long term so you can focus on developing sources if the crisis is an extended one.
Most of you are familiar with freeze-dried foods. Emergency readiness is on peoples' minds these days, and so is good quality food for when the SHTF. Preppers and others are looking for foods with an extended shelf life, for foods that taste good and for foods he or she is used to eating, in other words variety is important and so freeze dried foods do fit the bill.
Mountain House has a significant variety of freeze dried foods. Breakfast, lunch, and dinner entrees are available along with desserts and side dishes.
Just because there is an emergency does not mean you have to eat foods you do not like. However, this requires being prepared for an emergency. Being prepared means you have choices, choices made when you are not under stress, so you do not have to scramble and fight for the last can of pork and beans on the shelf at the local grocery. You cannot prepare during or after disaster strikes, you have to be prepared well ahead of the catastrophe. 
Mountain House foods started out nearly 50 years ago, and one of their pivotal moments was when they started supplying nutritious and good tasting food to our elite United States Military units.
Shelf life is important and Mountain House foods in the pouches are good for 12+ years when stored under the proper conditions, and food in the cans are good for 25+ years. Store it and forget it you might say.
GMOs and Gluten Free Foods
Mountain House does offer a line of "Gluten Free Products" along with a vegetarian line, as well as, low sodium foods.
However Mountain House does not offer Non-GMO Project Verified products at this time, and no other survival food company that I know of offers Non-GMO Verified products either.  
GMO products stir heated debates even arguments among people. There are some very strong feelings on both sides when it comes to GMO foods, and the debate is far from settled. It is a decision you have to make based on careful research and your own personal preferences. The regulating agencies (FDA, USDA) are not much help when it comes to deciding.
The Non-GMO project is North America's ONLY independent verification for products made to avoid GMOs. So if a company claims their foods are Non-GMO make sure it has their seal.
For more on Non-GMO Project Verified Foods Visit http://www.nongmoproject.org/learn-more/understanding-our-seal/
We are here to talk about survival, when the SHTF and when the last thing you need to worry about is food, food for you and your family during a crisis. You cannot stockpile foods for an indefinite period. At some point your supplies will be depleted.
You stockpile knowing you may have to develop your own food sources at some point. You need quality foods that can get you to the point where you have developed a sustainable and renewable food supply.
It can take considerable time for your garden to start producing, months in facts if you do not have one already established. Gardens do not flourish over night, and depending on the seasons and other factors it could be a year before you see your first harvest. You need foods that have an extended shelf life, have ample variety, are nutritious, and are foods that actually taste good.
You will not be eating your emergency supply of freeze dried foods forever, GMO or otherwise. Your freeze dried food stockpile is food to get you through the crisis, whether it is a few days, weeks or even for a few years. 
You do what you have to do to survive the crisis, and food does not need to be a worry in the short or long term if you prepare properly by stocking up on freeze dried foods that have an extended shelf life, and have enough variety so that everyone in the family can have their favorite foods.
Survival Needs
First, Mountain House foods taste as good, if not better than most freeze dried foods out there. They are actually as good as or better than most MRE's on the market today and it actually, in some cases, comes down to the food varieties that are offered, and Mountain House has a large variety from which to choose. If you like biscuits and gravy, for example, you will love Mountain House's version, it is good, It's better than good actually, it tastes great.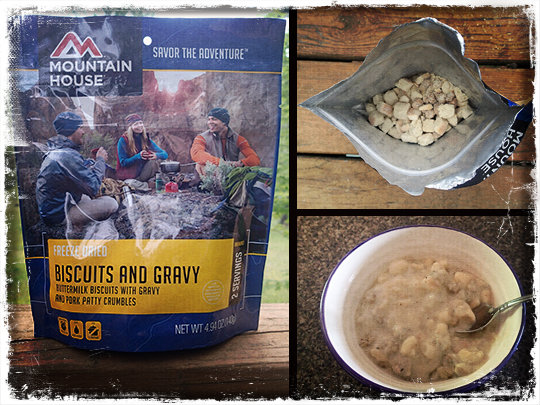 The foods are packaged with emergencies in mind. The pouches are ideal for bug-out bags and for storing in your vehicle and they are perfect for camping trips as well. When storing in your vehicle the temperature variations may affect the shelf life so carefully read the product description.
The #10 cans are ideal for home storage, they are lightweight, and each #10 can holds a significant amount of meals with 25 years plus on shelf life. Remember that 98 percent of the water is extracted so the weight is considerably less than traditional canned goods. The food in the cans can be distributed into other containers for carrying in backpacks or for in your vehicle, but the shelf life will be reduced once the can is opened however.
Preparation Considerations
Freeze dried foods require reconstitution and this means you need water and the means to heat the water. Mountain House foods in the pouch are ideal for many emergencies, because all you have to do is pour the recommended amount of hot water into the pouch, stir let sit for a few minutes and then eat right out of the pouch if you like. The foods in the #10 cans will require a cooking vessel to prepare them however.
When calculating water needs during a crisis you will have to ensure you have water for your cooking needs. Visit Mountains House's website to get a better idea of how much water is required for their various meals. Once you have an idea of how much water is needed for cooking requirements add 10 to 15 percent to account for waste. Energy for heating the water is important as well, so factor this in when preparing.
Final Thoughts
I was recently given the opportunity to sample a few of Mountain House's freeze dried meals, and I now know why outdoor enthusiasts have made Mountain House freeze-dried foods their first choice for over 40 years. Every one of the meals that I've tasted so far have exceeded my expectations. The biscuits with gravy was extremely satisfying and so was the apple crisp. My favorite meal from Mountain House is their new Italian Pepper Steak. It's loaded with tons of steak, peppers, onions and rice, and it has such great flavor.
The Beef Stroganoff was my least favorite out of the four varieties I tried, however as freeze-dried food goes, it still tasted good and much better than most frozen dinners. I wouldn't turn my nose up to any Mountain House meal if offered them, overall they're very tasty and easy to prepare, just add hot water, wait a few minutes, and enjoy! So, if you're looking for tasty freeze-dried, meals for your next camping trip, long term storage plans, Bug Out Bag or for virtually anytime, Mountain House gets my vote! In my opinion Mountain House is one of the best long-term Freeze Dried Food brands available today.
Mountain House. (2015). Retrieved 2015, from http://www.mountainhouse.com/
Non GMO Project. (2015). Retrieved 2015, from http://www.nongmoproject.org/learn-more/understanding-our-seal/
Read Full Article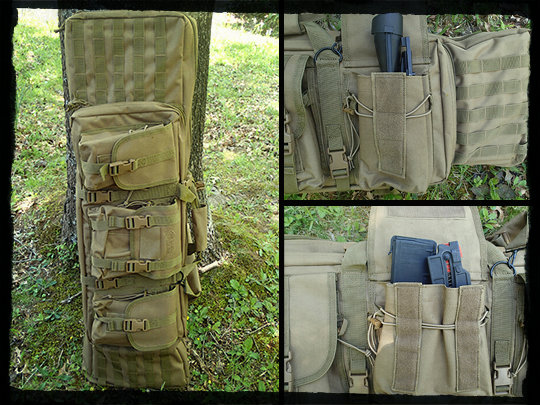 Many of you want to carry multiple firearms, and still have them protected while doing so, but you only have one case, so what can you do. You can't just stuff your firearms in a pack they need to be protected and what about your extra magazines and other accessories.
Well now, your problem is solved, because the Voodoo Tactical Weapons case, (15-7612) can securely hold up to four weapons. With this case, not only can you carry two rifles up to 42 inches long, you can also carry two pistols along with extra magazines for both the rifles and pistols. Each weapon is secured in its own dedicated storage space, so the firearms are not left to bang and rattle around inside the case.
In addition to carrying four weapons in the same case there are added storage pockets inside the bag for scopes, manuals and other optics or other needed accessories, even survival gear. The case also has plenty of Universal/MOLLE webbing for adding extra storage to the case.
There are three carry modes, carry it in your hands, or wear it across your shoulder or wear it as a backpack.
The case is made from ballistic pack cloth, it is heavy duty, so it will stand up to the rigors of camp life, hunting expeditions or any outdoor shooting adventure you have in mind. The case does have padded dividers to separate and protect your rifles.
Manufactures' Specifications and Features
Dedicated Rifle Storage For 2 Rifles up to 42" Long

Dedicated Storage for 2 pistols

Rifle Magazine Storage For 6 Magazines

Pistol Magazine Storage (2)

Additional Internal Pockets (3)

Additional External Pockets (1)

Approximate Dimensions: 42″ x 12″ x 4″

Metal Double Zippers

Cinch Straps

Four Tie Downs

Universal/MOLLE Webbing

For Carry Mode You Have A Padded, Adjustable And Detachable Shoulder Strap, Hand Strap And Padded Backpack Harness Customizable To Your Carrying Preference

Hook-n-Loop I.D. Patch: Yes
The case is available in Black, Olive Drab, Coyote Brown, Army Digital and Multi-cam. Pink and Purple "Lady Voodoo" colors are available as well.
When I first came across the Voodoo Tactical 42″ Double Rifle Case I asked myself do I need another bulky case. I already have one, albeit it is hard shelled, but it did the job. However, after actually handling the Voodoo Tactical Case I realized the possibilities. It is not just for your weapons, although that is the main purpose.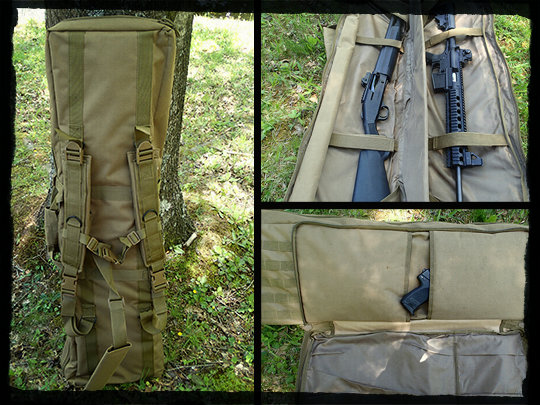 The case is compact compared to many single carry hard-shelled carrying cases, and it is flexible to some extent unlike a hard-shelled case that simply has no give at all. The Voodoo case can be carried as a backpack making it perfect for hunting trips where you have vehicles for your heavier gear. This case is perfect for excursions into the backcountry.
Plenty of storage for extra magazines and with the MOLLE webbing it was easy to add pouches and pockets for survival gear and other essentials. With the Voodoo case, you can combine all of your essentials in one place for short excursions where you would expect to be resupplied.
Of course, for those traveling deep into the woods without a vehicle or the ability to resupply you would need a backpack packed with wilderness survival essentials, but the Voodoo case can be attached to your pack or carried with your pack.
Keep in mind weight will be a factor of course, and it will depend on the number of weapons, weight of each and number of loaded magazines and other gear you are packing in the case. The Voodoo Tactical 42″ Double Rifle Case is adaptable to the situation, and it is recommended you take advantage of the MOLLE webbing to add more storage.
The case is perfect for carrying your firearms to the range. Carry ammunition, sight adjustment tools, cleaning equipment and so on, all in the same case, which by the way is very sleek looking, so be prepared, because you will be asked by others where they can get one for themselves.
Carry the case on hunting expeditions, and anytime you need to carry multiple weapons, magazines, tools and accessories, with the assurance they are secured and protected from the elements and above all in the same place for quick access. You can purchase the Voodoo Tactical 42 inch rifle case at Top Spec U.S. online for $99 dollars. 
Read Full Article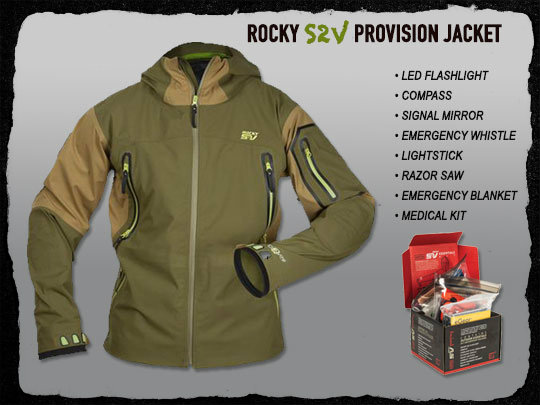 Rocky S2VProvision Jacket That Includes the S2V Essentials Kit
As any outdoor enthusiast knows, your clothing is your first line of defense against the elements. Clothing is shelter against the cold, rain and snow and not having the right outer layer can spell disaster.
Read Full Article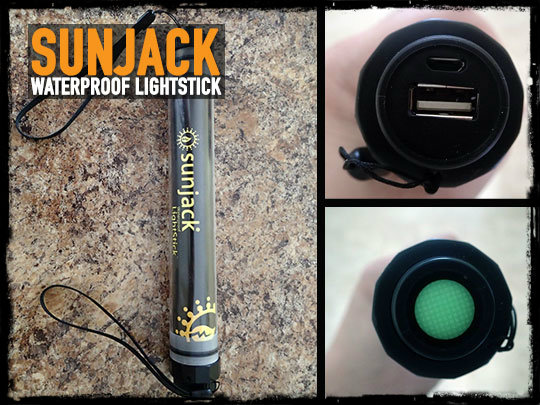 You cannot have too many lights in an emergency and when something happens you want a light that is charged and ready to go. Regular batteries in devices can leak and they can lose their charge even when the device is not in use.
Worrying about whether your devices have fresh batteries or not is the last thing you need to worry about in an emergency. Fumbling in the dark trying to locate the right size batteries, and then getting them in the device the right way is time consuming and frustrating.
If your vehicle breaks down at night you want a strong light that will provide light for hours, as well as, provide you with an emergency strobe to alert others that you are in distress.
Can you have all this and a light that has an integrated power bank that can charge your Smart phone 3 times over in any emergency. Of course you can, it is Sunjack's Waterproof LightStick™
Technical Details
350 Lumens On Brightest Setting

Integrated Power Bank For Charging USB Devices

Waterproof to Six Feet (1.8 Meter)

3 Brightness Levels Including an Emergency Strobe

Reaches full Charge in 4-5 Hours

Charges via USB Cable Which is Included

The 5200mAh Internal Battery Can Charge Up To 3 Smart Phones

Provides up To 46 Hours of Light On Lowest Setting

Weight is 0.47lbs, and the dimensions are 10.25L x 1.25 x 1.25 inches
The Waterproof LightStick's™ internal battery bank is charged/recharged using a USB cable, which is included, so this means you can charge the device from your laptop or desktop computer and from your vehicle. Newer vehicles may have a USB port in the console or somewhere on the dash for charging devices and they make USD adapters for your lighter socket.
Of course the LightStick can also be charged using a Sunjack solar panel making it ideal for camping and hiking, because the panel can be used for charging devices as you hike if it is secured to the outside of your pack.
Charge the device during the day so it can charge your USB devices at night as well as provide you with light. Keep in mind the charging time may vary when using a solar panel. The size of the panel and the amount of sunlight available may affect the charge time.
It includes two lanyards (one on each end) so the light can be secured overhead so you have both hands free. The light is ideal for working under the hood of your vehicle or for changing tires in the dark and the emergency strobe can be used to alert other motorist or used to alert rescuers if you are lost or stranded.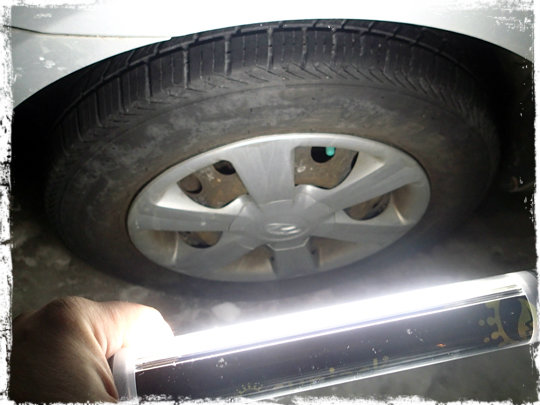 Is it rugged, and shock proof yes it is? You can literally leave it in a snow bank for hours and it still keeps on lighting. The occasional drops on the garage floor or driveway are no problem, and remember it is waterproof to six feet, so no need to worry if it is raining, snowing, or sleeting out it will continue to light up. However, make sure the end cap is secured when working with the light stick to keep moisture and debris out of the USB ports. Blue LED lights indicate the level of charge, so you know when it is time to recharge.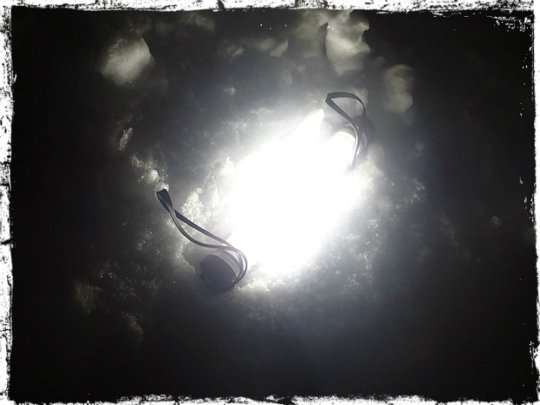 The Waterproof LightStick™ is shaped like a typical florescent shop light stick, so for some it may seem a bit big or long for a survival kit, but it can be carried in virtually any pack or lashed to the outside if needed.
The light is ideal for vehicle emergency kits, get home bags, home emergency kits and for tasks around the house and garage. Hang it under the kitchen cabinet to work on the plumbing, hang it under the hood of the car, and use it to light up a room whenever the power goes out at home.
What makes the Waterproof LightStick™ stand out from other lights is the fact it can charge your USB devices anywhere you happen to be, and that the light can be charged using various methods, not to mention the rugged and waterproof nature of the light and its three light settings and 350 Lumens on high.
An essential light that provides over 40 hours of continual light if fully charged. Even though it may be a bit big or long for a survival kit consider one for the kit anyway, because as stated earlier you cannot have too many lights, and you will be thankful if you find yourself lost or stranded that you have a waterproof light in your pack.
Final Thoughts
I like this light, and it is more than I expected. I am always looking for very portable battery banks to charge my devices, and a battery bank with a very bright light is the perfect combination. I do have a solar panel that will charge the light stick. I keep the light stick fully charged so I know my cell phone can always be charged during a power outage. Sitting in the dark with a dead cell phone is not the time to wish you had a light and a way to charge your cell phones. Now is the time to get prepared before something does happen. You can purchase the Sunjack Waterproof LightStick for $45 dollars at SunJack.com.
Read Full Article
Posted in
Knives
, March 15, 2015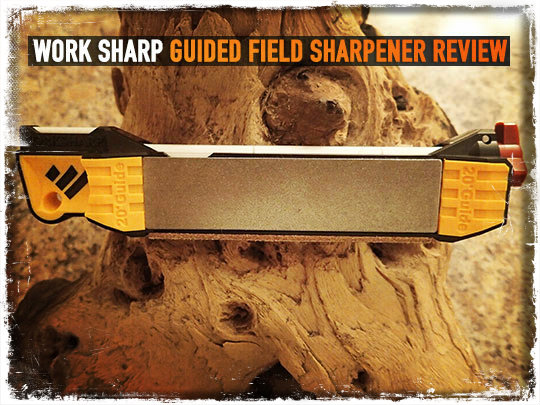 This angle guided, 5 stage sharpening solution is perfect for all of your sharpening needs, whether in the field or around the home.
It Sharpens and hones:
Your Flat Bladed Knives

Serrated Blades

Fish Hooks

Camping Tools

Kitchen/Camp Knives

Broad heads
The Work Sharp Guided Field Sharpener comes with 2 Diamond Plates one is coarse grit for shaping and repairing, and one is fine grit for sharpening
It also includes two Ceramic Rods one is a 3-position ceramic rod with coarse grit, fine grit and fish hook honing sides, plus a smaller diameter, fine grit serration sharpener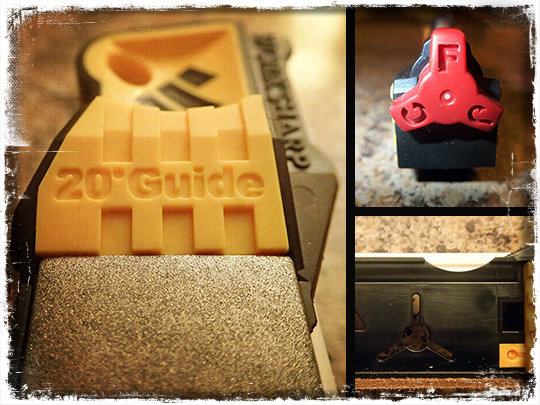 There is even more, it also includes a Leather Strop conditioned with a micro-abrasive to finish your blades to a razor-sharp edge
The sharpening guides are a perfect match up and they are specifically designed for your hunting knives, pocket knives and even your filet knives. The guides make quick work out of sharpening flat, curved and even serrated blades . Sharpen camp tools as well such as axes, hatchets, and machetes.
The diamond grit plates are held in place by rare earth magnets, and they provide cover for the broad head wrench and small storage compartment as well. Compact yet rugged and ready for practically any job. It includes a lanyard hole for easier carry or lashing to a pack or even to your belt.
Now that we have all of the technical aspects out of the way let's talk about how it really does the job under any conditions. The Guided Field Sharpener should be an everyday carry because if you carry a clip-on knife or even a belt knife as part of your everyday carry then you need a sharpener that is up to the task.
It will touch up needles for sewing and leather awls for when you are working with leather or simply want to add another hole to your belt. The sharpener also has a small storage compartment where you can carry small odds and ends such as needles or fishhooks or even fish line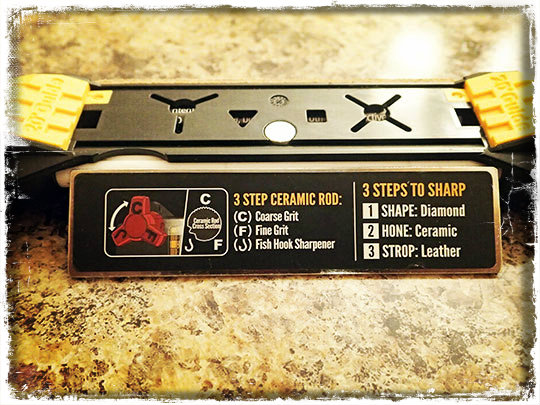 The Work Sharp Guided Field Sharpener will put an edge on any knife and on practically any tool you have and the strop will hone it to the point you can literally shave with the blade, it is not recommended that you do of course, but a sharp knife is invaluable.
It is a solid piece of work and it will hold up out in the field, whether it is wet cold or in between it is there when you need it and it will do the job.
I especially like the guides because each blade has a different angle and if you are not paying attention you can spend a lot of time sharpening and not have accomplished anything. With the guides you know the angle is right and after a few swipes on either side you are ready to go. Of course it will take more work if the blade is damaged, nicked or is extremely dull but this sharpener will bring the edge back.
You might even be in a situation where you have to make your own fishhooks or cutting tools and this sharpener can help you do that. You can make needles, sharpen pop can tops into fishhooks and take the lid off of a can of food and turn it into a cutting tool using this sharpener.
The Work Sharp Guided Field Sharpener is not just a knife sharpener it is a survival tool for your bug-out-bag, survival kit, emergency kit for the home, in the car, even in the kitchen and on your person.
The sharpener is ideal for anglers, hunters, scouts, campers, law enforcement, active duty military, and hikers and for anyone with sharpening needs around the home and can be purchased for around $22 dollars on Amazon. 
Read Full Article