If the sun is shining, or even if it is not you can be charging your devices. You can charge your mobile phones (compatible with most), iPads or tablets, any USB lighting devices, digital cameras, MP3 players and gaming devices.
The SunJack includes a fast-charge 8,000mah battery that can be fully charged in roughly five hours. From this point, you can charge your devices overnight if needed no need for sun in other words, or you can directly power any USB device from the SunJack when the unit is placed in direct sunlight.
The powerful 8,000mah Sunjack battery when fully charged holds enough charge to power up four iPhones.
The SunJack's battery can also be charged from any standard micro-USB plug. This means you can use your vehicle's USB port (many newer models have one) or from a laptop computer for example, if you want a full charge before leaving on your adventure. It will take up to five hours for a full charge using this method.
Portable power on the go, you can take the SunJack anywhere with you. Take it camping, hiking, or on survivalist training deep in the backcountry. Have one in your disaster preparedness kit, one in your car, bug-out-bag, hiking backpack and in your camping supplies.
Specifications:
Solar panels: 14 watts of high efficiency mono-crystalline
Max output voltage/current: Two 5V/2A USB ports
Battery: 8,000mAh lithium-polymer battery
Size folded: 6.75" x 9.25" x 1.75" (17.15cm x 23.50cm x 4.5cm)
Size unfolded: 30.75" x 9.25" x 1.75" (78.11cm x 23.50cm x 4.5cm)
Weight: 2lbs (907.19grams)
At 14 watts, you can still charge the battery with indirect sunlight and on cloudy days in some cases. Some other charging panels may only be five watts and they simply will not charge unless in direct sunlight for the specified period.
The Sunjack at 14 watts ensures you can charge the included battery virtually anywhere there is sunlight, and not necessarily direct sunlight. Having 14 watts and two USB ports also allows you to charge more than one item at a time, charge your iPhone and iPad simultaneously.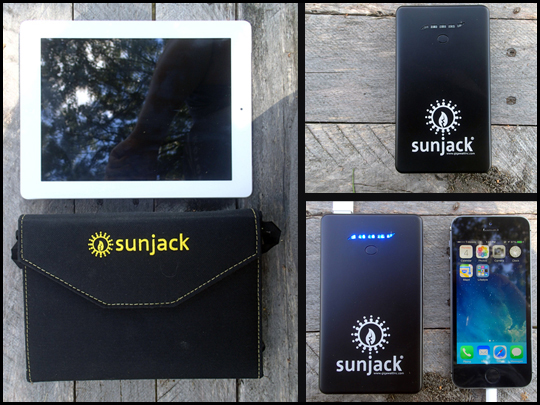 At some point, you will be in a situation where you do not have power, so this means you do not have the ability to charge your cell phone. This can happen right in your own home or while camping, hiking or even if you become lost or stranded.
If you have the SunJack with you then you have one less problem to contend with and not having communications during a crisis is a big problem that needs to be addressed before you experience such a situation.
You do need a means of charging your devices during a power outage, if your vehicle breaks down or while out hiking and you find yourself lost. One less worry means you can focus on other tasks needed for survival.
It only weighs two pounds and folds up nicely (similar to an iPad) so you do not need to make special arrangements or leave anything out of your pack to accommodate the SunJack when packing for camping or hiking. Once at your campsite simply unfold where there is plenty of sun for optimum charging and then go about your other duties. You do not have to monitor the device while it charges.
The SunJack 14 watt portable solar charger retails for $150.00 to see a full line of their products visit TheSunJack.com. The optional light weight SunJack 340 lumen USB CampLight (equivalent to a 40W incandescent bulb)  will fully illuminate a tent at night and makes a great addition to this charger.
Read Full Article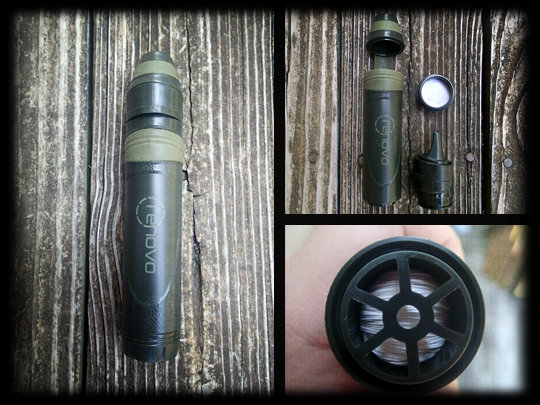 Without clean drinking water, there is nothing else. You can have plenty of food, the latest and best gadgets, but if you do not have clean, safe water to drink, then all is for naught. Stockpiles of water are important but stockpiles run out and usually sooner than you had planned.
You need the means to make possibly contaminated water safe to drink. You need more than just an emergency water supply you need to be able to create your own supply from any surface water source available. You need a reliable water filtration device.
The Renovo Trio 3 Stage Water Filter is one such reliable water filtration device. The Renovo is not just designed to filter out turbidity; it does a great deal more.
There may be surface water sources available such as lakes, ponds, streams and even mud puddles but these sources are not safe to drink from unless properly filtered.
The Renovo has a stage 3-carbon filter, a stage 2 UF filter and then a stage 1 pre-filter. The pre filter is rated at 5 microns and it is designed to remove heavier debris, which means you can use the filter with turbid water sources. Mud puddles would be one example of a turbid water source. Floating insects, pieces of wood, leaves and vegetation particles are removed by the stage 1filter. Once the heavier debris is removed, the filtration system starts to filter out micro-contaminates.
Specifications
UF Filter Pore Size:  .05 Microns
Dimensions: 7.1″ x 1.4″
Weight is 3.5 oz.
Capacity:  1000L
Flow rate:= 200 ml/min
Will the Renovo remove protozoa? Yes
Does it remove bacteria? Yes
Will it reduce viruses in the water? Yes
Does it reduce heavy metals in the water? Yes
Will the Renovo reduce chemical compounds in the water? Yes
The Renovo Trio 3 Stage Water Filter is designed for use with hydration bladders, but can be used as a gravity filter or screwed to the top of certain types of bottles. The important thing is however, that the Trio is between you and a contaminated water source filtering out deadly chemicals, viruses, bacteria and protozoa.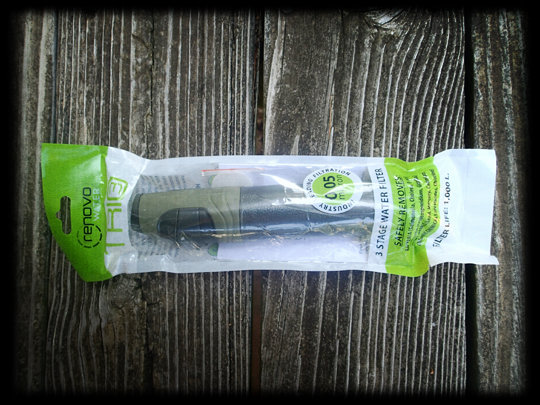 The Renovo comes in a hermetically sealed bag and if left sealed the filter can be stored for 25 years. Once exposed to air the activated carbon used in the filtration will start to degrade somewhat. This of course does not have any effect on water filtration, but it is something to keep in mind when purchasing. If you plan to buy with storage in mind, do not open the packaging, simply store in your emergency kit, bug-out-bag or in your vehicle unopened in the original packaging. Replacement filters (purchased separately) are also packed in a hermetically sealed package.
In years past filtration device simply filtered out sediment, and possibly some bacteria clinging to certain types of sediment. Generally, water was filtered, and then purified using chemicals such as iodine or bleach or boiled if there were a means to do so.
Technology of course has advanced over the years and thus you now have the Renovo Filtration system.
Take it from someone that has in the past drunk from questionable water sources because devices like the Renovo were not available, a quality filtration device can be a lifesaver.
Iodine tablets where always the preferred choice for those traveling in the backcountry but iodine has its drawbacks as does bleach. Of course, filtering and rapid boiling is the preferred choice if available, but in many survival situations, this method is not always available.
The Renovo can be carried and used by anyone. It is not complicated from a user's standpoint by any means. It can be carried in any pack or even a pocket if needed and it is needed by anyone that may have to deal with natural disasters, a broken water line where a boil order is issued in your community and by any outdoor enthusiast.
Make sure you have one in your bug-out-bag, emergency kit in the home and have one in your vehicle because you simply never know what the day may bring. This device can save your life. The Renovo Trio sells for $33.00 to learn more about the the Renovo Trio 3 visit renovowater.com.
Read Full Article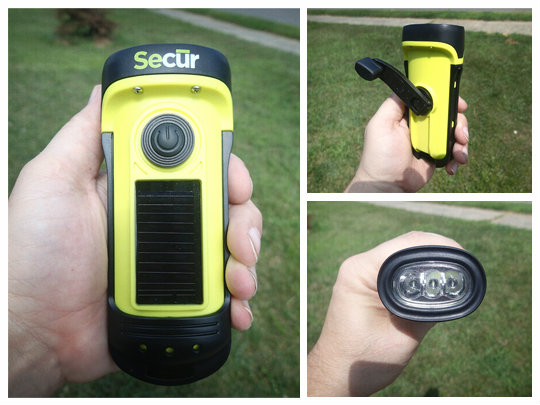 The Waterproof Solar/Dynamo has the best of both worlds, solar and crank power. What is one of the first things an emergency checklist has on it, batteries of course? Batteries are expensive, and they do not last long, or as long as they should relevant to how much they cost. They can corrode in your pack or device and it seems when you need them the most they fail.
Secur Waterproof Solar Dynamo Ed Flashlight Model Number Sp-1002
The Solar Dynamo Never Needs Batteries
It Charges by Built-in Dynamo or Solar Panel
It is Waterproof to 45 feet
3 functions one LED, three LEDs, or three LEDs flashing
SPECIFICATIONS: 
Flashlight power is up to 8 Lumens
Lighting time with a full charge is 4 hours using 3 LEDs, 8 hours with 1 LED
Charging time, 1 minute of cranking equals 80 minutes lighting using 1 LED
Charging time of 1 hour in direct sunlight gives you 120 minutes lighting using 1 LED
Life of LEDs is 50000 hours
Battery capacity , 80 mAh, Ni-MH battery
6" x 2.5" x 1.75"
With the Solar/Dynamo flashlight, you can crank for a few minutes and have all the lighting you need for any task or any emergency. During the day, you can simply leave, it in full sunlight, and it will fully charge, no effort, no batteries, and no worries using the built in solar panel. The built in solar panel can fully charge the device with no need for cranking.
Secure the flashlight to the outside of your pack so it receives direct sunlight, and it will be fully charged when ready to make camp for the night.
Waterproof to 45 feet, that is 45 feet underwater that it's waterproof up to, so it's not just "water resistant". This makes it perfect for any task in any emergency use it in a pouring rain, during a flood or any disaster.
Its dark, it is raining hard and your car has slid off the road, you need a light you can depend on. You have enough to worry about so never be in the position again where you have to worry if the batteries are fresh, wonder how long they will last and can anyone see me standing on the side of the road. You need a strong dependable light at this point and you need one that will not fail, in the rain, sleet or snow.
You can use the 3 LEDs flashing mode if you need to signal for help, or to indicate your position in the dark, in any situation.
Why do manufactures sometimes give a depth when describing waterproof devices? It either is waterproof or not, right. There is a difference between "waterproof" and can something be submerged. Water pressure increases the deeper underwater you are, so this means the waterproof seals must be manufactured to hold tight under pressure at certain depths, so to be waterproof at 45 feet means it meets a very high standard of manufacturing.
Some so-called waterproof devices cannot be submerged because they are not manufactured to withstand water pressure. Some device are considered waterproof in a rainstorm but cannot be submerged without permanently damaging the device. Just like a diving watch, some are rated for certain depths while others would fail at that depth, but can be worn when washing hands, in the rain or even when showering without damage.
The Waterproof Solar Dynamo Ed Flashlight is also great for camping and one ideal use is for trail lighting. Imagine trying to stumble to the latrine in the dead of night in the woods. Easy enough to get lost trip or knock your head on a limb, all this just a few yards from camp in the dark.
Why not set a few Solar/Dynamos along the trail. With a full charge at the "1 Lumens" setting, you get eight hours of lighting, which makes it ideal for trail marking. You can leave any trail marked for hours at night to guide others to your campsite, or to help you find your way around camp. The best part is no need to put in fresh batteries in the morning.
The Flashlight has a lanyard slot for attaching cordage or you can use it with a hook. This means the light can be secured to any pack, hung around the neck with a breakaway lanyard, or hung overhead for hands free working at night or even for reading inside your tent.
Have one in your bug-out-bag, home workshop, home emergency kit and certainly have one in every vehicle.
The Secur Waterproof Solar/Dynamo Ed Flashlight can be purchased for $19.99 to see a full line of their products visit securproducts.com
Read Full Article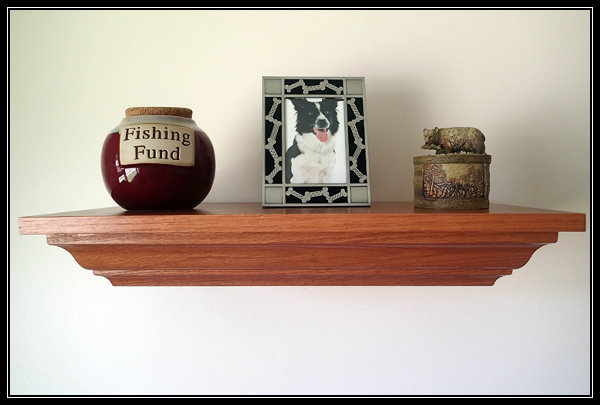 Covert Cabinet Handgun Cabinet HG-21
A major concern homeowners have when it comes to home defense is gun safety along with quick access to their firearms. Considerations include keeping home defense firearms out of the hands of children and others that may live in, or have access to the home. You simply cannot have weapons displayed openly for various reasons with safety being a priority.
However, you still need the ability to protect your family and possessions and having a firearm locked away in a safe can be problematic when an intrusion occurs. One option, and a very good option by the way, is to install a Covert Cabinet Handgun Cabinet. They are hardwood cabinets made specifically for handgun storage, while still being able to store other items as well, such as documents, cash and valuable jewelry.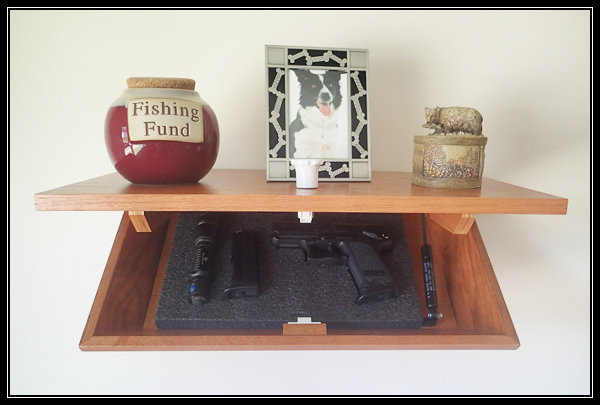 Theft of your firearms is a major concern, and thieves have been known to carry off small gun safes or other storage devices. Locked boxes always indicate valuables to a thief. Thieves generally do not even look at shelving, let alone carrying them off, making them the ideal hiding place for firearms.
Made of real hardwood, these cabinets, as they are called, are made in America. They can hang on any wall in any room in your home or office. They are not made of composites or particleboard but real hardwoods in either maple or oak. Once hung on the wall there is absolutely no indication they have a secret storage compartment. Items can be placed on the shelves and left there. Items on the shelf will not interfere with your access to firearms or other valuables.
Locks, latches and hinges are hidden from view with no indication even under scrutiny that they are present when the compartment is closed. The compartment drops down from under the shelf. The interior lock is magnetic that requires a magnetic key to access, which of course is included.
The storage compartment does not simply drop open, spilling things when you activate the magnetic lock to open. The hinges operate smoothly using a "Stabilus" dampener gas spring. However, the hinges do operate quickly giving you immediate access to what is inside.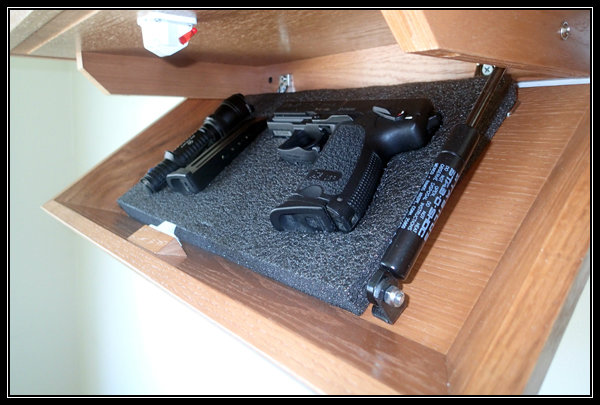 Once on the wall small children cannot gain entry, because first, they are well above their reach and secondly a key is required for entry. Children of course are curious, so if they know there is a secret compartment they will want to investigate. This can cause fall injuries and/or breakage of items on the shelves, so keep this in mind when installing and using.
You can place photographs, bric-a-brac, candles and so forth on the shelving. Once again, items stored on the shelf do not have to be moved to get at what is stored in the concealed compartment.
The shelving blends into any décor so they are not the focal point that catches the eye. Subdued and yet allowing things to be hidden in plain sight, making them the ideal "secret" storage place that allows quick access to your firearms.
Specifications:
Includes three distinct finishes: Sugar Maple, American Cherry and Gunstock Walnut with your choice of Maple or Oak Wood
Exterior Dimensions are 21″ long by 12″wide by 4″deep
Interior Dimensions are 13.5″long by  8″wide by 2″deep
Includes 1 Magnetic safety lock with 1 magnetic key
Also includes 1 Stab-O-Shoc dampener gas spring
Comes with 2 Hinges, steel, nickel plated
1 ½"  double sided adhesive on the back of 20mm black Foam
Finish is two coats of Varicure Satin finish
Mounting hardware and installation instructions are included
Considerations
The cabinets are designed to hide your valuables in plain sight. Certainly, no one wants to be the victim of a burglary, but why compound the misery by having your valuables stolen as well, when there is a break-in.
Your firearms are within reach if you experience a home invasion. Unfortunately, if someone kicks in your front door while the family is watching television, you do not have time to run to your gun safe, fumble with the lock, remember your pass code, or combination, and then grab your firearm. Quick reaction is essential.
Invest now in something that makes absolute sense, there is no downside at all to owning a Covert Cabinet system that allows you to secure and hide your firearms within reach in any room, in your home or office. You can purchase a Covert Cabinet HG-21 for $229.99 Amazon.com or on CovertCabinets.com.
Quick Modification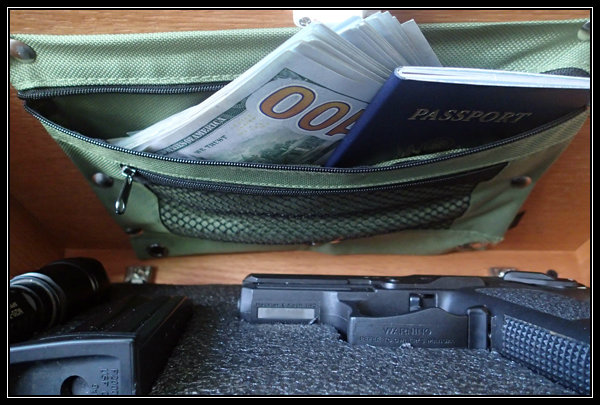 I wanted to be able to keep money in my cabinet without it getting in the way when reaching for my firearm, so I tacked in a simple zippered pouch that I picked up at Staples to the underside of the self, seen above. This works quite well for keeping cash, coins and small jewelry items without interfering with your firearm.
Read Full Article
Posted in
Knives
, July 10, 2014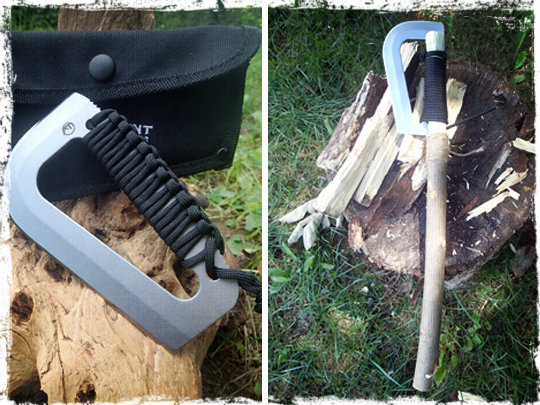 The Farson Blade Survival Tool design is based on an ancient stone tool found near Farson Wyoming. Ancient humans needed tools to survive in their environment just as modern humans do today. The tools that early humans used were made for a multitude of tasks. They did not make multiple tools they made one tool that could do multiple tasks. No frills no fancy scrollwork just sturdy usable tools. Get the job done and move on.
The Farson Blade cuts, chops, slices and skins. It makes an ideal all around backup survival tool. It will replace a knife or hatchet in a survival situation but consider it a backup tool that will compliment your other survival gear.
The blade fits anywhere, inside your backpack, survival kit or it can be worn on your belt or lashed to the outside of your backpack for easy access when hiking. Make the Farson Blade part of your everyday carry.
Caution: The blade right out of the box is extremely sharp, so use caution when handling. The tool is all sharpened blade for the most part.
It can be used in the home, or camp kitchen as a food chopper, dicer and slicer. The design allows the user complete control over the tool as you chop, skin or slice. Turn the blade around and you will notice the edge has just enough of a point so it can be used to slice canvas, leather, cardboard or meats and other food.
Because of how your hand is wrapped around the handle and over the blade there is no chance of losing your grip and sliding your hand up the blade if your hand or the handle gets wet/slippery.
There is Jimping (cut notches) where your thumb or forefinger would naturally rest to prevent slipping when applying pressure or for a more defined grip when doing delicate work with the blade. The blade is light enough and certainly sharp enough to easily make wood curls for fire tinder or even do carvings that are more precise.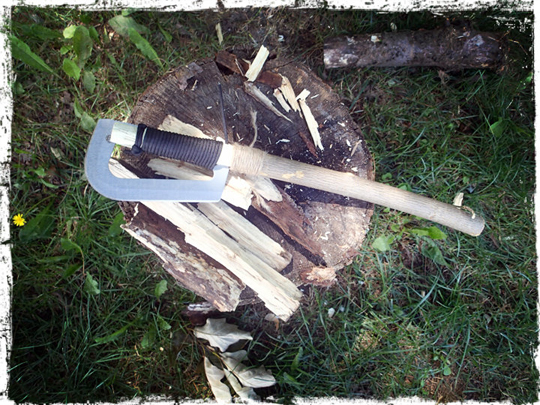 Once in the Backcountry you can attach a wooden handle, using the 550 Paracord already wrapped on the handle to make a field expedient hatchet/ax for more serious chopping. If you remove the Paracord from the handle, you can also use the Farson Blade to split wood using a wooden baton. There is not a protruding handle of course so you will have to strike both ends of the blade to drive it straight down through the wood. Practice on a piece of 2×4 so you can get the feel of it before splitting harder less uniformed pieces out in the field.
Manufactures' Specifications
Length Overall is 6″
3.1″ in Width
Thickness is .140″
Length of Cutting Edge is 7.75″
Blade Material 4cr15
Handle wrapped with 8ft of 550 Black Paracord with a Loop for Securing around the Wrist
Includes Nylon Sheath With protective Plastic Insert
The blade material is high quality stainless steel so rust and corrosion is not a worry. Of course, as with any tool keeping it clean and sharp will enhance its usability and help prolong its life. Hone the blade as you would any knife, and because it is stainless, it can be honed with virtually any sharpening tool or stone.
Hikers can wear the Farson Blade on their belt or carry it in their packs. Campers will find the Farson Blade one of those tools they always reach for, for all their camping chores. Hunters and anglers will find any number of uses for the Farson Blade from skinning and processing wild game to cleaning fish.
The blade can be used with a Ferro/flint rod to create a spark or use it to shave a magnesium stick for fire starting. The Farson Blade also makes an ideal hide scraper for those that want to process/tan their hides while in the field.
Keep one in your home emergency kits and always have at least one in your bug-out-bag and survival kit. Carry the Farson Blade along with your traditional survival knifes and other gear on any outdoor adventure.
The Farson Blade is an ideal gift to give for those that already have several quality survival knifes. The Farson is that one tool that anyone will find useful in any type of situation.
Once again, it is not necessarily designed to replace any one particular piece of survival gear but will complement what you already have. However, if you find yourself in a situation where the only tool you have is the Farson Blade then you have a survival tool that will get the job done. To learn more about the Farson Blade visit FremontKnives.com
Read Full Article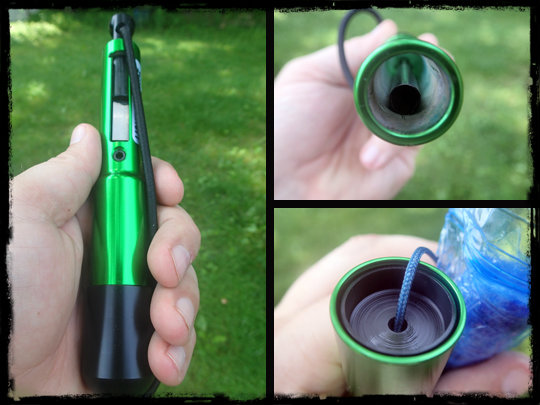 The Lightning Strike Fire Starter
Most of you understand the absolute need for fire in a survival situation, and most of you come to the party prepared. You may have matches, lighters, Ferro rods and magnesium sticks, and you may even have a flint and steel. You also may carry dry tinder and other fire starting aids such as cotton balls, petroleum jelly, alcohol wipes and even alcohol based hand sanitizer.
Imagine for one minute however, that you can carry one item, one self-contained tool that has all you need to start a fire in virtually any environment, under any weather conditions. Well the Lighting Strike Fire Starter is that one tool.
What Is It and What Can It Do
Some call it a Ferro rod on steroids. The Lightening Strike is about the size of a Mini-Mag flashlight. The housing is anodized machined aluminum, with a waterproof storage handle that comes loaded with a fire starting tinder kit and the Ferro rod is replaceable by the way.
A Ferro rod or Ferrocerium rod is a manufactured metallic material that gives off sparks at temperatures up to 3,000 ᵒF (1,650 ᵒC).
The rod is encased in the Lightening Strike using a setscrew so it can be replaced or rotated when one side becomes worn. The barrel design directs the sparks so they are concentrated at your tinder, so no more sparks flying everywhere. They are directed through the barrel, "shot gunned" if you will. A channel or groove allows you to slide the striker along the Ferro rod.
The storage handle is ingenious, because it has an insert cap with a tether attached and an easy to remove waterproof cover. The cap is placed inside the storage handle (at the bottom) with a tether or "pull cord" exposed so it can be grasped. You simply place the tinder into the storage handle (resting on the cap) and when you need tinder simply pull the tether to raise the cap and tinder.
No groping with a pocketknife or stick trying to get at the tinder to extract it's the little things, or not so little things, like this that make all the difference in the world when you find yourself in a survival situation.
The Lightening Strike Fire Starter is available in Blue, Red or Green and refills of the Lightening Strike Fire Tinder are always available. Pick up extra tinder at the time of purchase because you simply cannot have too much. The handle will hold enough tinder to start about 12 fires.
The need to start a fire is not exclusive to those that venture outdoors. Any adult and even children aged seven and older can benefit from knowing how to create fire in a survival situation, and they need the tools to do it, safe and effective tools.
Natural disasters can strike any community leaving you literally in the dark and out in the cold if you cannot create a fire. Carry one in your wilderness survival pack, car emergency kit and have one in your home's emergency supply kit as well.
We Are Just Getting Started
The striker when not in use inserts into the barrel for storage and held in place with a shock cord (Bungee Cord) attached so once you remove the striker it stays with the Lighting Striker. Can you imagine the wind is blowing, it is snowing or raining and it is below freezing and you drop your traditional striker in the snow or a pile of leaves and you cannot find it?
Accidents like this cost lives. Well now, no need to worry when you carry the Lightening Strike Fire Starter, because the striker is always attached using the shock cord.
The barrel has a slot for the striker to glide along the Ferro rod. Because of the design, it takes no effort at all to create a spark and the best thing is you can create a fire one handed if a hand becomes injured.
To use one-handed grasp the Lightening strike between your knees and remove the waterproof cap to get at the tinder with your good hand. Once you have the tinder out put the cap back on and then remove the striker. Next fluff the tinder as much as you can one handed and then place your foot on the storage handle end and place the barrel on the ground directed at the tinder with the channel in the barrel up. Then slide the striker along the channel making solid contact with the Ferro rod. Sparks will shoot out the end igniting your tinder.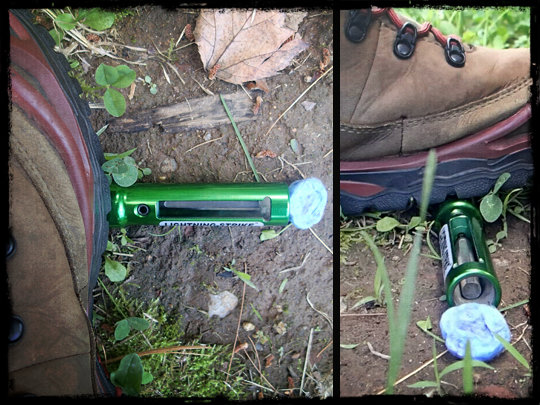 The Lightening Strike Fire Starter Is a Lifetime Tool
You can replace the Ferro rod when it is worn so you will always have the uniquely designed tool that allows you to direct sparks onto your tinder once you have replaced the Ferro rod. You will always have the waterproof storage compartment in the handle filled with fire tinder as well. There is absolutely no reason not to have a Lightening Strike Fire Starter in your survival pack, car kit and one in your homes' emergency supply kit, and make sure you always have extra tinder available.
If you use up all the tinder stored in the handle, replace immediately, because you never know when you might need to create a fire.
My immediate thoughts were "this is the Cadillac of fire starters". How many of you have broken a typical Ferro rod when striking it. The rods glued into a plastic handle will break eventually or simply fall apart and always at the wrong time. They are difficult to grip and forget about it when wearing gloves or your hands are cold.
The Lightening Strike handle is big enough so you can grip it with gloves on and still drag it along the encased Ferro rod.
The Lightening Strike Fire Starter can be used with gloves on or when your hands are cold and gripping is difficult, because the people that designed it actually use their products. They know why fire is needed and when, so they designed it so it can be used effectively in any survival situation by anyone in any weather condition period.
Final Thoughts
This is without a doubt the best fire starter I have used to date. You might think the price is steep, I know I did, but after using it and seeing what it can do I'm very impressed with this product. The way I see it is your paying for a lifetime ferro rod handle that supercharges your average ferro rod on top of giving you the ability to start fire with one hand if need be.
Not only was I able to start a fire one handed but it also lit a wet fire tinder still wrapped in the plastic wrapping, pretty impressive if you ask me. You can purchase a Lightning Strike Fire Starter for $60.00 at hollandguns.com
Read Full Article
Posted in
Knives
, July 9, 2014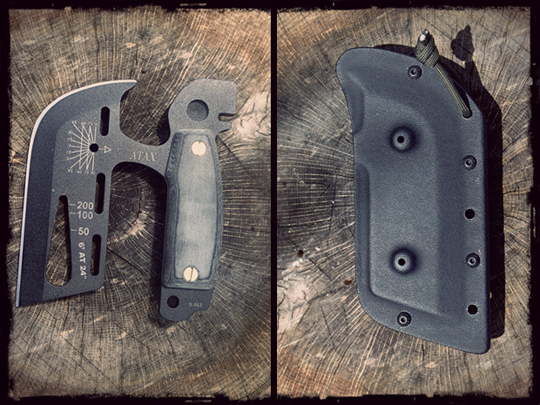 ATAX = All Terrain Ax
It is an ax, a knife, a skinning knife no less, a wire cutter, a range finder and a compass. We are not done yet though, it also has an inclinometer, a field clock, a wrench, hammer and rescue tool. Is there more, of course there is, because this is a ATAX so it also has a survival kit holder, a fire bow bearing, a field level and it can even launch arrows.
The ATAX is one of the most incredible pieces of survival gear I have ever seen that can be worn on your belt and carried with you anywhere. Pack your backpack and have it standing by because once you get your hands on this incredible survival tool, you will want to head out to the backcountry to put it through its paces.
Specifications
Overall length is 5.5 inches
Width is 4.5 inches
Thickness ¼"
Steel is 1095 tool Steel
Weight 16 ounces
The Handles is Linen Micarta
Comes With a Kydex Sheath (Revisable for tight or left hand)
The ATAX also includes an instructional DVD with the purchase of the tool, otherwise the DVD purchased separately is $14.99.
One of the more important aspects of the ATAX is the skinning tool. The razor edge combined with the weight, and simply how the tool fits the hand, takes the work out of field dressing and skinning large game.
The rounded razor sharp edge of the skinning blade is designed to prevent puncturing the skin when working through the animal tissue, thus preserving the hide for further processing.
The rangefinder on the tool is indispensable for hunters, hikers, and any outdoor enthusiast. Use it by sighting through the viewer to get an accurate reading off distant objects by matching with the range variation numbers stamped on the tool.
Slingshot bands can be attached to the tool to launch arrows, so make sure you have one or two sets in your pack along with arrows or you can make your own arrows if you find yourself in need in a wilderness environment.
Slingshot bands and arrows are not included with the ATAX.
Pound nails with the hammerhead on the back of the tool and then you can remove those same nails with the wrench slot. The slot works similar to how a claw hammer or pry bar would remove a nail. Use the wrench slot to grab and help turn a troublesome nut as well. Grasp the nut in the wrench slot and turn the bolt with the pliers on a multi-tool.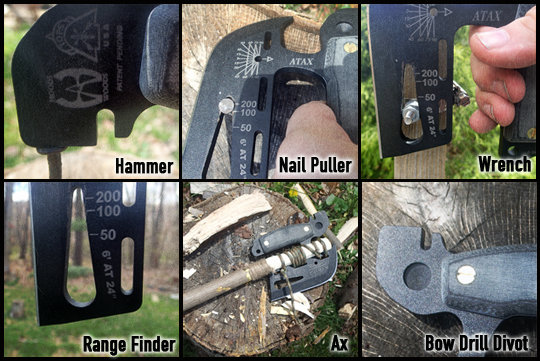 The fire drill divot, another indispensable aspect of the tool is built in so you always have one. In any survival situation, fire is critical and if you are caught without fire starting materials, you can put together a bow and drill in no time.
The ATAX has a built in sun dial and direction finder so you can estimate time of day (pretty darn close, account for daylight savings time) and find north, south, east and west. The system is similar to a sundial and uses the cast shadow of the sun, which can be a wealth of information for those that know how to read the signs.
The included DVD has instructions that are more precise so it is important that you learn all of the important aspects of your ATAX survival tool.
Keep in mind there is an "ax" in ATAX, so yes it is primarily an ax and you can easily fit a handle to it to make quick work of heavy limbs and even trees. To make a field expedient ax handle fork/split the end of a stout branch, slip the end between the handle and blade back, and secure the forked end to the tool with cordage. Now you have an ax that you can put some weight behind for those heavier jobs in the field.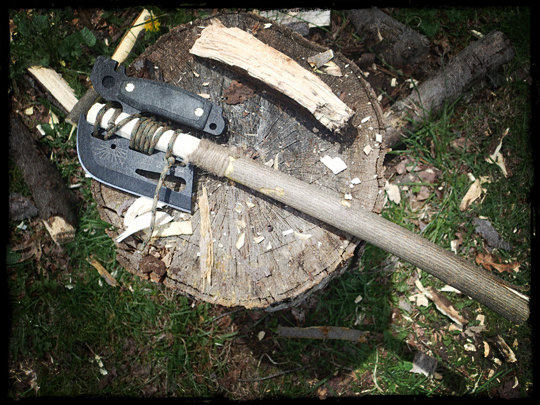 Weighing in at one pound I found the ATAX can be used for practically any cutting, chopping or slicing job. The heft feels comfortable, and I found I could accomplish more with less hand strain because of the design and weight. Once you grab it, and hold it in your hand, you will want to go find something to chop, or cut with it.
Remember it comes with an instructional DVD, so be sure and watch it once, and then watch it once more so you know exactly what your ATAX can do. There is no point in having a tool and not using it to its full potential, and this one has plenty of potential, more in fact than any survival tool I have ever used.
The ATAX feels good nestled at the waist, it does not get in the way, and it can be switched around for left or right hand draw depending on what else you may want to clip to the belt.
Keep in mind the Late Ron Hood designed this tool, made by Tops Knives, essentially as a backup survival tool. As incredible as the ATAX is, make sure you always have a quality survival knife and multi-tool with you both of which will complement the ATAX, so together there is not anything you cannot accomplish in any survival situation, especially surviving. The Tops Atax can be purchased for $139.95 at BladeHq.com.
Read Full Article
Posted in
Knives
, April 19, 2014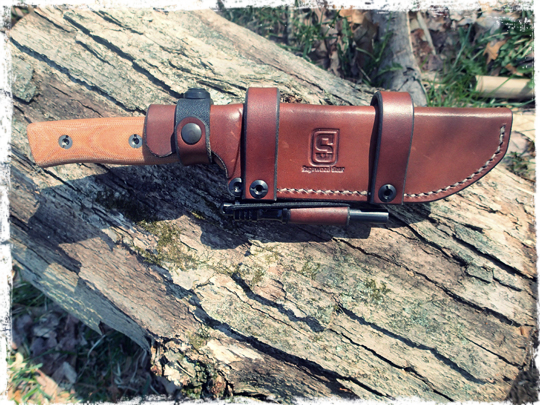 Once you unpack the Scout Sheath, you will immediately realize it will last your lifetime and you can pass it down to the next generation, and it will last another lifetime, yes, it is that kind of sheath.
What Is a Scout Sheath All About?
The Sagewood Gear Scout Carry Sheath features a unique Pivoting Retention Strap called the PRS system. This remarkable design feature allows you to pivot the retaining strap down once you unsnap it. Remember how your old sheath strap works, you unsnap it and the blade and guard catch on the snaps as you draw the knife.
Your quick draw with your old sheath is anything but, as you fumble to untangle the knife from the straps. With the Scout Sheath, this problem has been eliminated. To draw your knife from your new sheath, you simply unsnap and rotate the retention strap down away from the blade. You will wonder, why no one has thought of this before.
Left or right handed, it does not matter, because you can change the direction of draw by removing the belt loops and flipping them to the opposite side. This provides you with carry options, cross draw configuration, small of your back or on either side. This feature is ideal for those that plan to carry a sidearm. The ambidextrous feature of the sheath allows you to carry your weapon as you always do, because the sheath can easily be repositioned to accommodate other items on your belt.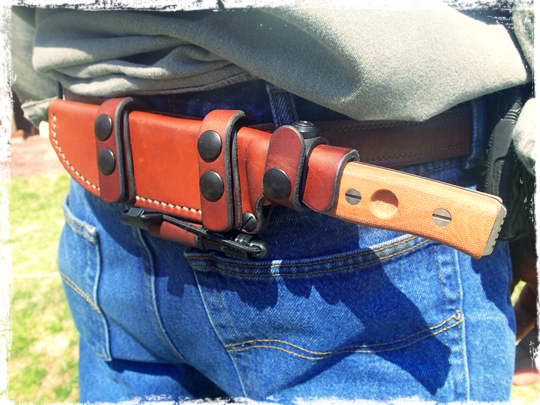 The sheath is also PALS webbing compatible. What is PALS Webbing? The system is grid of webbing called a Pouch Attachment Ladder System or PALS developed for the United States Army. The system is used to attach smaller equipment onto load bearing platforms such as vests and backpacks. This is an outstanding feature to have.
"PALS" consists of webbing sewn on the LB (load bearing) equipment, with matching webbing and straps on the attachment. The system allows for a very secure fit and for rapid detachment with little effort.
 Other Features Include
"Scout" aka Horizontal carry
MOLLE Compatible
The Sheath Is Made From 10oz Herman Oak Leather
Handcrafted and Hand Stitched
High Quality Hardware
All Fasteners Are Press Fitted For Incredible Durability
Double Snap Belt Loops
Water Repellant Finish
Option Fire Steel Loop 1/4", 5/16" or 3/8" Diameter
You have your choice of three colors, black, dark brown, and light brown. In addition to the optional fire steel carrying loop, you can also choose between a tapered end or a squared end sheath. If you're looking for a carrying pouch for storing/carrying survival gear, sharpening stone or anything else you can think of, then check out their PRS Deluxe Scout Sheath.
In the past, I have talked about knives, and their sheaths. I have often times waited anxiously for a new knife to arrive, the thrill of something new. You know the feeling, you unpack the knife, and admire its quality and then "oh by the way" there is a sheath in the package too. You pull it out, it is a limp nylon or canvas piece with Velcro fasteners that will soon gather lint, and they always seem to be in the way. You get the impression that some knife makers put all their efforts into the blade and the quality of the sheath makes it feel like it was an afterthought.
The maker's labor over the knife and the artisan thinks, oh maybe we had better toss in a sheath while we are at it. Therefore, you start to search for a quality sheath only to find out they are twice as much as the knife you have just purchased not the case with a Sagewood sheath however, I found them to be half the price of some of the other sheath makers out there.
When you open the package of your new sagewood gear knife sheath it is a thing of beauty and you will want to hold it and look at it, maybe even run your fingers over the stitching as you imagine the possibilities; the craftsmanship is second to none. The Scout Sheath is perfect for hunters, campers, survival experts, and anyone that wants a high quality leather knife sheath that will last a lifetime.
Final Thoughts
The only downfall to this sheath was the wait time, at the moment Sagewood Gears has a waiting period of 8-10 weeks for any sheath ordered, but in my opinion it was well worth the wait. Sagewood Gear currently offers sheaths for some models of Survive Knives, ESEE, Tops, Ontario and Becker knives. Sagewood Gear sheaths start at $89.95 depending on the knife and model, making them a lot more affordable, see their full line of products at sagewoodgear.com.
Read Full Article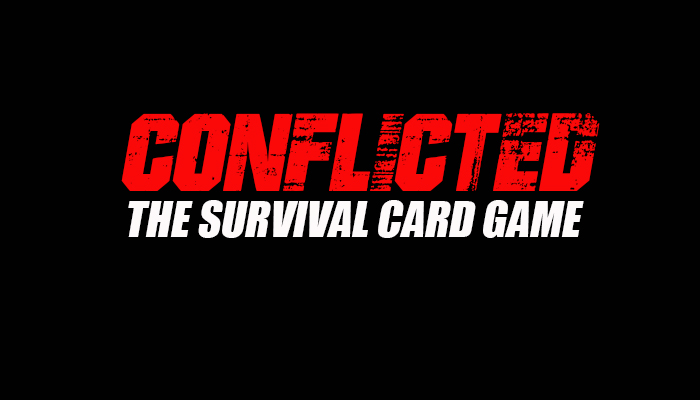 Some of you may be wondering what a card game can do for you in a survival situation. It is not about what the card game can do, but about what decisions you would make during a crisis.
The game is designed around situations/scenarios that will arise when the world has turned chaotic.
The game presents you with a series of what ifs. The Conflicted Card Game will get you thinking, and when played with a group it allows you to know what others are thinking and how they will react in certain situations as well.
Read Full Article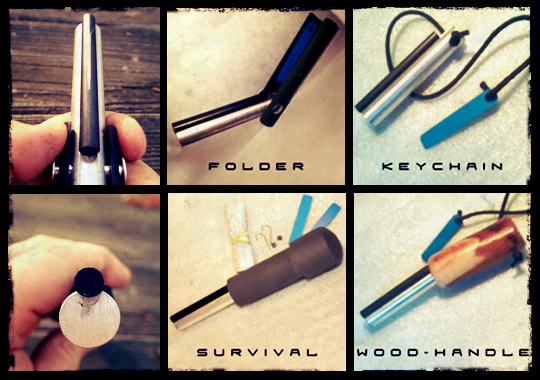 According to the manufacturer, the Purefire Tactical Fire Starters come with a 5/8″ x 3″ magnesium rod made of the purest magnesium available today and includes a 30,000-strike flint.
Keep in mind all of the Purefire Tactical Fire Starters come with a free lifetime replacement warranty. Once the fire starter can no longer be practically used for, fire starting, simply request your free replacement and remember this is for life!
This is a remarkable fire-starting tool and with the various options available, you no longer have to worry about not having the means to create a fire at anytime in any environment.
Get the keychain model for your everyday carry and have the folding one to carry in your pocket wherever you go. Make sure you have the hollow handled survival model for your survival kit, bug-out-bag and hiking backpacks as well. Use the space in the handle on the survival fire starter to carry other survival essentials such as dry tinder, fishhooks/tackle and fishing line.
Included with each Purefire Tactical Fire Starter is a scraper to shave the magnesium onto your dry tinder and once you have a small amount collected use the metal scraper to create a spark by applying downward pressure as you push it along the flint bar toward your tinder bundle.
Do not strike the flint because this will only damage it and striking it with anything will not create a spark.
You can of course use your knife blade to scrape the magnesium off the bar and then use the backside along with the flint to create a spark but never use the backside of a knife blade unless it is a fixed blade or has a locking mechanism that prevents it from closing up on your fingers.
The folder model easily fits into any pocket so there never needs to be a time where you are without one. Having the ability to create a fire in any situation is critical for survival. This is particularly important in cold weather to prevent hypothermia, which if left untreated is fatal.
Fire is also needed for morale, to repel insects and to drive off four legged predators and in addition fire is needed to signal rescue personnel if you find yourself lost or stranded.
Thirty thousand strikes is an incredible amount of strikes available from such a small piece of flint, which illustrates high quality manufacturing of the highest standards.
In some cases, it only takes one strike/spark to ignite a pile of magnesium and at other times more is required but the point is if you carry the Purefire Tactical Fire Starters, you will never be without the ability to make a fire in any situation.
Let us talk about the wooden handled fire starter, which is a personal favorite. The looks alone would make any outdoors enthusiast want it given the quality that went into making it and not to mention the fact it can be a true-life saver in many situations. It comes with a lanyard so it can be attached to your pack, belt or anything you can think of to make sure it is always handy for any emergency.
A Little about Magnesium: 
Magnesium shavings can burn at up to 4000ᵒF (2,200ᵒC) and the higher purity of the magnesium will cause it burn at a higher temperature which makes it ideal for fire starting in damp or wet conditions.
These magnesium fire starters are impervious to water and temperature changes. The flint rod and magnesium stick can be immersed in water for hours and all you have to do is wipe off the moisture to use. The materials will not absorb any moisture making them the prefect fire-starting tool.
The purest magnesium available means it has less iron, nickel, copper, aluminum and so on which can affect the temperature it burns at and how easily it ignites. Lower grades of magnesium (more impurities added) may make it more difficult to ignite wet or damp tinder.
Magnesium in mass is almost impossible to ignite using conventional methods, which means your Purefire Tactical Fire Starter is safe to carry and handle in any environment. The magnesium is only flammable when in particle form. The particles are formed when the magnesium stick is scraped.
Considerations
The striking flint alone on the Purefire Tactical Fire Starters is a valuable survival tool. With 30,000 strikes, you can be assured of making a fire even without magnesium. There is no need for despair when you have worn down the magnesium because a spark can be created using the flint. A spark can ignite many combustible materials to ensure you have a fire even under extreme conditions.
You may not be convinced of the need for fire but consider the family that overturned their jeep just miles from Reno Nevada recently. The family was stranded in temperatures well below freezing for days and the only thing that kept them alive was the ability to make fire.
The family had set out with the intentions of being gone for only a few hours. How many of you would stop and think about loading up your pockets with matches, lighters, and dry tinder for a short drive to the mountains for a few hours of play in the snow?
If you carry a Purefire Tactical Fire Starter on your keychain, in your pocket and in your vehicle's emergency pack then you too could survive when the temperature exceeded minus 15 degrees below zero for days. Without a fire in this temperature, it would only be a matter of hours before you succumbed to the cold.
Final Thoughts
I have been using magnesium fire starters for years and I have never seen any of such quality and innovation as the Purefire Tactical models. Not all magnesium fire starters are made the same, Bobby only uses the purest magnesium available and they are all hand made right here in the USA.
The magnesium on the Purefire scraped off a lot easier and in much larger flakes than a cheap model I bought online. I found myself scraping twice as much on the cheapo just to get the same size pile. You definitely won't be disappointed with one of Purefire Tactical Fire Starters and you will never be in any situation where you cannot make a fire if you have it with you, never leave home without it.
Don't forget Purefire Tactical Fire Starters come with a free lifetime replacement warranty. You can purchase a PureFire Tactical Fire Starter at purefiretactical.com. Prices range from $20.00 – $30.00.
Read Full Article