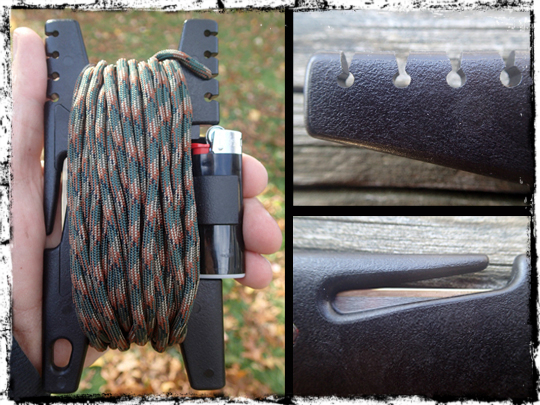 You can wrap up to 100 feet of Mil-Spec Paracord on the Spool Tool. Keep in mind however, that commercially manufactured Paracord made to Mil-Specs or otherwise can have varying diameters.
Typically, the U.S. military does not set a standard overall diameter requirement in its stated specifications, 550 cord (nylon kernmantle rope) usually measures 5⁄32 inch (4 mm) in diameter.
The Spool Tool© is the only Multifunctional Tool designed for storing, cutting, and finishing Paracord
Manufactured with a Lenox® Shatterproof  Stainless Steel Bi-Metal Titanium Coated Utility Blade (Replaceable)
Manufactured with all stainless steel hardware and includes two hatch nuts and screws with an additional spare set included
Equipped with eight multi sized proprietary burn slots, for finishing the ends of the heated Paracord
Read Full Article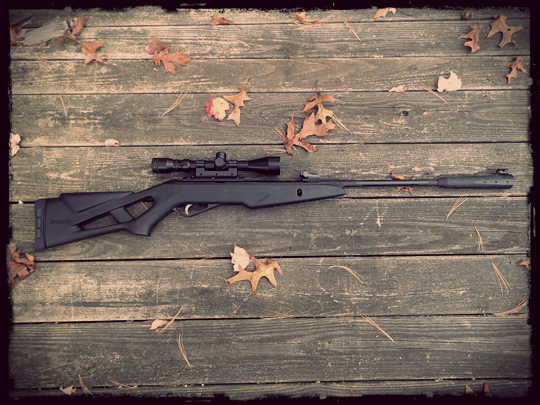 Everybody likes to pull a trigger and hear a bang, the bigger the bang the better. There is something gratifying about the report of a large caliber rifle and the smell of gunpowder. In reality, for most survival situations a traditional rifle is technically overkill. In all but self-defense between another human or dangerous animal and hunting large game a powder driven rifle delivers far more force than is necessary to achieve your objective. When considering what goes into preparing for a prolonged survival situation with a powder fed rifle there is an alternative that is very attractive on several fronts. That alternative is the air rifle, in this case, the Gamo Silent Stalker Whisper IGT.
While the Gamo Silent Stalker Whisper is the air rifle I am reviewing, let's take a moment to go over some of the benefits of owning an air rifle as a prepper. With an air rifle you need not worry about reloading or storing expensive ammo. Bulk air rifle pellets, such as the ones fired by the Silent Stalker are so inexpensive nearly everyone can stock up a lifetime supply. As I write this you can get 1250 pellets for around $25. Storing enough ammo for a grid down situation will not break the bank when compared to even .22lr. With all of that ammo one can afford to practice and become a deadly shot.
Second, everyone dreams of bringing down big game, one shot; lots of meat, but consider that the air rifle can put plenty of food on the table. In reality, Squirrels, Grouse, Rabbits, Turkey, Possum, and pheasant and many more small animals become fair game for anyone deftly wielding an air rifle. There is plenty of punch with this air rifle to put food on your table.
Loose bolts, useless scopes
Let us talk about the Gamo Silent Stalker Whisper itself. In the end it was a really good air rifle, so read on, but not before I had to spend time tweaking it. Out of the box many of the bolts were loose and required tightening. It actually affected the accuracy of the weapon. The bolts that secured the stock were loose and gave the barrel side to side play. While not a huge deal, it was easily corrected and once corrected the accuracy was much improved.
The scope that came with the gun was also a throw away. No amount of tweaking could put the crosshairs on where the gun was actually shooting. I ended up replacing it with a Leapers UTG 3-9×40 AO Rifle Scope. It was when the bolts were properly tightened and the scope zeroed in that the rifle began to show it's true colors.
Air Power
This gun is NOT a toy. A surprising amount of power is on tap at the squeeze of the trigger. Using the GAMO's premier pellets it can easily blow a hole right through a substantial amount of wood. I was shooting at a piece of pallet wood and without fail the pellets passed completely through, every time. In fact, quite a few times the pellets traveled right through the pallet and securely lodged themselves in a wooden chair that was securing my target. While intended targets of this rifle might be small game it certainly has the power with a properly placed shot to bring down larger game in a survival situation in a last resort. The same goes for self-defense, I would not want to be on the receiving end of this air rifle.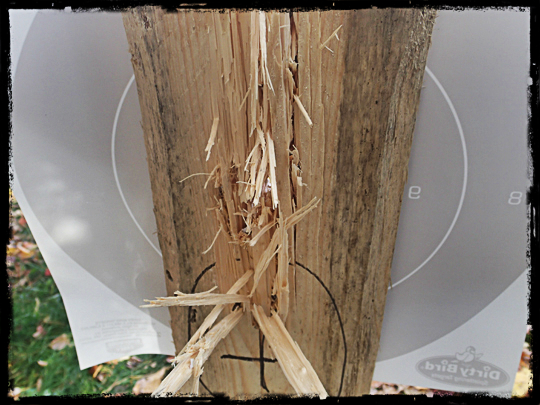 Accuracy
Once properly sighted in with the Leaper's Scope the Silent Whisper proved to be very accurate. Using the Artillery Hold from about 25 yards I was able to toss most pellets through a 2" circle with all of them landing within the second circle that measures 4". While not a sub-MOA sniper rifle, the accuracy of the Silent Whisper is good enough to confidently shoot within its effective range.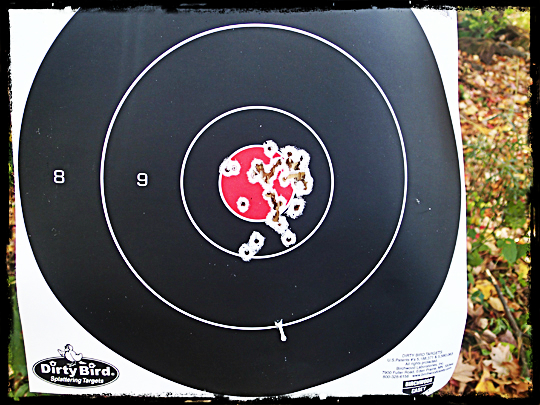 Technology
The Silent Stalker employs a feature that is newer to the air rifle, namely the Inert Gas Technology piston. Instead of relying on a spring this rifle calls upon a gas piston for its power. There are a few significant advantages of this system. First, you can leave it cocked without compromising spring integrity. Leaving a spring powered rifle can compromise the power of the gun over time. With the IGT system you don't have to worry about that. The gun also fires well in all temperatures. A springer has grease and oils on the spring and in cold weather the lube will thicken causing the gun to lose power. This is not the case with IGT. It smoothly fires in all conditions.
Silence..most of the time
Well, the gun is called the Silent Stalker Whisper. When using regular pellets this is the case. Being quiet when firing regular bulk pellets tells me one thing, they are subsonic. There are many survival situations where a silent weapon is beneficial, namely you can use the weapon without alerting an adversary as to your position. The premier pellets are a different story. Travelling at up to 1300 fps means they are supersonic and are accompanied by a mini sonic boom. While the extreme speed of these pellets can increase accuracy and also adds to the stopping power the report is something to consider. You will not be practicing with premier pellets in a suburban back yard without attracting some major attention, think "almost .22".
Notable features
The Silent Stalker also includes a few added bonuses not found on some air rifles:
Ambidextrous thumbhole stock with dual raised cheek pieces
Fiber Optic front and rear sights (rear fully adjustable)
ND52 Noise reduction, reduces noise by 52%
2 Stage adjustable smooth action trigger
Considerations
In a prolonged grid down situation you have to consider the reliability of any tool. Machines with moving parts wear out and an air rifle is no exception. One broken part and your rifle becomes a club. I might suggest if you are considering a rifle to also purchase some of the more common spare parts, like O-rings. Gamo offers these parts on their site. A few extra spare O-rings can vastly extend the life of your air rifle.
Conclusion
An air rifle is a must on any prepper's list. In lots of cases it may be all you can afford when stocking up on a lifetime of ammo is considered. Once the aforementioned tweaks are made to this rifle it is a competent machine. If I was making a decision on an air rifle the Gamo Silent Stalker Whisper would be at the top of the list.
Read Full Article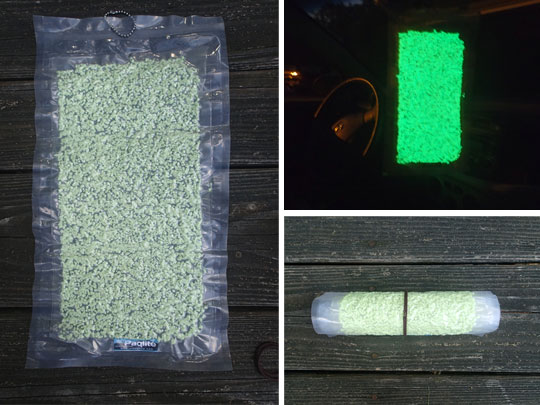 The UVPaqlite is designed to be an "all night, night light". This amazing product uses a combination of earth's rare minerals to produce crystals that allow for the capture of glowing photons. The crystals can be exposed to any light source to recharge them, which then glow all night long. You can purchase various sized packages that can be used anywhere you need a light source.
The amount of area lighting is dependent upon the size package, because the more crystals the more light you have. Purchase various sized packages so you always have the right size for various needs.
No activation is required, no snapping, shaking or cranking. Simply expose the packages to light for a battery free, trouble free light all night long. The crystals last a lifetime there is no expiration date whatsoever. Store them for years, pull the package out, expose to light and then that night you have a convenient and hassle free light source.
The UVPaqlite is environmentally friendly, non-toxic and does not produce a flame, heat or sparks so they are ideal for children's rooms, bathrooms, garages and kitchens for all night, night-lights.
The packaging has a handy hanger so you can secure the Paqlite on tree branches, doorknobs, inside closets and for hanging inside your tent. Use them on hunting trips, camping trips and make sure you have one when out day hiking because you never know when you may find yourself unexpectedly out after dark.
The ideal light source is natural light (sunlight) but any light source can be used. It only takes a few minutes of sunlight to re-charge the Paqlite. It recharges even if left inside your tent during the day and will even re-charge on cloudy days. It simply needs light from any source.
If hiking suspend the packages outside your pack so they are ready to use at night. Even exposure to propane lanterns will allow the crystals to absorb light if you failed to expose it to natural light as you were hiking or setting up camp.
The Paqlite is ideal for bug-out-bags, home emergency kits, cars, RVs, boats,  and for general use around the house. Every family should have a few in their emergency disaster kits. No more worrying about dead or leaking batteries, you know by having a Paqlite in your kit that you will always have at least one light source during any emergency.
The Paqlite is not a bright light and you will notice you can see better when using it, if your eyes have adjusted to the dark, which generally can take up to 30 minutes. The light is not projected like a flashlight beam but glows to give you ambient light making it ideal for marking locations for trailheads, campsites, wall switches and for virtually any object or area that you may need to locate in the dark. Their uses are only limited by your imagination. If you are out camping hang them along the trail to the latrine, and remember to place one inside the latrine as well.
Because the packages are waterproof, you can hang them outside to signal rescue personnel if you are stranded on a boat or even in a vehicle. This is a very important aspect because if your home and community is flooded you must have a way to let others know the home, vehicle or boat is occupied and that you need help.
Frankly, it is hard to find anything wrong with this product. The concept is amazing and you are guaranteed to have a light source in virtually any environment you find yourself in, just make sure you take the packages out of the glove compartment for road trips, or suspend outside of your pack while hiking to make sure they are absorbing light so you are never left in the dark.
You can see the full line of UVPaqlite products at UVaqlite.com
Read Full Article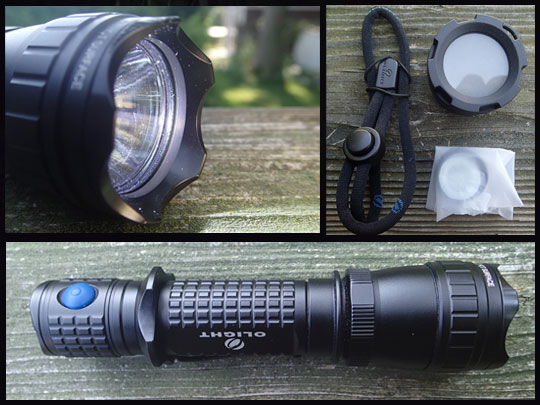 M20S-X L2 Features Include:
Output up to 550 lumens
Has three brightness adjustment levels, up to 550 lumens, 110 lumens and 10 lumens also includes a 10Hz strobe feature
Duel tail switches can be dimmed by using the tail cap switch for tactical operations
Water resistant up to IPX7 (up to 30 minutes at one meter under water)
Compatible with 2 x CR123A/RCR123 or 1x 18650 batteries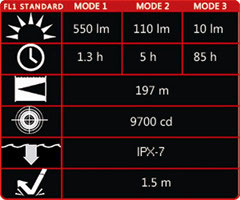 "Innovative tactical user interface and dual tail switches; New UI assigns the dimmable function to tail-cap switch, which greatly facilitates tactical applications, especially via remote press switch. Tail side switch controls output brightness levels, three brightness levels "low-medium-high" changes by circle. Hold the button to activate strobe"
 The M20S-X L2 has a lockout function to prevent accidental activation when in your pack or even when in the convenient carry holster to prevent battery discharge. To activate press the tail switch and side switch simultaneously, this will power the light off and lock it.
Having three brightness levels is a key component, because if you are in a tactical situation you may not want to advertise your location. You may find you need close up lighting, but do not want area coverage to prevent detection if cutting through a barrier or checking for intrusion devices. Having brightness options really sets the M20S-X L2 apart from other tactical lights. Setting the light to 10 lumens is also ideal for checking your watch, compass or reading a map.
The strobe function is not only perfect for rescue operations if you find yourself stranded or lost it can be used in other emergencies to alert passing motorists of a vehicular accident, or any type accident. Use it as a signal device in a tactical situation to communicate with others on the team to avoid breaking radio silence.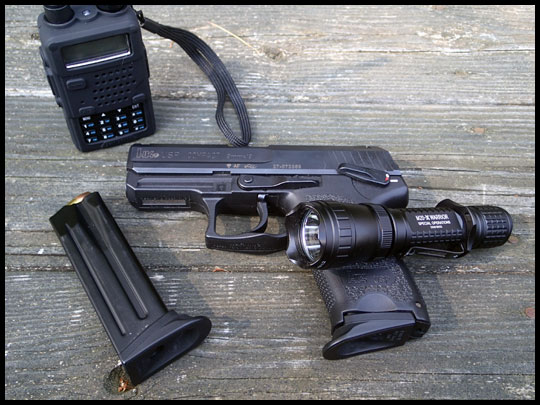 The strobe light can be used to blind/confuse an assailant or shooter temporally by focusing it directly at their face even if they are wearing night vision goggles. The bezel is stainless steel so it can be used as a striker to repel an assailant. In an extreme emergency, it may also be used to break glass, but it is recommended you only do so if have gloves on or can wrap your hand in any type of protective layer.
The M20S-X L2 can be clipped directly to your belt, pants pocket or carried in a holster for easy access. The holster is designed to carry the light so the lens is down. This means that when reaching for the light you can activate the switch as you are pulling the light, putting it in the ready position much quicker. This may not seem like an important point to some but in a shooting situation, identifying your target quickly is vital to your own safety.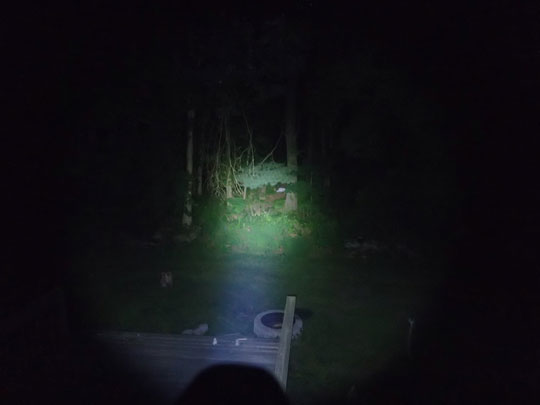 Shock resistant up to 1.5 meters and waterproof up to a one meter depth (3 feet) so it can be used in extreme weather, which is when you need a reliable light, the most.
The M20S-X L2 can be adapted for weapons mounting by purchasing optional accessories. Carry one in your bug-out-bag, carry one as part of your every day carry (EDC) and have one in your home's emergency essentials kit.
This may very well be the last light you ever need to buy. Rugged and dependable it is ready to handle any situation you are confronted with. Carry the M20S-X L2 on hikes, hunting trips, and camp outs, and have one for home defense as well as for any tactical situation.
Final Thoughts:
When I first opened the case to the M20S-X I thought to myself, wow that looks heavy, but after picking it up I was quite surprised how light it was. I never really was a flashlight guy until I started using this light, and I can easily see all the benefits of carrying a tactical flashlight as part of your everyday carry. I was quite amazed how much light this little flashlight throws off and how easily you could blind an assailant with it, just ask my neighbor lol. Another thing I like about the Olight is that it's practically indestructible, but don't just take my word for it check out the video below to see the beating Voodoo Tactical gave this flashlight. I would like to thank Tiffany over at Olight for providing me with the M20S-X LS to test and review. You can purchase the M20S-X for $75.95. To see a full line of Olight products visit OlightWorld.com
Read Full Article
sCharger-5 USB Solar Charger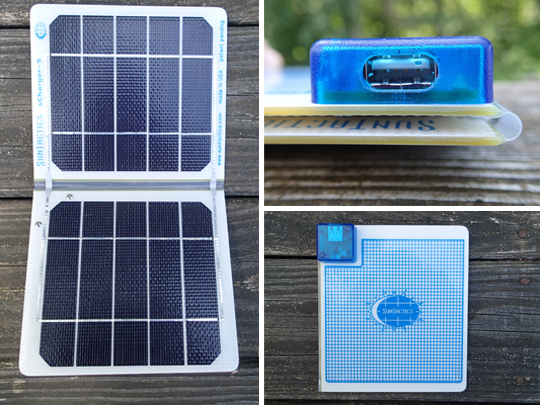 Description and Specifications
The sCharger-5 is capable of charging anything with a USB connection at wall charging speeds. It can charge a Smartphone in two hours or less. It will charge anything with a male USB connection. The sCharger is water and weather resistant.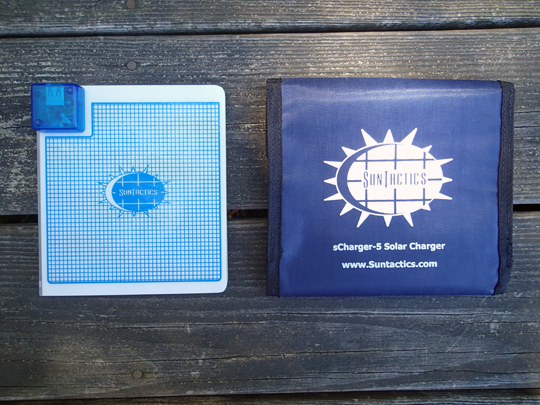 Independent testing shows that the sCharger-5 will in direct sunlight charge an iPhone in 2 hours or less, the same amount of time it would take using your homes' electrical outlet. Out in the wild you can recharge you device as fast as you can at home.
Employs a standard USB type "A" connector
Output for USB is 5 volts, 1 amp (1000mA), 5 watts
Length is  11.5 inches, width is 1.8″ (with USB width is 8/16″), Height is 6-1/8″
Weight 8.5 ounces
Can handle temperatures up 160ᵒF
Connect it and forget it. Utilizing exclusive "Auto-Retry" technology the charger will automatically re-start charging if for whatever reason the panels have been temporally blocked from sunlight. Similar products require you to reset manually to begin charging again if the sun goes behind a cloud. Connect your device and carry on with what you are doing knowing your device will be charging. This technology is ideal for campers and hikers that may want to leave their devices at camp while they do some exploring.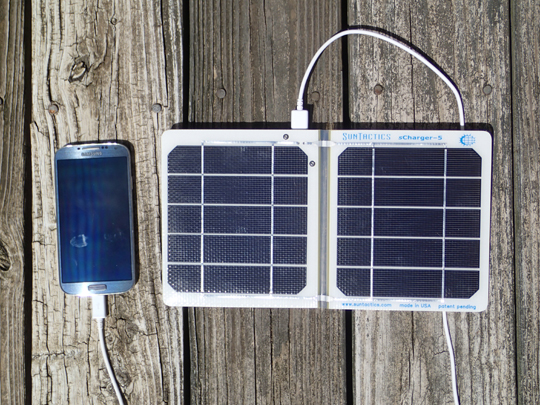 Now you do not have to worry about coming back to camp to find out the charging station stopped operating because of temporary cloud cover. It would be frustrating to find your device had not been charging the entire time you were gone because it needed to be reset to continue charging.
Communications is critical so take one with you on hikes, hunting trips and camping or carry one in your vehicle in case you have a mechanical failure and your cars' electrical system cannot charge your phone. Keep one in the car and the home so you're always prepared when the power does go out.
The sCharger is also great for Mt. biking or going on bicycle tours, and you don't have to worry about it getting wet in your pack, simply dry it off and you are ready to start charging again. Lightweight and compact enough it can be carried anywhere, and remember it will charge virtually any device that uses a male USB cable.
No more worries about running your phones' battery dead because you love to listen to music as you ride. Stop for a break, recharge you phone and you are ready to go again, recharge your phone literally on the fly.
In today's world regardless of where you live, you have to start thinking about the "what ifs". Anything can happen to anyone at anytime. Individuals and families have to begin thinking about how they will perform essential tasks during a power disruption. Just because the power goes out does not mean certain things do not have to be done.
Final Thoughts
I found the sCharger-5 lived up to its advertised charge times and it charged my completely drained Samsung Galaxy S4 in just about 2 hours, nothing unusual about the sun it was sunny and I plugged in the phone and went about my usual business for around two hours. It performs the same every time, obviously with longer charge times under cloudy conditions.
I really cannot stress enough how important the Auto-Retry feature is. You cannot babysit the charging station and keep resetting it manually every time the sun hides behind a cloud to keep it charging your devices. The Suntactics device does it for you, so you truly can go about your business knowing it is charging your device while you are away.
One fault I did find with it however, there is not any way to strap it to my backpack or even to my body. It needs lanyard slots or sling ports for attaching webbing or cordage of any sort for throwing it over my shoulder. I would like to be able to hang the charger across my back, or strap it to my pack, plug the USB cable in while my phone is on my belt clip or even in my pack while I am walking or hiking, so hopefully Suntactics will remedy this soon.
I would like to thank Michael over at Suntactics for sending me the sCharger-5 for review and testing. You can purchase the Suntactics sCharger-5 for $139.95 at SunTactics.com
Read Full Article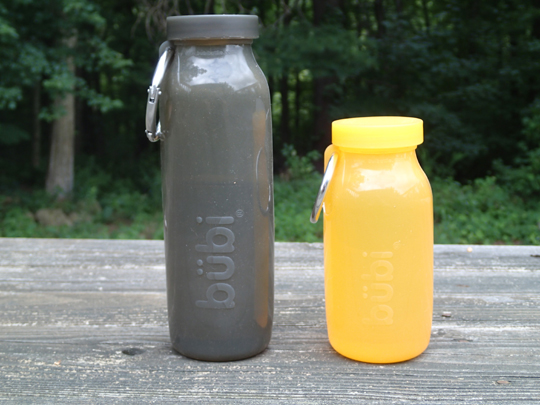 Air and watertight the Bubi Bottle is so much more than a water bottle.
BPA Free
Mold resistant
Use as a hot or cold compress
Carry hot or cold beverages
Always retains its shape
Never releases harmful chemicals
Dishwasher safe
Dimensions: 9.5 high x 2.75 diameter
Lightweight – 5.5oz
22 oz. capacity
Safe for the microwave or freezer
Remove the cap and carabineer before placing in the Microwave
Survivalist, hunters, hikers and all outdoor enthusiasts immediately look for multiple uses for their gear. You cannot carry multiple items for various tasks because of weight and storage capacity so you need to carry one item that can perform a multitude of tasks.
The Bubi bottle fits the bill. It can be a water bottle, a waterproof storage container for matches, electronic gear, medical supplies and even food. It can be heated in the microwave or over an open flame to create a soothing hot pack for sore, tired muscles. Warm chilled hands while working outside or carry the Bubi in your jacket pocket to help keep the body warm. Need to relax after a hard day of hiking, freeze the Bubi or fill with snow and use as a cold compress. Microwaving or freezing water in the bottle will not cause it to lose its shape.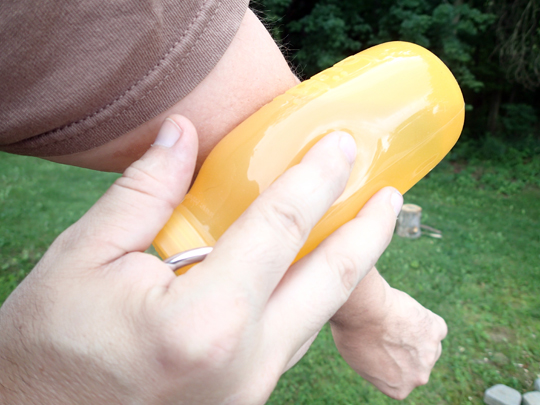 After filling the Bubi with warm/hot water place it in your sleeping bag for those cold nights under the stars or place it under your head to use as a pillow in an emergency situation.
The Bubi is collapsible and it can be stored almost anywhere. For this reason, many outdoor enthusiasts will often carry more than one, in addition to their canteens and/or other water containers. When not in use, the Bubi bottle can be attached to a pack or even to a belt loop using the included carabineer, and if needed it can be pressed flat so it will slip into a pocket as well.  If you have to purify a water source, you can store the clean water in the Bubi to insure that it stays clean and ready to drink. The material used in the manufacturing does not absorb odors, so a quick wash is all that's needed, regardless of what may have been in it previously.
Keep in mind that once sealed, the Bubi is watertight; something to remember If ever caught in a rainstorm, or for river or other water crossings. The Bubi will also float once sealed so attach to a tether and place your valuables in the Bubi bottle to protect them and be rest assured that everything will remain protected and dry. In a survival situation, to protect your fire starting materials, put your matches and tinder in the bottle to ensure that you'll always have the means to create a fire.
Because the Bubi is made of high grade silicone, it will not rattle like a metal water bottle, this is ideal for hunting expeditions and other situations where stealth is important. Store several in your home's emergency supplies pack, bug-out-bags as well as with your camping and hiking supplies.
Final Thoughts
This is the ideal type of product for your bug out bag, one that is lightweight, compact and has a variety of uses. Despite having read a few reviews on Amazon that  claimed the bottle caused their water to taste funny, personally I did not experience any change in the taste of water while using the Bubi. I would like to thank Bubi Bottle for giving me the opportunity to test and to review such a great product. The Bubi Bottle comes in two sizes and in assorted colors. You can purchase a 22 oz. Bubi Bottle for  $24.99 or a 14 oz. for $16.99 at BubiBottle.com.
Read Full Article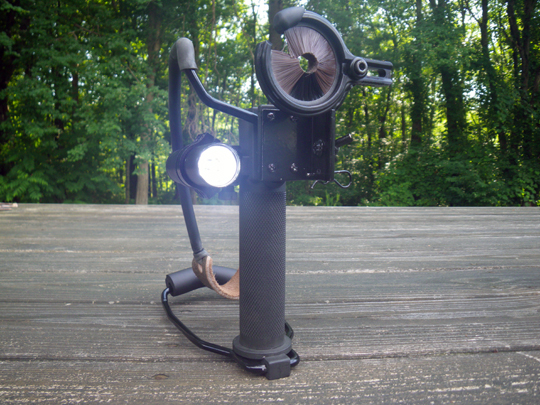 Manufactures Description and Specifications
Handle cast aluminum alloy
The brace is made of steel
Steel Yoke
End cap is cast aluminum alloy
Bands made of high quality surgical tubing
Finish is aluminum parts, anodized
Steel parts are powder coated
Not only is the Survival Slingshot a way to obtain food in a survival situation it is a survival tool unlike any you have ever seen before. With a 25-pound pull, you will find this slingshot is 50 percent more powerful than store bought slingshots.
The Survival Slingshot is also customizable using the optional Weaver mount bases. Turn your survival slingshot into a one that can fire arrows with the optional archery attachment.
With the ability to mount a tactical flashlight you can now spot game in low light or even in the dark. As you know, many game animals are nocturnal so hunting at night can be very productive. With the Survival Slingshot and the light attachment, you can locate game or even fish at dusk, early dawn and late into the night.
Small game and fish are what will keep you alive if you become lost or stranded. The reality television shows and Internet blogs make it seem easy to snare and trap game. While snares, spears and homemade weapons do work, it is a painstaking process sometimes. However, with 25 pounds of pull and the added ability to not only shoot steel shot but arrows as well, small game hunting has taken a huge step forward.
The slingshot is heavy duty and can stand up to the rigors of any survival situation. It is made with aerospace grade aluminum alloy and high strength steel with a lifetime warranty. It comes with an integrated compass and the handle storage space is large enough for a small knife, lighter, matches, cordage or other survival essentials. It truly is a survival tool and not a toy. This heavy-duty survival tool can be carried virtually anywhere and if you leave home with the Survival Slingshot you can survive.
The survival Slingshot also has an optional Bionic ear so you can listen for game or if you are in a tactical situation, you can monitor for pursuers or adversaries.
With the Survival Slingshot you are not sitting back hoping a snare or deadfall works you are actively pursuing your food. Once you have practiced in a controlled environment and have become proficient, your chances of survival have dramatically increased in any survival situation. If you see a bird or small animal it is dinner tonight when you have the Survival Slingshot with you.
All the experts tell you to carry, wire for snares, line for fishing along with hooks and tackle, so why not carry an all in one Survival Slingshot that has everything you need in one outstanding survival tool.
The Standard Models ship with one container that contains, matches, weights for fishing, fishing hooks, pins and needles, fishing line, thread, swivels and an ammunition container with roughly 40 rounds of steel shot.
Shooting Directions:
Pull back with the fork 45 to 90 degrees from upright and release.  Release the shot smoothly and use a consistent style for best results and accuracy. Safety first so wear eye-protection. Inspect slingshot bands for wear before each shot as they can become old and worn with time.
Customization
The taped holes in the front accessory mount and the side rails use #4 fasteners. The side mounts can accept a standard scope mount a flat base is preferred. Once attached with 2 #4 fasteners, you can attach a tactical light with a standard scope mount. There are endless sizes of scopes and therefore many mounting options.
The photo shown above is configured with a custom bracket using a Trophy Ridge Whisker Biscuit, which are available at most sporting good stores that carry archery products. The whisker biscuit can easily be rotated down out of the way so you can shoot steel shot should you want to switch back.
To replace bands that are worn, dip the end of the band into either water or rubbing alcohol and slip end onto the fork a distance similar to the original. Make sure that the pouch is aligned evenly and roughly perpendicular to tube.
Warning this device has an effective range of 250+ Yards 
This is not a toy, adult supervision is recommended for minors. Ammunition may ricochet, inspect bands before each shot for wear and brittleness. Replace damaged bands immediately.
Final Thoughts
The survival slingshot will definitely improve your chances of hunting game especially when you have to do it in silence. It's compact and light enough where it is great for a bug out bag, add a few two piece arrows and you're good to go. I would like to thank Laura at Survival Slingshots for providing me with their Archer model to test and review. You can purchase the standard Survival Slingshot for $49.95 at survivalslingshot.com. The video below will show you arrow depth at about 20 yards using a standard field point.
Read Full Article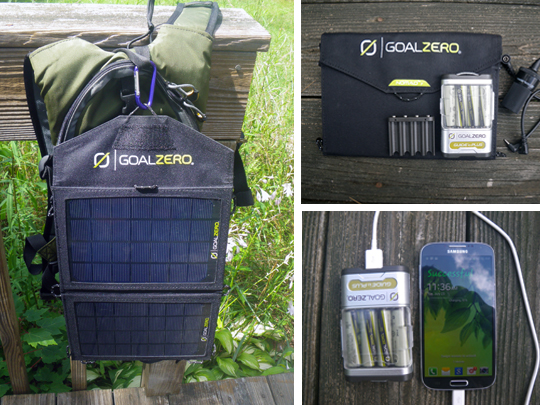 Goal Zero Guide 10 Plus Solar Kit Review
The Goal Zero Guide 10 Plus Solar Kit is a portable rechargeable battery pack/solar panel that can virtually go anywhere with you to keep your handheld devices going strong. It will charge AA/AAA batteries from the sun or you can charge a device using a USB port. You can charge your cell phone, MP3 player or your GPS system practically on the go. There are devices such as a GPS system and cell phones that you cannot do without if you are camping, hunting, hiking or simply enjoying the outdoors.
The Guide 10 Plus Solar Kit is ideal for campers, hunters, hikers and any outdoor enthusiast. It is also ideal for your home disaster preparedness kits. Once the power goes out, you must have a means of keeping cell phones, portable radios and other communication devices operational.

 You Can:
Charge a Smartphone/Cell phones and small USB devies
Charge removable AA/AAA batteries from cameras, flashlights, Walkie-Talkies and so on
A built in LED light is also included that runs for 150 hours plus on a single charge 
Manufacture's Description Specifications
Can Charge From Any USB Power Source
8-10 hours
GOAL ZERO Nomad 3.5 (solar port)
6-8 hours
GOAL ZERO Nomad 7
2-4 hours
INPUTS
USB-mini port
5V, 0.7A max (3.5W)
Solar port
6.5V, 1.5A max (7W)
OUTPUTS
Batteries
4 x AA or AAA** NiMH cells
USB Standard Port
5.0V, 1.0A max (5W)
Flashlight
100mW white LED, 100+ hours*
INTERNAL
Battery Capacity
10 Wh*, use only NiMH cells
Life-span
hundreds of cycles*
Shelf Life
12 months*
GENERAL
Weight w/Batteries
0.4 lbs (0.18 kg)
Dimensions
2.5 x 4 x 0.75 in (6 x 10 x 2 cm)
Warranty
12 Months
Certifications
FCC and CE
Optimal Operating Temp
32-104 F (0-40 C)
*When using GOAL ZERO NiMH rechargeable low self-discharge AA cells.
**AAA Cells require an adapter, which is included with AAA battery purchase.
The guide 10 cannot be any simpler to use, and with all of the recharging options you can be assured you will never be without a powered device when you need it the most. With its compact size, it can fit into any emergency kit for the home or into any backpack or even keep one in your vehicle for emergencies so you are always connected.
Keep in mind according to the manufacturer the Guide 10 Plus is not waterproof so you cannot operate it in the rain or allow it to be submersed in water.
The main purpose of the Goal Zero Guide 10 Plus Solar Kit is to recharge your electronic devices while in the field or when common household current is not available at home or even at the office. Because the device uses solar power you can be virtually anywhere in the world and still have a reliable charging system.
What makes this device unique is that you can recharge AA/AAA batteries anywhere and at virtually anytime you are in the field. Simply remove the AA/AAA batteries and recharge for the specified time and your flashlight for example is once again ready to light up the night. The battery pack when fully charged can also be used to charge your usb devices, I was able to get 2 full charges to my smart phone from it and about a 40% battery boost to my iPad.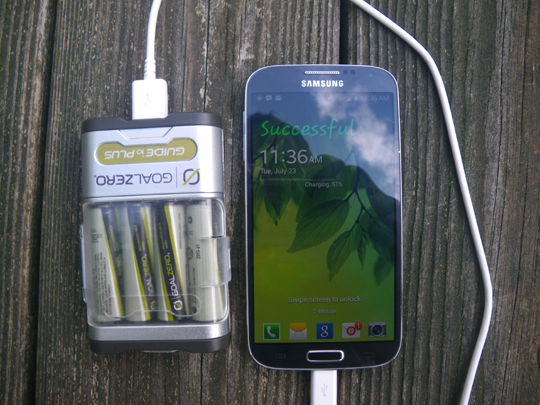 Carry extra batteries so when in the field you can have a set in your device and one set charging. This way your device is never down waiting on the batteries to charge. Carefully review all of the manufacture's specifications to ensure you understand completely what devices can and cannot be charged using this device.
Before setting out for any outdoor adventure make sure, you know how the charging device operates so once in the field you will not have any problems keeping your devices operational.
The solar panels are designed so they can be suspended from your pack, or hung from tree limbs/branches using rope/string to get maximum sunlight exposure. You can walk and charge at the same time if you lash the panels to your backpack to get direct sunlight on the panels as you are walking. Make sure you adjust the panels wherever they may be suspended to get as much direct sunlight as possible for optimum charging.
 My Final Thoughts
The Guide 10 plus worked as advertised and I was very pleased with it, the built in led on the battery pack is also an excellent addition and I found it very useful. Keep in mind the iPhone and other smart devices can be charged connected directly to the panel but can sometimes can be disrupted, I found this to be true with my iPhone 4. I only had to re-plug the phone in to restore the charging process. I would like to take this time to thank Kaysi at GoalZero for sending me the Guide 10 Plus Adventure kit for review and testing. To learn more about the Guide 10 Plus and their full line of products visit GoalZero.com.
Read Full Article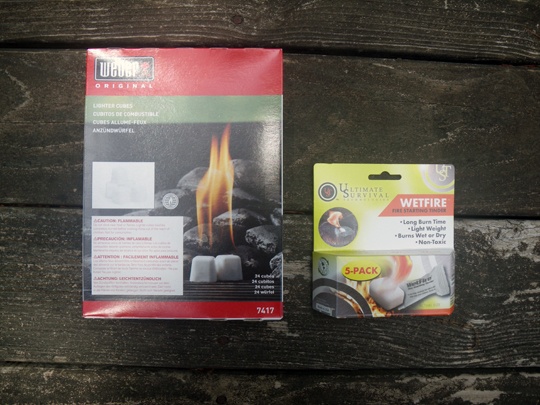 I have seen a few videos on Ultimate Survival Wetfire fire starting tinders, and Weber Lighter Cubes, so I decided to visit my local Walmart to purchase the above products and perform a comparison test on them. All tests were held in my back yard under breezy conditions, nothing scientific here. The Wetfire brand is definitely more expensive; you get 5 cubes per package, at a cost of $4.97.  On the other hand, the Weber lighter cubes come 24 to a package at a cost of $3.98.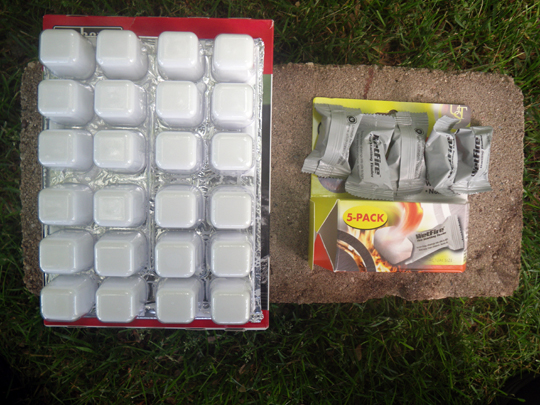 I found that not only do you get more for the money when purchasing the Weber cubes, but as you can see in the photo below, they are twice the size of the Wetfire cubes. But here's the real question, will they work the same?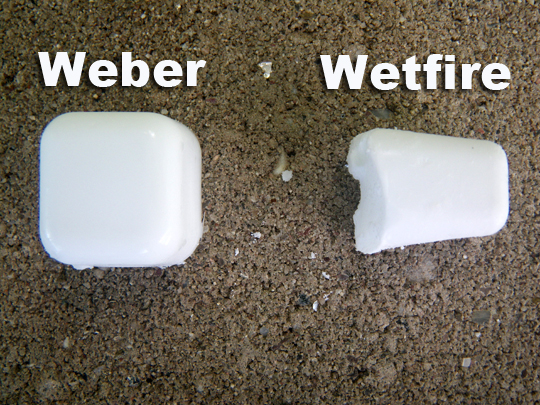 For the first part of my comparison test I decided to scrape off some of each cube to see if they would each ignite the same with a ferro rod. I used the Ultimate Survival Blast Match for this. I noticed that the Weber cubes were a bit more brittle feeling when compared to the Wetfire cubes, and while trying to cut off a good sized portion of the Weber cube, that it would crumble; however, this was a non-issue. I also noticed  that they both seemed to light equally with the blast match.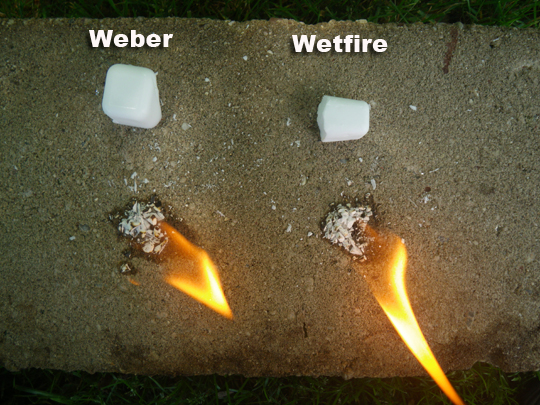 For the next part of my comparison, I dropped an equal sized piece of each of each product in some water and I let them soak for a bit. After both cubes were soaked in water I then covered my lighting surface with more water and lit both cubes while sitting in the water.  What I found was that they both seemed to light equally as well.  Of note, during this part of my test I used a match to light the pieces of cube used as I found it too difficult to light larger pieces of each cube with a ferro rod.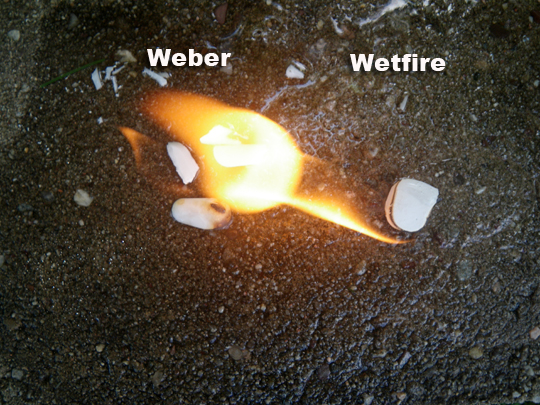 For my next test I wanted to see how long each product would burn. With the Weber cubes being twice the size of the Wetfire, I decided to cut a piece off of each cube, equal in size, just eyeballing it. The results are as follows: The Weber piece burned for 1 minute and 52 seconds before a breeze blew it out. The Wetffire lasted for 2 minutes and 3 seconds before a breeze blew it out. Pictured below are both of the cubes at the size they were when each went out.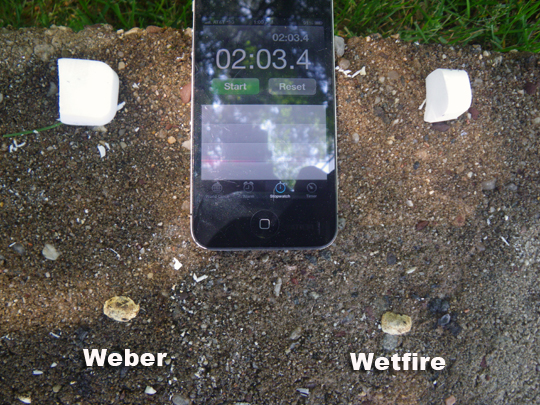 In conclusion, it's my opinion that both cubes seemed to work equally as well.  However, seeing as how the Weber cube is twice the size of the Wetfire cube, you'll nearly get 10 times the amount of product with the Weber brand, and all for a dollar less.  It's a no brainer; go with the Weber lighter cubes. So if your fire skills aren't up to par I highly recommend keeping some of the Weber Lighter Cubes in your bug out bag, for starting fires under wet/damp conditions.
Read Full Article