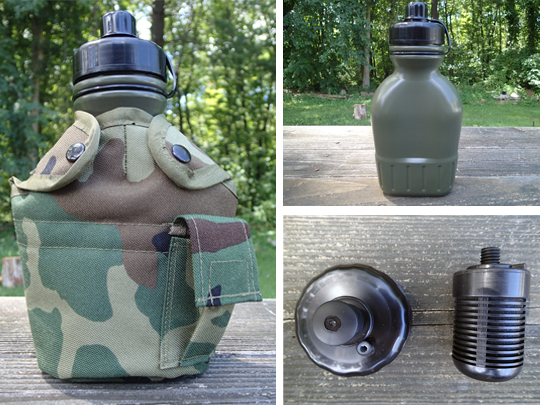 Filtered Canteen – 38oz by Clearly Filtered
The Filtered Canteen is certified to remove 99.99 percent of all Giardia, Cryptosporidium, and bacteria along with waterborne cysts. The Filtered Canteen provides the average user with 100 gallons of filtered water, which means it lasts on average for six months. The filter according to the manufacturer also removes all viruses and 99.99 percent of salmonella, E, Coli, lead, mercury, radon 222 and 90 percent of fluoride, so with the Guardian anti-microbial technology you can fill up the Filtered Canteen from any fresh water lake, river or stream without getting sick.
The canteen is made from 100% BPA free, non-leaching plastic
The concept cannot be any simpler, simply fill the canteen from a water source put the cap and filter combination back on and drink. The filter does not need to be cleaned and when you notice a water flow reduction, it is time to change the filter (usually after six months of normal use).
The Filtered Canteen will work with any standard canteen cover and cup so make sure you have a quality cover that can be attached to your web belt or pack to disperse the weight. The recommended method for weight reduction in your pack and for body balance is to carry one full canteen attached slightly forward on both the left and right side of your body.
Do not place the filter in soapy water, in the dishwasher or use with hot water
Do not place the canteen/filter in the freezer 
The Filtered Canteen is not for use with saltwater 
Use caution when handling the filter/drinking cap so you do not immerse the part you drink from in contaminated water. Always remove the cap/filter combination and fill the canteen by immersion or pouring from another container into the canteen. Ensure the part you drink from is protected from contamination at all times.
If you are an outdoor enthusiast then you know the importance of safe clean drinking water. There are various ways to filter and purify a surface water source but it requires the use of chemicals and boiling and this is after you have filtered the water. This means you have to carry various supplies and materials with you.
By carrying the Filtered Canteen, you have reduced the number of items you need to pack. The canteens are also ideal for bug-out-bags, and home emergency kits. During some disaster situations, your local municipality may issue a boil order or your water supply may be disrupted because of water line damage. Use the canteen to filter tap water if you have been notified of a water line break or otherwise have reason to suspect the water supply may be contaminated during a crisis.
Carry at least two in your bug-out-bag or survival kit so one is always full. You never know when you will be able to find another water source so always carry enough clean filtered water to see you through the day. If you use two canteens, rotate their use so the life expectancy remains average for both. By having two, you can filter up to 200 gallons of water, which may seem like a lot but in a survival situation, whether at home or in the wild you simply cannot have too much clean drinking water.
It is recommended that anyone going on a day hike even for a few hours carry a Filtered Canteen by Clearly Filtered. A planned day hike expected to last for a few hours can turn into a nightmare of days wandering lost. Having a Filtered canteen with you can mean the difference between surviving and not.
Final Thoughts
I tested the filtered canteen several times over the last week from a creek I have running in the back of my house and I felt fine afterwards. I highly recommend you test any water filter you buy, don't just put it in your bug out bag and hope it works when you need it. It is better to find out it doesn't work now when you can get medical attention, than later when you can't. I actually find myself using it everyday just because it removes 90% of fluoride from my tap water. The filters are replaceable, you just unscrew them from the cap and replace with a new one, pretty simple. I would like to thank Asaiah from Clearly Filtered for providing me with a filtered canteen to test and review. You can see their full line of filters at www.ClearlyFilterd.com.