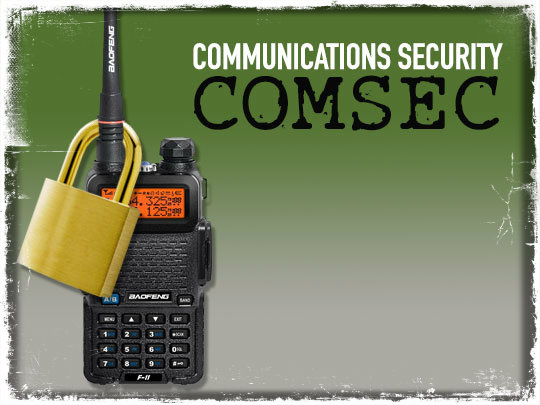 Communications Security (COMSEC)
COMSEC would include any electronic communications such as email, text messages, and postings on social media websites.
Who What When and Where
Who are you, someone may want to know, what are you doing, someone may want to know this as well, when is something going to happen, and where is it going to happen is relevant information that must be safeguarded when communicating electronically.
Radio Signals
Radio signals can be intercepted and with a directional antenna someone can determine your location by triangulation. All it requires is three bearings from three different locations. Where the bearings intersect is your location.
It is not quite as easy as described for those that have never triangulated a signal, but with a little practice and some knowledge of radio transmissions virtually anyone can do it.
Typically, someone would be monitoring radio traffic for information, and then decide based on that information they may decide they need/want your location.
Reduce Your Risk
To reduce the risk of giving away a location you can transmit from another location that is not relevant to you, or cannot be connected to you in any way. In other words, do not key the microphone while standing on your front porch if you do not want someone finding your front porch.
Keep your transmissions short and use just enough power to make contact with others on the net. The stronger the signal the easier it is to intercept and track.
Personal names should never be used so you should assign call signs to anyone on your communications net. If someone does not use the proper call sign and attempts to communicate with you then go dark, change to a backup frequency and attempt contact again, or wait to be contacted.
Remember, someone is always monitoring, and you would not know it. Unless you have sophisticated equipment your traffic would not be encrypted, and can be intercepted by anyone with a receiver.
The military and some law enforcement agencies use Communications-Electronics Operating Instructions (CEOI). The information is changed after a certain period typically every 24-hours. The guide would contain an authentication table, among other information, that all users would have to follow to communicate with anyone on the communications network. This is something that you could easily replicate for your communications net. A simple code that lets you know that the person you are talking to is a "friendly" and not someone searching for information.
Email
Once you hit the send button there is absolutely no way of knowing who at some point may have access to the contents. The person receiving it may distribute it to any number of people, the service provider may scan the email contents for keywords so advertisers can target you and hackers and others can intercept it as well.
Think before sending email, is there information in the correspondence that could compromise your personal, family or business's security. If there is any doubt do not send.
Text Messages
Treat text messages, as you would email. Once sent any number of people could view the information and it is not unheard of to text to the wrong phone number. Once again think and double check before hitting send.
Social Media
It should be obvious to most people that posting personal information online can be dangerous. Even information that is supposedly only accessible by "friends" can in some cases be viewed by others, and just who are your friends by the way, do you know.
Certain social media sites update their privacy policies from time to time, and they do not make much of an effort to notify users, so this could change who has to access your information. Typically, the sites do this so advertisers have greater access to your browsing habits, but along with advertisers there are others out there looking.
You may not even be aware of your privacy settings, so take some time to review how your accounts are set up to determine who has access to what as far as your online accounts are concerned.
Know what your children are posting on social media. An innocent picture of mom and dad's new firearm may bring unwanted attention to your family. Pictures of your home and vehicles with license plates showing is not a good idea either. Of course anyone driving by can see your plates, but if someone is looking for your home, because they liked what they saw online, and they have the plate numbers of your vehicles it only makes it that much easier to find the right home.
Taking pictures of your prepping supplies and posting them online is not a good idea even though you think there is no information in the pictures anyone can use there may be a clue that together with another clue can allow someone to figure out who you are and where you live.
If you have to stop and wonder if it is a good idea then it probably is not a good idea when it comes to posting information online.
No one has to break into your home to plant electronic intrusion devices anymore. Electronic surveillance can be conducted from down the street or hundreds if not thousands of miles away.
Cell Phones
Cell phones are by no means secure for the common user. You have to assume every call is being intercepted and the contents of the call possibly stored somewhere. For most this is not a concern, because all of the calls being swept up in a dragnet, as it were, cannot be listened too, there are simply too many and it is not the intention of the agencies doing it to listen to everyone. The information is stored, and if something happens later on then they may access some calls, because certain keywords not previously relevant have surfaced.
The agencies conducting surveillance and call collection dragnets are looking for specific keywords and they focus on the location and destination.
Calls of interest include those that connect with callers overseas. The call may originate from the United States or come into the United States from overseas. Law enforcement agencies will intercept cell phones during investigations as well, so all in all, you have to assume to be safe that all calls are being recorded, stored, and possibly analyzed. For the typical person this means nothing and nothing would ever come of all this surveillance as far as the average person is concerned.
If you do not want anyone to know you are a Prepper then do not tell anyone you are a Prepper. However, your actions and purchases can indicate you are a Prepper. If you buy a lot of supplies on Amazon for example, it is a safe bet someone at Amazon knows or suspects you are a Prepper. They don't care, but that is not the point, if someone gets a look at your browsing history or credit card purchases, for example they too will know.
Your browsing history will tell someone a lot about you and knowing what sites you visit may make you an easier target for hackers or others that may be gathering information about you.
Keep your phone locked/password protected so no one can access it to see what you have been up too. The same applies to your computer at home, use password protection so no one has access to your laptop, for example, to see what you have been up too.
Use common sense, security lapses often times occur because people did not stop and think. Something as simple as opening up an email attachment can override thousands of dollars of sophisticated security hardware.
Stop and think about who, what, when and where, when communicating with anyone.