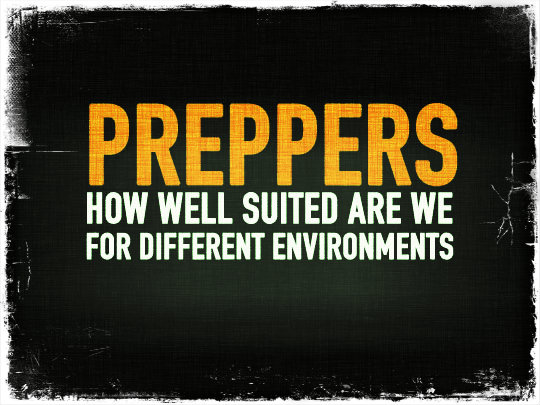 Somewhere along the evolutionary trail the human brain became bigger. Bigger brains meant less physical work. We were able to fashion tools, weapons and build things like shelters. This meant we needed less physical attributes, because we could think and reason and to some extent figure out what the future held, by events occurring today.
If a hurricane struck relatively at the same time each year, early humans that lived in coastal areas, figured out that maybe they should prepare for next time, or pack up and move further inland until the crisis abated.
Humans are the only species on earth that can to some extent change their environment. If a mountain is in the way we do not build around it, we move it, and yet if exposed to the cold unprotected we could lose fingers or limbs or even die because of it just after a few hours in some cases.
A disease carried by tiny lice that hitched a ride on rats killed millions of humans during the dark ages. Too much sunlight can burn our skin and cause it to peel, and we can die just after a few hours exposed to blazing sunlight.
We cannot see in the dark and compared to other species our hearing and eyesight is poor. Our sense of smell is weak compared to other predators. We cannot drink the water unless it has been treated, or otherwise we may get sick or even die, meats have to be cooked to destroy bacteria or we could get sick and die, and while we can eat plants, many that we would find in the wild would kill us if consumed. We have big brains however.
Our brains were so big in fact; that we could not figure out that raw sewage dumped in the streets would find its way to the rivers, where we drew water for drinking and cooking, but not so much for bathing in Europe just a few centuries ago. We have killed ourselves off in record numbers, because we failed to see what was right in front of us.
What we do not always see is that nature has a system, and as big as our brains are we still think we can trick it, change it, and survive in it regardless of the situation. The will to live, to survive is strong, so strong that we can sometimes overcome the odds, but it is a hard slog and in some cases unnecessarily hard, because we failed to prepare.
We fail because of our bigger brains. Once you start thinking you are the smartest thing on earth then everything and everyone else is, well less smart, which only stands to reason right. Google makes everyone smart, but what happens when Google is gone, can you survive.
What Does All of This Have To Do With Being a Prepper?
Technology, and the fact we all think we are smarter than nature, has lulled us into thinking we have all the bases covered. It gives us all a false sense of security and for some this is needed so they can sleep at night. You can fool yourself for awhile, but when the crops fail to come on, when the rains stop and the snow begins and Google is just a faded memory what will you do. The tornado headed your way does not care about technology. It barrels on sucking up everything in its path mindlessly doing what it has done for millenniums.
Many of us have to stop thinking that someone or something mainly the government is going to come along and fix things for us, or have the answers we seek. It is not going to happen for most of us. Once in the midst of a crisis you are on your own, and you had better have your game face on to survive.
We need "stuff "to put it bluntly, because most of us cannot raise enough food to feed our own families even during the best of times. We do not have cattle, goats, chickens and dairy cows out in the barn, or acres of corn, beans, and peas always ready to pick. Crops need a growing season, so what will you do for food in the middle of winter.
We need supplies stockpiled and we need a lot, and if you do not know how much, you may have already lost the battle for survival. Remember, you cannot just go out and start gulping whatever water source is close to home, you need to know how to purify it first, you cannot just start eating plant life you find in the wild. You cannot just sit down and start gnawing on raw meat; it has to be cooked to kill the parasites and bacteria.
We need heavy clothing for the cold weather, we need protection from the hot sun and we need artificial light at night, we glasses and binoculars to spot threats around our camps or home, and we need to be alert because remember, we cannot hear well. We need a defense plan, and weapons to defend ourselves against stronger predators out there, and we need tools to survive.
We can hear well enough to talk on a phone, have a conversation if people are close or to listen to the radio or television, but can we hear a skilled predator stalking us in the wilds, most of us cannot until it's too late. We cannot smell the threat unless the gnashing teeth are inches from our face, unless the meat tearing incisors are sunk in our necks.
All and all we humans are frail in comparison to other species. Our stomachs revolt when we change our diets. Our feet blister and sometimes give out after just a few miles of walking, and our backs are really only designed so we can walk or run upright. They are not designed for heavy loads. We are not load bearing mammals. We have back problems, we wear braces and we take pills and we have to be careful how we lift, how and where we walk and we have to control how much sugar and salt we can have.
We cannot bring down game with our claws and teeth, and then drag the kill to a safe spot to dine on it. We have to have weapons and tools in which to butcher and we need a means to cook that kill and we need refrigeration because we cannot eat rotting meat. We have to be smarter than the animals, and even when we are, we often times come home empty handed.
We have to hoard essentially, and have things at the ready for when disaster strikes, and if we do not, we may not survive. We have to think ahead as our brains are designed to do, because essentially that is the only advantage we have in this world, the ability to look ahead and say "you know what, if disaster struck tomorrow, we would need this, that and a few other things".