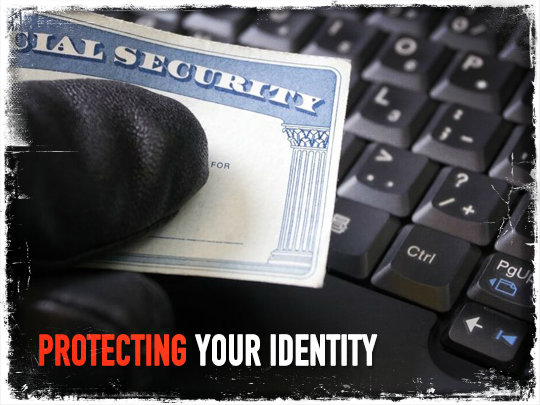 The most common form of ID theft is "old-fashioned credit-card fraud and check-kiting". Where someone fraudulently gains access to your credit or debit/checking account. This type of identity theft affects approximately 4 percent of households in the United States each year (Consumer Reports, n.d.).
There are of course other forms of identity theft, and it is on the rise. According to Consumer Reports close to 11 million people are victims in one form or another every year. The theft can range from using a person's social security number to get a job, open lines of credit or to completely take over a persons' identity.
The more obvious ways to protect yourself is not to reveal your Social Security Number (SSN) to anyone unless there is clearly stated reasons why they need it, for example, credit applications, driver license applications, and certain tax forms and so on. You should never reveal your number over the phone, in a text or email unless the identity of the person requesting it can be verified and there is a valid reason they need it.
Your social security number is not used to verify your age to purchase cigarettes or alcohol, nor is it used to verify the validity of any personal checks you may write. Anyone asking for your number in these circumstances has no right to the number, and you should never provide it under the stated conditions.
Your SSN should not be on any checks or identification cards such as state issued drivers licenses. In some cases your SSN number would be on certain military identification cards and other documentation.
Keep Personal Information Personal
Many people use pet names, mother's maiden name, birth dates of children, spouses and siblings, names schools and other personal information to answer security questions to access online banking and credit card accounts and to reset passwords to these accounts. Some if not many people use family related dates and names of pets, for example, as passwords because they are easy to remember.
You simply cannot post certain personal information on social websites so that thieves can figure out the answers to security questions. It is possible that once thieves have gathered enough information from your postings on your social websites they can reset your passwords for bank and credit card accounts or any other accounts online for that matter.
Sign up for free alerts by text, email, or phone or all means of communications if a credit card is used. If it is you using the cards' account number online or in person then all is well, but if you are home and your card number is being used at a travel agency you have problems.
You Can Use Security Freezes and Fraud Alerts On Your Credit Reports
Stop it before it happens. It is all well and good if you are alerted after someone uses your credit card or SSN, but if you stop it from happening in the first place you are ahead of the game.
Putting a freeze on your credit reports means however, you would have to lift the freeze if you want to apply for credit with an organization you have never conducted business with before.
If you currently have a financial relationship with a company, and they had previous access to your credit report they still would have access even with a freeze on it.
Putting a freeze on your credit reports stops potential thieves from getting credit in your name, because to get credit using your SSN, for example, a credit report would have to be pulled by the lender and they would be denied access. If a lender cannot see your credit history then any loans would be likely denied. You would also be alerted when someone attempted to access your credit report.
For More Information Visit:
Equifax (www.equifax.com)
Experian (www.experian.com)
TransUnion (www.transunion.com)
Keep your electronic devices secured. Letting friends or even certain family members use your devices means you may have compromised your personal information. Keep in mind identity thieves have often times turned out to be family members and friends of the victims.
You Can Be Hacked If Someone Targets Your Devices
The only saving grace for most people is there is no reason to target you specifically. However if you do not have firewalls and virus protections on your computers and other devices you could be infected because you visited a site that is designed to put adware and other more serious viruses on your computer.
You are not an institution that stores credit card or bank account numbers, so you are not actively being targeted daily, but you can be infected and have the contents of your computer siphoned off, and used if you do not have certain protections installed.
Consumer Reports. (n.d.). Retrieved 2015, from http://www.consumerreports.org/cro/2010/07/protect-your-identity/index.htm