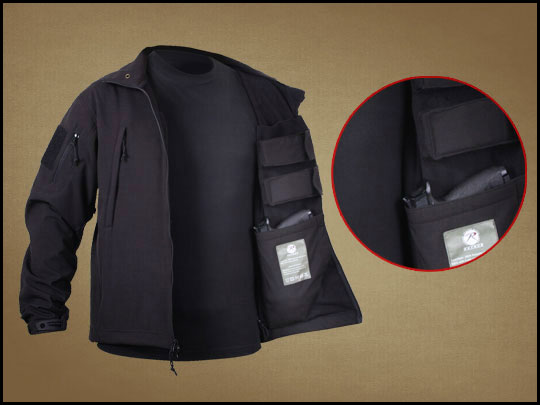 Rothco takes this tactical soft shell jacket to the next level. Not only is the outer shell waterproof the inner layer is breathable fleece making it ideal for cold weather tactical training, hunting or for any outdoor cold weather activity.
Specifications:
2 Interior Mag Pouches
2 Interior Concealed Carry Pockets w/ Hook & Loop Closure
Loop Fields on Shoulder
Adjustable Wrist Cuffs, Multiple Pockets & Concealed, Detachable Hood
Material Specs: Outer Shell is 100% Polyester, Inner shell is Fleece
Zippered shoulder pocket
Forearm pocket on left sleeve
Two front slash pockets,
Two back pockets, vented under arm, and a 4″x4″ hook & loop patch attachment on each side
Size Ranges: S, M, L, XL, 2XL, 3XL
The jacket has a zippered collar with a concealed and detachable hood, which is important. Hoods can create blind spots, interfere with hearing and they certainly can interfere with your frontal vision when operating in windy conditions, because the hood is always blowing around your ears and face. Something as simple as a hood that can be restrained and concealed makes a huge difference. Use it when you need it, but when not needed it tucks away so as not to be in your way.
Now for the best part, the Rothco Concealed Carry Soft Shell Jacket is specifically designed for concealed carry. The jacket has two interior conceal carry pockets, one on each side and two pouches for magazines. Load up, zip up and no one knows you are carrying. Stay unzipped for quick access with either hand and still stay warm because of the soft inner shell.
In the past, you may have carried pistols in your parka's pocket and you know how awkward it is trying to fumble the weapon out of the pocket. Not only awkward it can be deadly, because the firearm can become tangled up in the material making it very difficult to get it out, and besides all that, your pockets sag with the weight, and then bang against your legs or hips as you walk or run.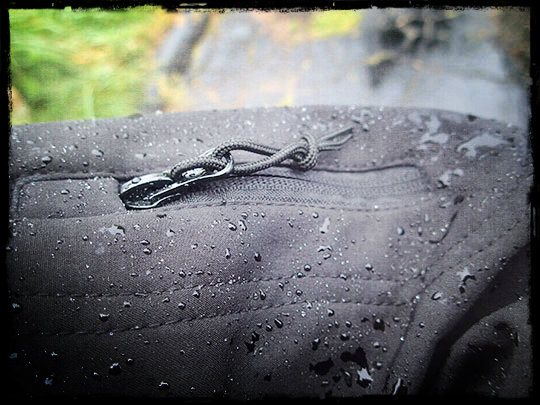 You cannot holster a weapon on your belt and expect to get to it quickly with a heavy parka on that hangs below the waist and the same with shoulder rigs, but now you can have quick access to your pistols with the Rothco Concealed Carry Soft Shell Jacket. No sagging from the weight and no bulky material to get in the way as you reach for your weapon and no one knows you are carrying because of the design.
Frankly, the Rothco Concealed Carry Soft Shell Jacket is well worth it without the concealed carry pockets and with them, well the jacket is something you just simply have to experience for yourself to appreciate. Rothco really takes this jacket to the next level. Anyone that has a need to carry concealed will realize the second the jacket is put on how well designed and how clever the jacket really is.
The magazine pouches have Velcro closures and they are mounted sideways and not up and down so you simply slide the mags out instead of trying to pull them out. Open the flap and push the bottom of the Mag with your thumb and it slides out into your hand for quick reloads.
The concealed carry pockets will not sag, so no awkward looking bulges and once loaded up your pistol (s) will not bang against your chest as you walk or even run, and have no fear the pistols will stay in place until needed because of the hook and loop closures.
The jacket is so well designed that even if you only carry a pistol on one side the jacket will not feel off balanced. Actually, it feels perfect, and once you are loaded up, the weight is a comfort that can only come from knowing you are protected.
Like anything new, it will take a bit of practice, but I found the design of the jacket makes it easy to reach in and draw without having to paw around. The pockets are right there ready for the hand. Take the time to practice drawing with or without gloves. Heavy gloves or mittens of course would make it difficult to draw effectively so keep this in mind and practice, practice and then practice some more.
The Rothco concealed carry soft shell jacket retails for $132.99 and can be purchased at Rothco.com