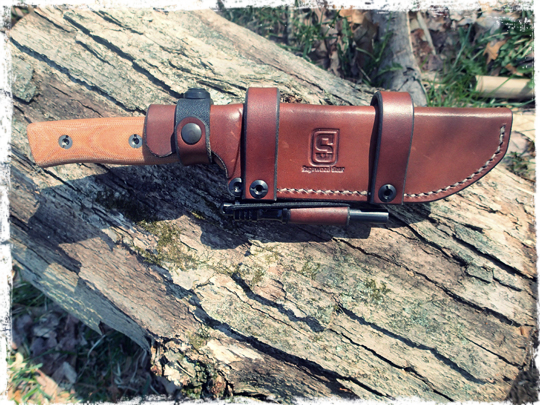 Once you unpack the Scout Sheath, you will immediately realize it will last your lifetime and you can pass it down to the next generation, and it will last another lifetime, yes, it is that kind of sheath.
What Is a Scout Sheath All About?
The Sagewood Gear Scout Carry Sheath features a unique Pivoting Retention Strap called the PRS system. This remarkable design feature allows you to pivot the retaining strap down once you unsnap it. Remember how your old sheath strap works, you unsnap it and the blade and guard catch on the snaps as you draw the knife.
Your quick draw with your old sheath is anything but, as you fumble to untangle the knife from the straps. With the Scout Sheath, this problem has been eliminated. To draw your knife from your new sheath, you simply unsnap and rotate the retention strap down away from the blade. You will wonder, why no one has thought of this before.
Left or right handed, it does not matter, because you can change the direction of draw by removing the belt loops and flipping them to the opposite side. This provides you with carry options, cross draw configuration, small of your back or on either side. This feature is ideal for those that plan to carry a sidearm. The ambidextrous feature of the sheath allows you to carry your weapon as you always do, because the sheath can easily be repositioned to accommodate other items on your belt.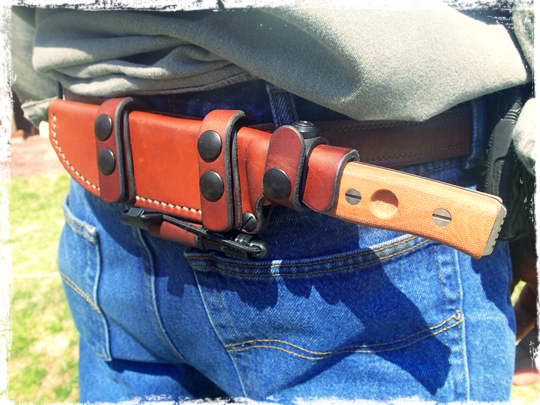 The sheath is also PALS webbing compatible. What is PALS Webbing? The system is grid of webbing called a Pouch Attachment Ladder System or PALS developed for the United States Army. The system is used to attach smaller equipment onto load bearing platforms such as vests and backpacks. This is an outstanding feature to have.
"PALS" consists of webbing sewn on the LB (load bearing) equipment, with matching webbing and straps on the attachment. The system allows for a very secure fit and for rapid detachment with little effort.
 Other Features Include
"Scout" aka Horizontal carry
MOLLE Compatible
The Sheath Is Made From 10oz Herman Oak Leather
Handcrafted and Hand Stitched
High Quality Hardware
All Fasteners Are Press Fitted For Incredible Durability
Double Snap Belt Loops
Water Repellant Finish
Option Fire Steel Loop 1/4", 5/16" or 3/8" Diameter
You have your choice of three colors, black, dark brown, and light brown. In addition to the optional fire steel carrying loop, you can also choose between a tapered end or a squared end sheath. If you're looking for a carrying pouch for storing/carrying survival gear, sharpening stone or anything else you can think of, then check out their PRS Deluxe Scout Sheath.
In the past, I have talked about knives, and their sheaths. I have often times waited anxiously for a new knife to arrive, the thrill of something new. You know the feeling, you unpack the knife, and admire its quality and then "oh by the way" there is a sheath in the package too. You pull it out, it is a limp nylon or canvas piece with Velcro fasteners that will soon gather lint, and they always seem to be in the way. You get the impression that some knife makers put all their efforts into the blade and the quality of the sheath makes it feel like it was an afterthought.
The maker's labor over the knife and the artisan thinks, oh maybe we had better toss in a sheath while we are at it. Therefore, you start to search for a quality sheath only to find out they are twice as much as the knife you have just purchased not the case with a Sagewood sheath however, I found them to be half the price of some of the other sheath makers out there.
When you open the package of your new sagewood gear knife sheath it is a thing of beauty and you will want to hold it and look at it, maybe even run your fingers over the stitching as you imagine the possibilities; the craftsmanship is second to none. The Scout Sheath is perfect for hunters, campers, survival experts, and anyone that wants a high quality leather knife sheath that will last a lifetime.
Final Thoughts
The only downfall to this sheath was the wait time, at the moment Sagewood Gears has a waiting period of 8-10 weeks for any sheath ordered, but in my opinion it was well worth the wait. Sagewood Gear currently offers sheaths for some models of Survive Knives, ESEE, Tops, Ontario and Becker knives. Sagewood Gear sheaths start at $89.95 depending on the knife and model, making them a lot more affordable, see their full line of products at sagewoodgear.com.