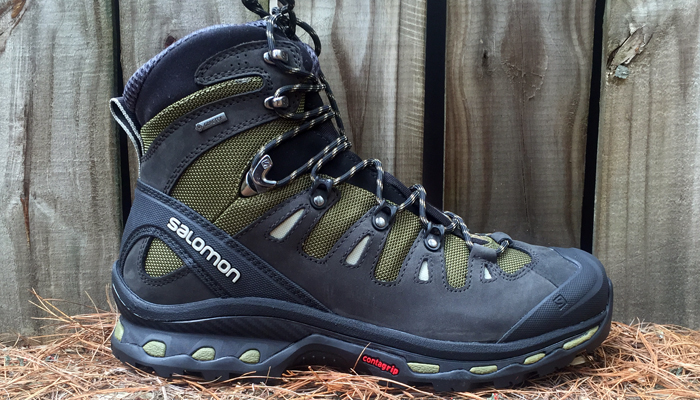 It's rare to find a pair of boots that feel broken in right out of the box, but the Quest 4D feel like they were tailor-made for my feet. The ankle support these boots provide is what seals the deal for me. Rolling an ankle in the backwoods, or anywhere for that matter, is not something any hiker wants to do, and if you can find a boot that is comfortable, sturdy, breathable and looks good, with good ankle support, you had better grab them fast.
Walking around the backyard doing yard work is one thing; hiking over rough terrain with a pack on is another matter entirely. There are work boots and there are hiking boots. You need to know the difference and you can't scrimp when it comes to hiking boots, because if your boots fail you, where does that leave you. Unless you are Cody Lundin you are left barefoot and possibly with a foot or ankle injury from wearing the wrong hiking boot.
Cheap boots are like cheap tires, they will leave you alongside the highway or trail, and it's never just at the end of the driveway, or at the trail's end. No, it's miles from home when the temperature is below freezing, or so hot, you could fry an egg on a rock in the sun. Boots never fail at a convenient time, so it is important you get it right the first time.
The Quest 4D 2 hiking boot is lightweight, and as a previous article had stated heavy boots put a strain on your back, shoulders and body in general, in particular when wearing a pack, so light is better if they are sturdy. The technology that went into these boots ensures a comfortable hike and yet the boots are strong enough to withstand essentially, whatever you throw at them along the trail.
Lightweight, Breathable Abrasion Resistant Materials Allows For Breathability And Comfort.

GORE-TEX® Performance Comfort Footwear Keeps Your Feet Dry -From The Outside As Well As From The Inside

Rubber Toe Cap, Which Is The Right Solution For Toe Protection In Mountain And Trail Environments

The Unique Lacing System Allows You To Tighten Or Loosen The Levels, In Other Words, If You Want A Portion Of The Boot Tighter, You Can Do So Without Tightening The Entire Lace System

STABILITY: Salomon's 4D Advanced Chassis Guides The Foot On Even The Roughest Terrain, Reducing Fatigue For All-Trek Comfort
The sole grips even wet rocks, but never assume any boot is slip-proof, so always walk with caution on slippery surfaces. The boots have what is called a "SECURE GRIP" Salomon's non-marking Contagrip® soles, which have a reverse chevron pattern that grips on wet, loose, hard, or dry surfaces.  They do grip well and the mud falls off easier than most other boot soles. I hate boots that collect mud until you feel like you are dragging concrete blocks along the ground.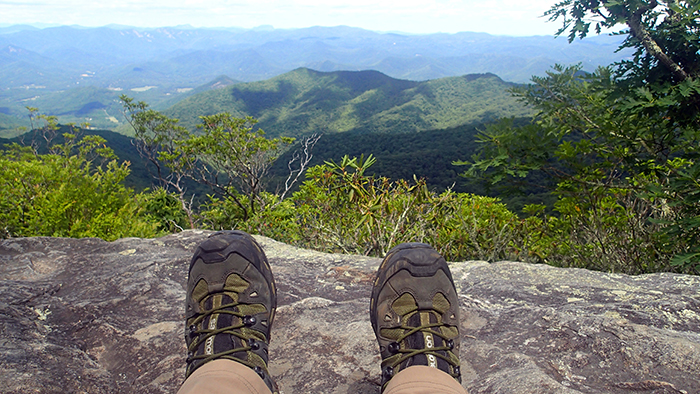 Ample padding cushions the foot and absorbs shocks well. No more jarring that makes the teeth rattle when stepping down hard on rough terrain. By the way, you may have to adjust the thickness of your socks because the lining may cause the boot to fit tighter with heavy socks in cold weather. The boot does a good job of protecting the feet from the cold, while at the same time, the material breathes to help keep the feet dry and cool during the summer months.
You may be able to do away with the heavier socks because of the lining, but make that decision once you have the boots home and have tested the pair out.
I have worn theses boots for hundreds of miles and I found that I don't feel hot spots anymore and blisters are pretty much a thing of the past. Sweaty feet, the wrong socks, and poor quality boots all add up to blisters and hot feet. These boots have cured the problem of all that with the quality materials and design, and what is even better is my feet don't ache and back strain is reduced to be almost non-existent when I hike when wearing these boots.