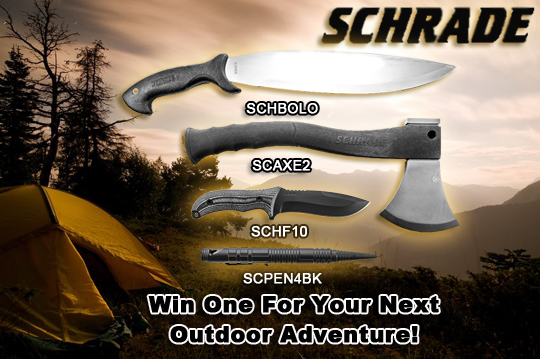 Win 1 of 4 Schrade Survival tools! 
Having the right tool for the job is critical in a survival situation. With the right tool you can build a shelter, start a fire or build a snare. So increase your chances of survival in any survival situation by keeping the right tools in your bug out bag. We've teamed up with Schrade Knives to offer you this great giveaway. We are giving away four great Schrade products. Four winners will be chosen, 1st place will receive the Schrade SCHBOLO, 2nd Place the Schrade SCAXE2, 3rd Place the Schrade SCHF10 and 4th SCPEN4BK Tactical Pen. You can enter using the widget below, must be 18 to enter.
[important]CLICK THE PRIZES TO SEE ALL THE INFO ON THEM! CAN'T WAIT TO WIN PURCHASE ONE NOW![/important]
1st Place – Schrade SCHBOLO
2nd Place – Schrade SCAXE2
3rd Place – SCHF10
4th Place – SCPEN4BK Tactical Pen
[important]Enter Using The Widget Below![/important]
Congrats To The Winners!
1st Place SCHBOLO
Samuel M.
2nd Place SCAXE2
Steve S.
 3rd Place SCHF10
Dereck M.
 4th Place SCPEN4BK
Jason M.