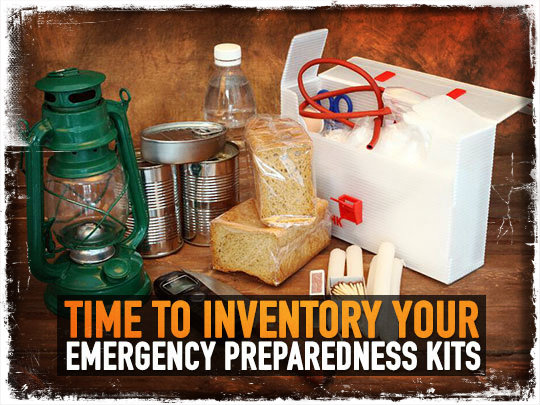 Most of you realize that you cannot simply pack an emergency bag and then forget about it. Therefore, it is important you pick a time to accomplish the important task of keeping your kits updated. Updates to ensure you are always prepared. Choose a time and it can be every 90 days, every six months or even once a year to inventory, reconsider certain items and add to your kits as threats change.
Emergencies do not occur on schedule, so to be ready for one you have to be ready at all times. One could occur in a few seconds, minutes, hours or days. If you have been thinking about your supplies and wondering if your kits are up to date then it is time to take the guess work out of it and find out for sure by doing a complete inventory of all your emergency supplies.
Rotate water supplies at least once a year, and more often when you have repurposed water containers, because the plastic will degrade over time, and can leak in your packs or cause damage to your storage area such as a basement, garage and so on.

Check the expiration dates on foods such as MRE's, canned goods, snack mixes, and so forth. If the food item has expired according to the label then you would have to make a judgment call as to whether they can be consumed or not. Certain foods while not as desirable can be consumed beyond the stated use by date. However, if left in the emergency kit they would be even less desirable for eating if you had to use the product in an emergency later on, so change out your food supplies on schedule, so you are always ready.

Medical supplies and medicines do have expiration dates and this is particularly important when it comes to antibiotics. The adhesive on bandage packaging, for example, will deteriorate over time, which of course means the bandage is no longer sterile. Check every item and discard and replace any questionable items. Leaving things for next time means you are not ready for an emergency.

Batteries will leak when left in devices, and the leakage can ruin the device and other items in the pack. If possible leave batteries out of devices until needed. This can cause some problems in an emergency however, if you have to fumble for batteries for a flashlight in the dark, so again use your best judgment. If you check on a regular basis you can avoid having your devices ruined.

Remove seasonal clothing and wash and store for next time. Each bag has to be prepped for the seasons. This means you will need to remove certain items and likely have to add others. While in some cases, you may not need cold weather gear at your current location, but you may need it at your destination. You have to plan, and know where you are going, and what its weather and geological features are before heading out so you have the specific items needed for its environment.

Check for corrosion on knives, axes and all tools in your pack. Carbon steel blades, for example, will need maintenance on a regular basis whether you have used them or not.
For home emergency kits update your documents list so any new important documents added over the year will be on the list of things to grab as you head out the door. Update maps, apps, and GPS devices. Most mapping software requires periodic updates via online to ensure you have the most current information.

Update contact lists to make sure you have up to date phone numbers and email addresses. Family members and friends may have switched cell phone service providers or had changed email addresses and you may have not added them to important contacts in your emergency kits.

For your home emergency kits rotate out any bleach supplies you may have. Bleach over time will lose its potency. Having fresh bleach is important for water purification and sanitation during a crisis.

Inventory your vehicles' emergency kit and check for expired foods, medicines, and medical supplies. Make sure the spare tire is not flat, and that no one has used the jack or jumper cables and then failed to put them back in place. Check battery jump boxes and any portable power devices to ensure they are charged. Make sure you have the correct cell phone charger in the car if you changed phones recently. Remove seasonal items and replace with items needed for the current season.
Obviously, what is listed above is not all that needs to be checked periodically, but it is a start and every situation is different. The point is of course that Prepping is not once and done. It is an ongoing endeavor.
You will have to update as situations change, so do not get locked in on any specific period when it comes to certain things. To make it easier you can keep a master inventory list of foods, medicines and certain other supplies and the expiration dates, so you do not have to pull everything out of your bag every 90 days, because you forget the date you added the item and its expiration date.