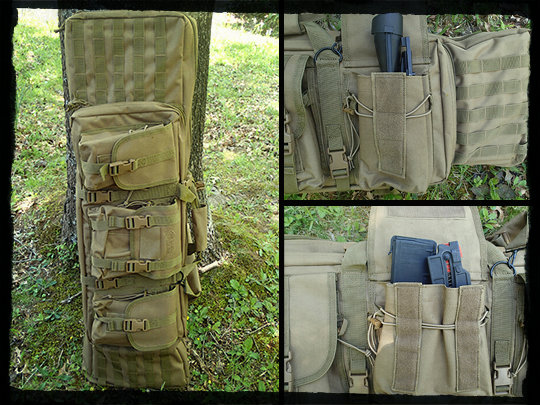 Many of you want to carry multiple firearms, and still have them protected while doing so, but you only have one case, so what can you do. You can't just stuff your firearms in a pack they need to be protected and what about your extra magazines and other accessories.
Well now, your problem is solved, because the Voodoo Tactical Weapons case, (15-7612) can securely hold up to four weapons. With this case, not only can you carry two rifles up to 42 inches long, you can also carry two pistols along with extra magazines for both the rifles and pistols. Each weapon is secured in its own dedicated storage space, so the firearms are not left to bang and rattle around inside the case.
In addition to carrying four weapons in the same case there are added storage pockets inside the bag for scopes, manuals and other optics or other needed accessories, even survival gear. The case also has plenty of Universal/MOLLE webbing for adding extra storage to the case.
There are three carry modes, carry it in your hands, or wear it across your shoulder or wear it as a backpack.
The case is made from ballistic pack cloth, it is heavy duty, so it will stand up to the rigors of camp life, hunting expeditions or any outdoor shooting adventure you have in mind. The case does have padded dividers to separate and protect your rifles.
Manufactures' Specifications and Features
Dedicated Rifle Storage For 2 Rifles up to 42" Long

Dedicated Storage for 2 pistols

Rifle Magazine Storage For 6 Magazines

Pistol Magazine Storage (2)

Additional Internal Pockets (3)

Additional External Pockets (1)

Approximate Dimensions: 42″ x 12″ x 4″

Metal Double Zippers

Cinch Straps

Four Tie Downs

Universal/MOLLE Webbing

For Carry Mode You Have A Padded, Adjustable And Detachable Shoulder Strap, Hand Strap And Padded Backpack Harness Customizable To Your Carrying Preference

Hook-n-Loop I.D. Patch: Yes
The case is available in Black, Olive Drab, Coyote Brown, Army Digital and Multi-cam. Pink and Purple "Lady Voodoo" colors are available as well.
When I first came across the Voodoo Tactical 42″ Double Rifle Case I asked myself do I need another bulky case. I already have one, albeit it is hard shelled, but it did the job. However, after actually handling the Voodoo Tactical Case I realized the possibilities. It is not just for your weapons, although that is the main purpose.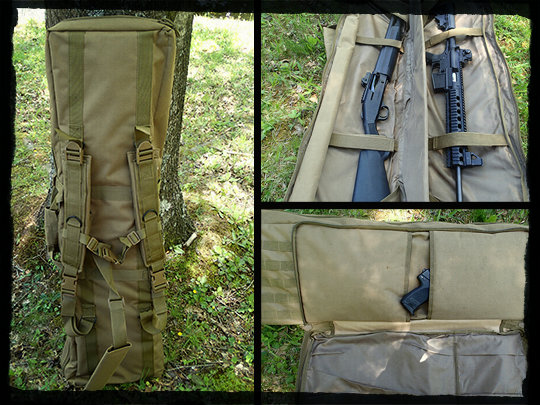 The case is compact compared to many single carry hard-shelled carrying cases, and it is flexible to some extent unlike a hard-shelled case that simply has no give at all. The Voodoo case can be carried as a backpack making it perfect for hunting trips where you have vehicles for your heavier gear. This case is perfect for excursions into the backcountry.
Plenty of storage for extra magazines and with the MOLLE webbing it was easy to add pouches and pockets for survival gear and other essentials. With the Voodoo case, you can combine all of your essentials in one place for short excursions where you would expect to be resupplied.
Of course, for those traveling deep into the woods without a vehicle or the ability to resupply you would need a backpack packed with wilderness survival essentials, but the Voodoo case can be attached to your pack or carried with your pack.
Keep in mind weight will be a factor of course, and it will depend on the number of weapons, weight of each and number of loaded magazines and other gear you are packing in the case. The Voodoo Tactical 42″ Double Rifle Case is adaptable to the situation, and it is recommended you take advantage of the MOLLE webbing to add more storage.
The case is perfect for carrying your firearms to the range. Carry ammunition, sight adjustment tools, cleaning equipment and so on, all in the same case, which by the way is very sleek looking, so be prepared, because you will be asked by others where they can get one for themselves.
Carry the case on hunting expeditions, and anytime you need to carry multiple weapons, magazines, tools and accessories, with the assurance they are secured and protected from the elements and above all in the same place for quick access. You can purchase the Voodoo Tactical 42 inch rifle case at Amazon for $99 dollars.