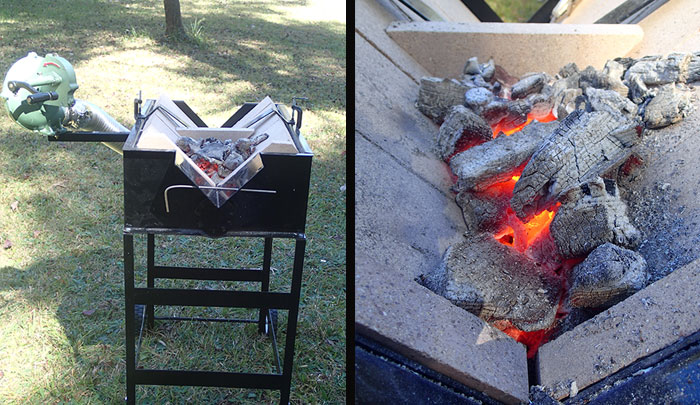 Yes, it says wood-fired, making this blacksmithing forge ideal for Preppers and for anyone that currently has the skills, and for those also wanting to learn Blacksmithing skills. Now you can make and shape using just wood as a heat source with the Full-Sized Whitlox Wood-Fired Forge.
Blacksmithing skills will be invaluable during a grid down situation, and being able to forge on, if you will, using just wood as a fuel source is the best case scenario. Propane will be in short supply during a crisis as well as, coal/coke for any forge. The Whitlox Forge uses wood efficiently, and best of all, you do not need to make charcoal first, because it burns seasoned chunks right from the wood pile.
Wood will be easier to acquire and store during a crisis than would propane, coal or coke. Even if available the prices would undoubtedly rise considerably due to the demand. Having a fuel that is readily available to most people is ideal, and you can of course begin stockpiling it now. Keep in mind wood does not store forever, it will rot if stored outdoors, exposed to the elements, so consider this as you begin gathering it.
Here Are the Manufactures Specifications
The trench shaped fire box is designed so wood burns down to charcoal and at the same time concentrates it at the draft line

Made from 11 gauge steel 

Has a fire bed lined with one half inch thick "kaowool" mineral fiber batting that insulates and protects the forge body and helps keep the work area cooler

Lined with fire bricks for added durability and heat retention, and this also helps you to maintain a smokeless fire

Has dividers that can easily be moved and secured to concentrate the fire and helps you maintain the right size fire for any project

There is a cutaway that allows longer bars to lay across the fire

The adjustable tuyere is one of the most innovative features of the full-size forge a tube within a tube design allows you to dial up just the number of holes you want open, for perfect control of air flow
 Blower and Forge Stand Sold Separately As an Option
Optional blowers (3 to choose from) are available, and can be purchased as you order the forge. A stand is also available for purchase.
Blowers available: Light duty electric fan (50 cfm) with a "stomp switch" that latches on/off or the stamped steel hand cranked blower, or the Cast Aluminum hand-crank blower. Any of them will come with a mounting bracket, and duct, along with the applicable hardware when ordered with the forge from the website.
The forge stand available is 26″ tall, of welded construction. It has two rubber wheels making it easy to roll out for work or put away when not in use.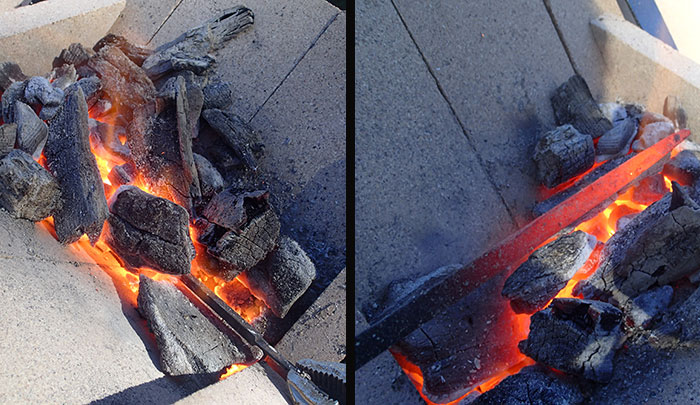 Blacksmithing
At one time if you needed something made out of metal you had either to do it yourself or visit the local blacksmith. Horseshoes, metal bands for wooden wheels, knives, arrow heads, and spear heads, hinges, nails/spikes are just a few of the things a Blacksmith can make, and the list goes on.
During an extended crisis goods and materials will not be available, so if you need or want something you will have to make it or have it made. The reality is to have it made will cost you, so having blacksmithing skills will not only save you money or save you the goods needed to trade for that skill, it will also make you invaluable to others. You can barter with the skills you have, and barter with the tools you can make as well.
You of course will need to work to acquire the skills now before a crisis and this also means you need supplies, metal in particular that can be heated and shaped. You can now start gathering a stockpile of what is essentially scrap metal at this point, but during a crisis it will be as valuable as any gemstone or bar of silver.
However, before you can do anything you need a forge, and a forge such as the Whitlox Wood-Fired Blacksmithing Forge that uses wood is almost the perfect situation for those wanting to get started, or for those that want to upgrade and hone their skills for when the SHTF.
There are classes you can take or you can teach yourself, but to become skilled, you need to put in the time and effort so you can make your own tools and material.
The basics would allow you to make nails/spikes knives, swords, axes, and arrow and spear heads, but to make more sophisticated tools and implements it will require extensive hands on training.
Final Thoughts
This forge was the perfect option for me since I don't have a designated area set up yet for blacksmithing, I can just store it in my shed and roll it out when I need to use it. I also didn't want to have to deal with coal or propane, being able to fire up the forge with wood or charcoal leaves me with few less things I would have to stockpile.
The Whitlox Forge comes in two sizes the full size and the mini forge, which is great if you want to start out small and work your way up as your skills improve. The full-size forge sells for $385.00 without the stand or blower and can be purchased at whitloxhomestead.com.