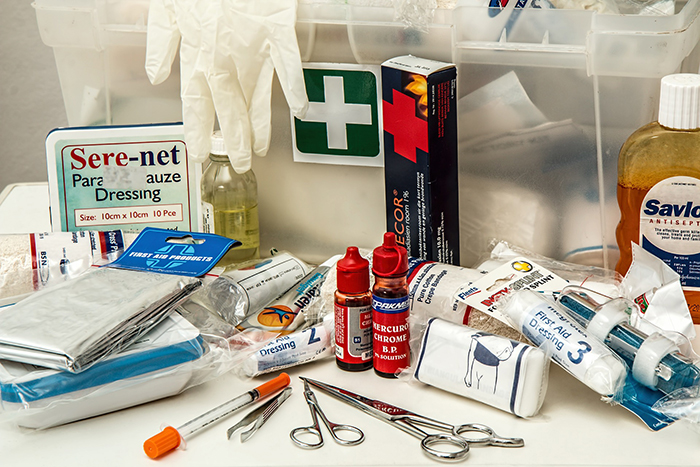 Do you have the right medical supplies and equipment on hand to take care of yourself and your family if the SHTF? If you answer anything except a highly confident, "absolutely," then you are not prepared. Don't let a simple cut, sore throat or something far more severe take you out. Create an ultimate survival first aid kit.
The kits you buy in stores are okay if things are normal. But they are insufficient if the SHTF. So, review these lists and start collecting the items.
These lists are not a substitute for knowledge. Learn ahead of time how and when to use all the items in your kit. Otherwise, they aren't helpful.
Foundation supplies in the ultimate survival first aid kit
The first thing you need is a comprehensive first aid reference manual (for example, this or this). A medical professional may not be available for a while, if at all. So, you may have to look up how to handle various situations. Don't rely on an electronic version. If you do, when the charge in your reader or computer runs out, without power, which is a possible scenario, you can't recharge. Then you won't have a reference guide. Get a paper copy.
•   Adhesive bandages
•   Alcohol pads/antiseptic solution
•   Antibacterial soap (get a heavy-duty antibacterial since SHTF conditions could be very dirty)
•   Antibiotic ointment
•   Antifungal ointment/powder
•   Battle dressing (for traumatic wounds where there is heavy bleeding present)
•   Blood clotting powder
•   Burn gel
•   Butterfly bandages
•   Compression bandages
•   Cotton balls/pads/swabs
•   Eye solution/wash
•   Gloves (get non-latex to avoid allergic reactions)
•   Hand sanitizer
•   Hydrocortisone cream
•   Hydrogen peroxide
•   Instant hot/cold packs
•   Irrigation syringe or squeeze bottle
•   Large cloth dressings
•   Medical tape (get waterproof or water resistant)
•   Oral thermometer
•   Petroleum jelly
•   Roll bandages
•   Scalpel (surgical grade is best)
•   Sewing needles
•   Sharp scissors
•   Splinting material
•   Sterile gauze pads
•   Superglue
•   Sutures
•   Syringes
•   Tourniquets
•   Triangular bandages
•   Tweezers
•   Wooden tongue depressors
Equipment and kits
There are specialty kits and items vital to an ultimate survival medical bag. You won't know ahead of time what you'll be facing, so be prepared for anything, and everything.
•   Automated external defibrillator (AED) (remember extra batteries)
•   Blood pressure cuff
•   Burn kit
•   Cervical collar
•   Dental kit
•   Foldable stretcher
•   Locking forceps
•   Oral airways
•   Snakebite kit
•   Stethoscope
Critical medications
The suggested medications are in addition to anything your doctor currently prescribes for you. If you have a medical condition, include the pharmaceuticals you need. If you explain to your physician what you're doing, she or he may give you an extra supply as long as it's not an opioid or controlled substance. If the SHTF, doctors and pharmacies may be unavailable or nowhere near you. Stock in sufficient quantities.
•   Acetaminophen
•   Antacid
•   Antihistamine
•   Aspirin
•   Asthma inhalers
•   Broad spectrum antibiotics (you may know there's an infection, but not what type, so broad spectrum is your best bet)
•   Cephalexin
•   Diarrhea treatment
•   Dramamine
•   Epipen or other allergy medication
•   Ibuprofen
•   Insulin with needles to administer it
•   Nitroglycerin
•   Prednisone
•   Stool softeners
•   Sugar pills
•   Throat lozenges
Essential add-ons to your medical kit
Survival isn't only about reactive treatment. Sometimes it's about prevention. This list of items supports your other supplies. If you have enough for yourself, and for swapping with others, you'll be more prepared than most.
•   Aqua tabs
•   Baking soda
•   Batteries
•   Cotton sheets
•   Emergency blankets
•   Ensure
•   Extra broad spectrum antibiotics (antibiotics are some of the most important items in your kit)
•   Flashlights (get different brands, but make sure they all use the same size batteries)
•   Hot water bottle
•   Lip balm
•   Magnifying glass
•   Pedialyte
•   Pen/pencil and paper
•   Plastic bags
•   Pregnancy test
•   Sunscreen
Basic natural remedies
You may not be familiar with essential oils and other natural remedies. But if you run out of contemporary medications and ointments, these are good to have on hand.
•   Aloe Vera (for burns and rashes)
•   Cranberry extract (for urinary tract infections)
•   Clove bud oil (for tooth and gum pain)
•   Lavender oil – (for burns and other small woulds)
•   Peppermint oil (can relax tight muscles)
Assembling and using the kit
You have all your items, but taking a few more steps will make you optimally prepared.
Purchase a large, durable bag. You want one with solid stitching and material that won't fall apart on you. Plus, your items need to stay dry. Make sure it's waterproof. Many military grade bags have liners inside.
Make a list of everything in your bag. You won't know when the SHTF, so a list, along with any expiration dates is essential for taking inventory. Keep it in your bag.
Take inventory periodically. Every three or six months, pull out your list and replace anything that's expired. Additionally, you may find someone raided the bag for aspirin or bandages when there weren't any in your home. Replace those. Remember, this kit isn't for everyday use. It's best to keep it off limits.
Compartmentalize your items. If you have items for barter, put them in a separate section of your bag. That way there's little risk of giving away the things you've assembled for your use. Put your meds in one section, your bandages in another and so on. In an emergency situation, you don't want to dig through your bag for something. You may only have minutes to save a life. Compartmentalizing the materials also makes taking inventory easier.
Become familiar with the inventory. Know what's in your bag. If you don't, you won't know if you can help yourself or others.
Learn how to use everything in your kit. If you don't know how or when to use medical items, they are useless. If you want to be fully prepared, make sure everyone in your family, or survival group, including children, know how to use everything in your ultimate survival first aid kit.
If the SHTF, you may be the only person in the area with any medical supplies, equipment, and knowledge. So, get stocked and be ready.