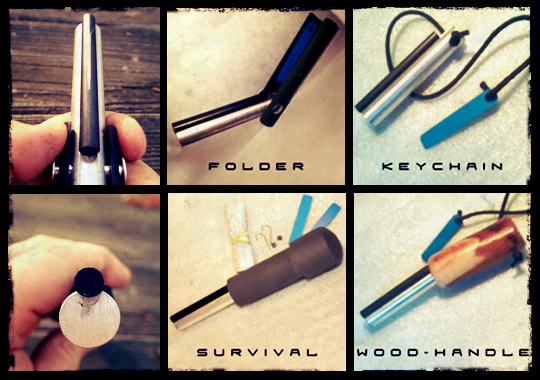 According to the manufacturer, the Purefire Tactical Fire Starters come with a 5/8″ x 3″ magnesium rod made of the purest magnesium available today and includes a 30,000-strike flint.
Keep in mind all of the Purefire Tactical Fire Starters come with a free lifetime replacement warranty. Once the fire starter can no longer be practically used for, fire starting, simply request your free replacement and remember this is for life!
This is a remarkable fire-starting tool and with the various options available, you no longer have to worry about not having the means to create a fire at anytime in any environment.
Get the keychain model for your everyday carry and have the folding one to carry in your pocket wherever you go. Make sure you have the hollow handled survival model for your survival kit, bug-out-bag and hiking backpacks as well. Use the space in the handle on the survival fire starter to carry other survival essentials such as dry tinder, fishhooks/tackle and fishing line.
Included with each Purefire Tactical Fire Starter is a scraper to shave the magnesium onto your dry tinder and once you have a small amount collected use the metal scraper to create a spark by applying downward pressure as you push it along the flint bar toward your tinder bundle.
Do not strike the flint because this will only damage it and striking it with anything will not create a spark.
You can of course use your knife blade to scrape the magnesium off the bar and then use the backside along with the flint to create a spark but never use the backside of a knife blade unless it is a fixed blade or has a locking mechanism that prevents it from closing up on your fingers.
The folder model easily fits into any pocket so there never needs to be a time where you are without one. Having the ability to create a fire in any situation is critical for survival. This is particularly important in cold weather to prevent hypothermia, which if left untreated is fatal.
Fire is also needed for morale, to repel insects and to drive off four legged predators and in addition fire is needed to signal rescue personnel if you find yourself lost or stranded.
Thirty thousand strikes is an incredible amount of strikes available from such a small piece of flint, which illustrates high quality manufacturing of the highest standards.
In some cases, it only takes one strike/spark to ignite a pile of magnesium and at other times more is required but the point is if you carry the Purefire Tactical Fire Starters, you will never be without the ability to make a fire in any situation.
Let us talk about the wooden handled fire starter, which is a personal favorite. The looks alone would make any outdoors enthusiast want it given the quality that went into making it and not to mention the fact it can be a true-life saver in many situations. It comes with a lanyard so it can be attached to your pack, belt or anything you can think of to make sure it is always handy for any emergency.
A Little about Magnesium: 
Magnesium shavings can burn at up to 4000ᵒF (2,200ᵒC) and the higher purity of the magnesium will cause it burn at a higher temperature which makes it ideal for fire starting in damp or wet conditions.
These magnesium fire starters are impervious to water and temperature changes. The flint rod and magnesium stick can be immersed in water for hours and all you have to do is wipe off the moisture to use. The materials will not absorb any moisture making them the prefect fire-starting tool.
The purest magnesium available means it has less iron, nickel, copper, aluminum and so on which can affect the temperature it burns at and how easily it ignites. Lower grades of magnesium (more impurities added) may make it more difficult to ignite wet or damp tinder.
Magnesium in mass is almost impossible to ignite using conventional methods, which means your Purefire Tactical Fire Starter is safe to carry and handle in any environment. The magnesium is only flammable when in particle form. The particles are formed when the magnesium stick is scraped.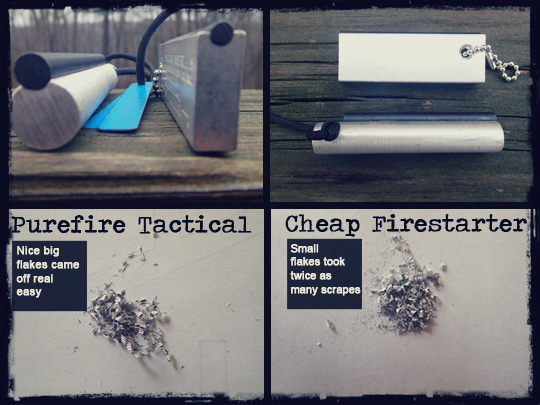 Considerations
The striking flint alone on the Purefire Tactical Fire Starters is a valuable survival tool. With 30,000 strikes, you can be assured of making a fire even without magnesium. There is no need for despair when you have worn down the magnesium because a spark can be created using the flint. A spark can ignite many combustible materials to ensure you have a fire even under extreme conditions.
You may not be convinced of the need for fire but consider the family that overturned their jeep just miles from Reno Nevada recently. The family was stranded in temperatures well below freezing for days and the only thing that kept them alive was the ability to make fire.
The family had set out with the intentions of being gone for only a few hours. How many of you would stop and think about loading up your pockets with matches, lighters, and dry tinder for a short drive to the mountains for a few hours of play in the snow?
If you carry a Purefire Tactical Fire Starter on your keychain, in your pocket and in your vehicle's emergency pack then you too could survive when the temperature exceeded minus 15 degrees below zero for days. Without a fire in this temperature, it would only be a matter of hours before you succumbed to the cold.
Final Thoughts
I have been using magnesium fire starters for years and I have never seen any of such quality and innovation as the Purefire Tactical models. Not all magnesium fire starters are made the same, Bobby only uses the purest magnesium available and they are all hand made right here in the USA.
The magnesium on the Purefire scraped off a lot easier and in much larger flakes than a cheap model I bought online. I found myself scraping twice as much on the cheapo just to get the same size pile. You definitely won't be disappointed with one of Purefire Tactical Fire Starters and you will never be in any situation where you cannot make a fire if you have it with you, never leave home without it.
Don't forget Purefire Tactical Fire Starters come with a free lifetime replacement warranty. You can purchase a PureFire Tactical Fire Starter at purefiretactical.com. Prices range from $25.00 – $35.00.